Garmin N2K AIS, & the 5.3 unfix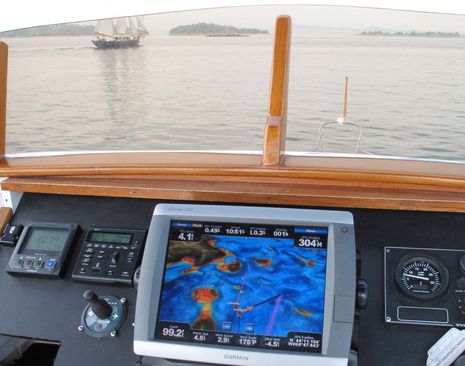 This was nice. It was Friday late morning — after the fog burned off but before the torrential rains arrived (summer of '09 is making history!) — and we were idling along in company with the school schooner Tabor Boy. All of which was being colorfully portrayed on the Garmin 5212's Mariner 3D screen; zoom in and you'll see the Tabor Boy's Class A AIS signal represented as a 3D icon with heading and track lines. You'll also see Gizmo's own Class B AIS represented as an unnamed dangerous target directly under our own boat icon, a little glitch we've already discussed…

Actually, I didn't find that glitch very troublesome. I got a dangerous target alarm when I first turned on the Garmin, but thereafter it was just a 'dangerous' shadow. Besides, neither of the other plotters also connected to the Simrad AI50 via NMEA 2000 were getting any AIS, the Raymarine C140W because that software revision hasn't happened yet, and the Simrad NX45 because it's not really an N2K machine, just connected via an AT10 type translator.
I'm also really liking what Garmin has done with AIS in version 5. The 3D icons in the 3D screen modes (there are several now, which is another interesting story) are fun, I think, but I'm also glad to see a more serious, even IMO-like, approach when in 2D charting. Check the screen below. The little green triangle over by the Northeast Pt is the Tabor Boy again, only now she's in 'sleep' or 'deactivate' mode. There could be a lot of those little triangles on the screen without cluttering it. But I could also click on it (or pick it off a list that's just two taps down from Menu) to see all pertinent info and then activate it if desired. Or if, like the mighty yacht Knickerbocker, she broke the CPA parameters I've set up, she'd activate automatically, getting a larger icon, track, heading line, and also that slightly goofy CPA icon. All good, I think, but there is a problem with this screen shot.
Note that my own Class B shadow target (seen as an MMSI because the Garmin hasn't yet learned the new N2K code for Class B static data) is no longer there. I updated to 5.3 software just before taking these, and my first thought was "boy, they fixed that fast; wonder how they did that without me having to enter my MMSI #, like on the HDS?" But, alas, that's not quite the case. Checking the AI50 screen I realized that there were two or three other AIS targets that the Garmin was not seeing. I do believe the 5.3 is not seeing N2K Class B targets at all. But I'm also hopeful that this is just a brief interlude en route to a complete solution. And that I'll see Raymarine's N2K AIS implementation soon, too. Right guys??