Garmin: new 'echo' fishfinders, xHD arrays, and My-Cast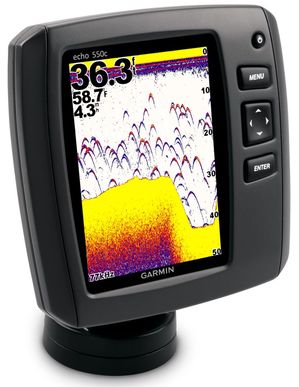 The press release characterizes the new (little 'e') echo series fishfinders — six models in all, with the $450 550c above at the high end, and an $80 echo 100 at the low — as "Garmin's return to the freshwater market." Which I read as "Hello, Lowrance and Humminbird!" and also as another sign of the company's tenacity. Dropping out of the hyper intense smart phone market may have been wise, but Garmin usually seems to meet competitive adversity with new models, improved features, better value, etc. They may have lost focus on the inland market for a bit, but they're back, and consider too the new xHD 4kW open array radars…

Garmin's second METS product announcement is a pair of 4kW xHD open radar arrays — the four-foot GMR 404 and six-foot GMR 406 — which will replace the existing non-xHD models, at almost the same price. Now, as we've long discussed, "HD" is an ill defined quality, and in my view Garmin's HD is not yet the most HighDef of UHD/SHD/HD/etc. radars, at least as seen in my 2009 radome testing. Still, these radars are definitely higher resolution and more agile, capable of dual speeds, dual ranges, and true color rendering (with Garmin's 6- and 7000 series MFDs). I was again testing a GMR xHD 604 last week, and while it's pretty darn good, my sense is that the hardware is there to support some serious software improvements.
But the real Garmin surprise for me today was stumbling on a recent press release for iPad Pilot My-Cast. It turns out that Garmin acquired My-Cast in 2007, and while there are umpteen good app phone and app pad weather programs, this family of products looks quite slick, especially when you consider Garmin's clout and ability to integrate, say, Pilot into its avionics hardware/software systems. The company's media department has never mentioned My-Cast to me because, aside from a small boat fishing version, there is no My-Cast boating specific software/service product, and purportedly none in the works. But, geez, couldn't there be?
Pilot My-Cast seems to offer sophisticated NEXRAD animation for the U.S. and Canada, along with real time lightning, wind forecasts, and much else. How hard would be to add NOAA text forecasts, live weather buoy reports, and tide predictions…and maybe integrate in the great planning facilities seen in HomePort? 3G app phones and particularly pads are turning out to be great weather watching devices for most near coastal cruisers — useful too for route planning and backup nav — and couldn't Garmin put a big darn foot in that growing market? Just saying.