Govee WiFi thermometer and hydrometer, inexpensive and easy off boat monitoring
Monitoring the temperature of your boat (or RV) can be important to maintaining the health and safety of your vessel. My reasons for such monitoring have included ensuring that the heat is working (and nothing is freezing) inside the boat, that the air conditioning is working (and nothing is cooking) inside the same boat, that the engine room temps are normal underway, and that the conditions are safe for pets. It's not always simple or cheap to get this information remotely, but I've recently come across an inexpensive and simple option that's worked well for two months, the Govee WiFi thermometer and hydrometer.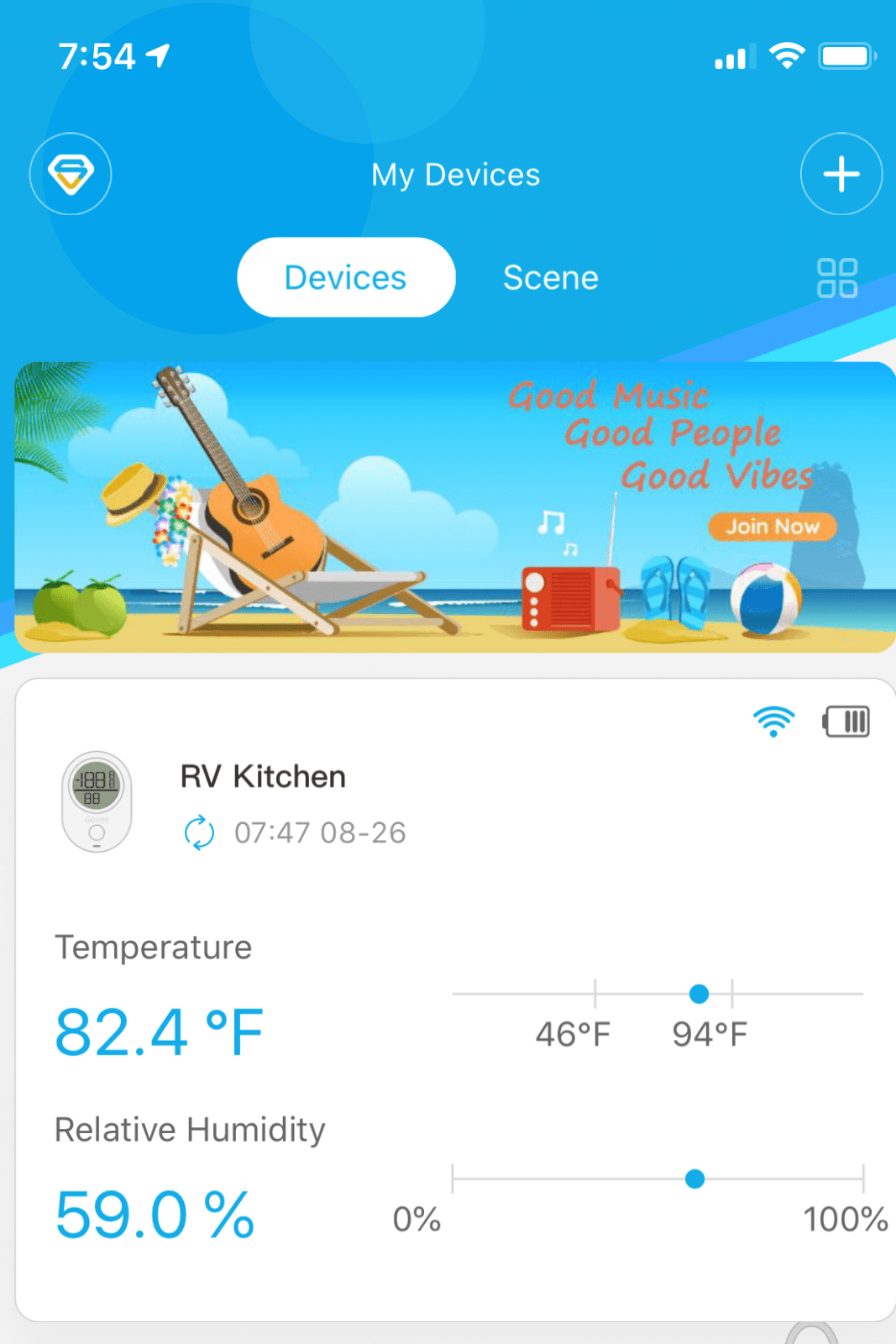 Govee's WiFi thermometer and hygrometer costs less than $50 and connects to your boat's WiFi system, allowing you to check conditions at will and/or receive near-realtime alerts when either temperature or relative humidity is outside a specified range. The indoor thermometer and hygrometer can measure temperatures between 14 and 140 degrees Fahrenheit and 0 to 99 percent relative humidity. It runs on three AAA batteries and Govee says it will run at least three months on a set. Alerting and checking temperature and humidity requires your boat has an available internet connection, which could be via shore-based WiFi or a cellular internet connection.
There are two models of WiFi-connected thermometer/hygrometers: the H5051 which I've used for this review and the H5071 which adds compatibility with Amazon's Alexa. They both cost just under $50 and seem to be otherwise identical. Also, be careful not to select the Bluetooth only models like the H5072 which Amazon has available for $14. This model only works via Bluetooth so it won't be able to upload data to the cloud or alert you to out-of-range readings when you're not within Bluetooth range of the sensor.
The initial connection to the device is made via Govee's app via Bluetooth. Once connected by Bluetooth you configure your WiFi settings and the sensor connects to your WiFi network (only 2.4ghz WiFi is supported). Data is uploaded to Govee's free cloud service either every 10 minutes or every half an hour (the longer delay between uploads preserves battery life). Data is stored for 2 years and while the data is updated every 10 or 30 minutes information is sent for every minute.
Initial configuration is simple, just connect to WiFi, set your alert thresholds for temperature and humidity, and calibrate the readings if necessary. In my experimentation I've found the sensors to be pretty accurate — or at least in line with other sensors on the boat and RV — so I haven't had to adjust the calibration.
With alert thresholds set, the device is ready to go. I temporarily set the low-temperature threshold to 77 degrees to trigger an alert. I was pleased to get the message you see above just a few seconds after adjusting the value. Plus, all the charts updated to highlight the readings where the temperature was outside the threshold in red. The one feature I might wish for is the ability to send an email in addition to the push alert; that way I'd see it in more places than just on my phone.
While I'm mentioning opportunities for improvement… A couple of times the sensor has had a hard time recovering from a loss of internet connectivity. I've had to re-establish the WiFi connection twice after a loss of internet connectivity (because I've been out of range of the cellular internet I'm using) but other times it's recovered gracefully.
For less than $50 the Govee temperature and humidity sensor is an affordable and easy option to configure. The biggest potential downside I see is that the sensor needs a working internet connection. If you don't have reliable internet at the location you're hoping to monitor you may be better served by a boat monitoring system with an integrated cellular connection. But if all you want is simple and affordable monitoring I think the Govee