Hand's on Scanstrut Rokk adjustable mount & 2nd generation Lifedge iPad case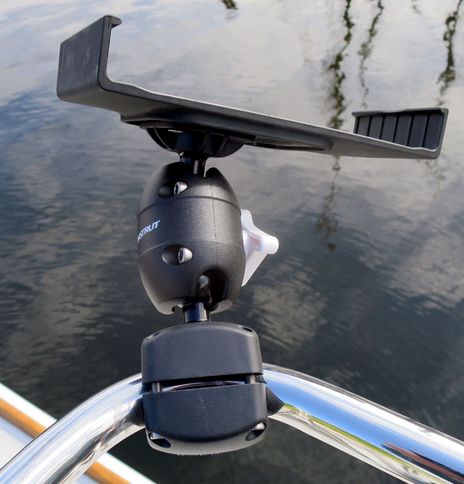 "Rokk" is a apt name for Scanstrut's adjustable mount system. Due to the large surface area and fine machining of those metal-on-metal ball and socket joints, it's easy to precisely position an attached MFD or iPad and then just a modest twist on the white handle will render the whole rig rock solid. I tested the Rokk Adjustable Rail Mount — note how well it handles curved 1-inch rail or helm pedestal pipe — with the Lifedge iPad case holder shown, but there's also a Rokk Adjustable Deck Mount and either can accommodate top plates custom designed for various popular displays in the 5- to 7-inch screen range. Is Rokk better than RAM?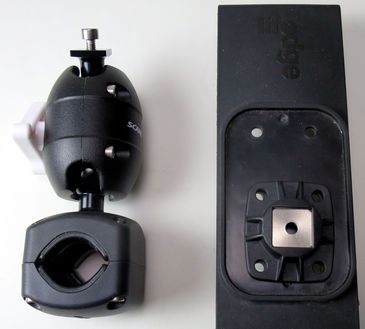 I personally like RAM Mounts largely because they have a bracket or plate for almost anything I might test. But the RAM designs are utilitarian to be sure and the materials don't always hold up well to the boating life. I've seen RAM anodized aluminum go pocky and a RAM rail mount u-bolt rust. By contrast, the Rokk hardware seems as elegant as a lot of modern sailboat fittings and just as able to withstand the elements. And while the rubber vibration dampening built into RAM mounts may have value in cars and bikes, Rokk solid seems better on a boat. Not surprisingly, the Rokk gear is more expensive as in this adjustable mount for a Garmin 7xx at $89 street price. One thing to note, though, is that unlike RAM mounts, the Rokk can not be easily removed (leaving just a RAM ball plate or a relatively yachty Tallon receptacle). On the other hand, it's harder to steal Rokk mounted gear; all those parts above have to go together in a certain order and a thief will need a particular screwdriver just to get started.
I tend to like adjustable mounts because it often seems valuable to reposition screens for particular light or boating conditions, but fixed mounts are simpler and generally less expensive. There is a plain Rokk Rail Mount, for instance, that's just the cubish pipe clamp and a top plate. Edson also offers a variety of handsome and solid-looking fixed rail mounts, not to mention a wide selection of pipe-mounted display housings.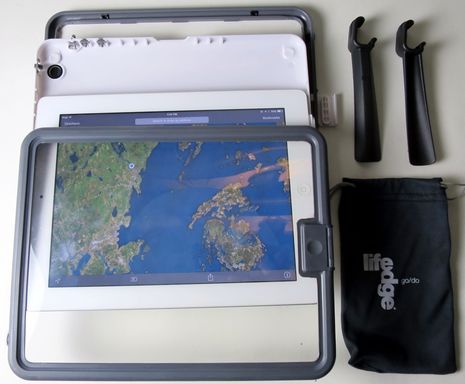 Scanstrut also sent me their second generation Lifedge iPad case to try, possibly because the first generation design did not do well in my 2013 marine iPad case review. The new three-piece design — which fits iPads 2/3/4, but not the 1 or Air — is definitely much easier to put on an iPad. An owner will now use those black accessories as kickstands, rather than shoehorns needed to wrestle on the silicone bumper. I can get this case on or off in little more than a minute, and my fingers don't hurt afterward. The new design also has a charging port but seems to retain the waterproof ruggedness of the orginal as well as the racing friendly hand strap on the back.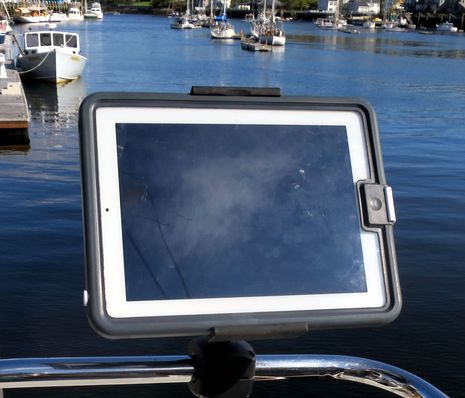 With my daughter's iPad 2 inside I did not actually test the Lifedge in sink and shower like I did the Lifeproof frē that's housed my iPad mini since I reviewed it. I like the Lifeproof's slim design a lot but have learned that while it may be shock, dirt, snow, and water proof, it is not fool proof. Do not try to open the Lifeproof case with the charging port door closed or you might break the thin top piece! The same caution probably applies to the Lifedge though it does seem a little beefier, and bulkier. Designing the perfect waterproof iPad case is not easy.
In that regard, my daughter and I both noticed a slight issue with the sample Lifedge case that might be transitory or a production anomoly. Note in the photo how the chunky gray case area over the Home button is twisted slightly outward. That pulls the stiff screen protector outward and thus touch commands, particularly on the right side, have to be aggressive. Another example of design difficulty is the prototype Gumdrop Marine iPad Case seen on my photo stand below. It may be the most ambitious iPad-at-helm case yet — it even comes with mounting bail and sun cover — and I found the prototype fairly easy to use with an iPad Air. But Gumdrop CEO Tim Hickman, arguably an iPad case cowboy, is not entirely pleased with the design details, plus the poor man recently purchased a large boat. As soon as I know more about the Gumdrop, I'll put it in the comments section below.