Testing iPad cases & mounts: Lifeproof, Lifedge, Life Jacket, RAM & Tallon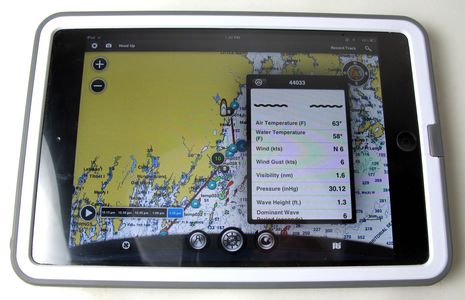 I've been testing three waterproof iPad cases that all have "Life" in their name for some reason (anyone?). Frankly, none got me excited until I recently snapped my iPad mini into the Lifeproof frē case above (running Garmin BlueChart Mobile).  The design is stellar, I think.  The LifeProof is so light and snug that the mini still feels mini, but it now has a protective rubbery edge and non-slip back; it survived 30 minutes submerged in my sink, yet all the buttons plus the charge port still work fine. I suspect I'll always use this case on the boat and maybe everywhere.  That's not to say that I know everything about the ever-changing world of pad cases.  Let's review the testing and discuss…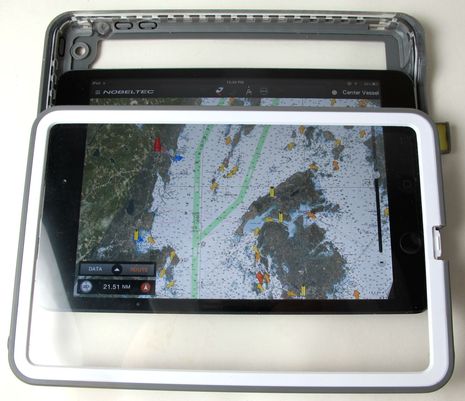 The photo above shows the LifeProof frē before closure (with iPad running Nobeltec TZ). It just snaps together starting at the top of the iPad (left here) and you use a large coin or similar and two slots at the bottom to begin the process of taking it apart. I've done this fairly quickly several times now, but, as noted, I don't see much reason to remove the mini. Note the clear poly that goes over the iPad screen. I've used many cases with similar plastic protection — see this 2011 discussion — and this one seems the least intrusive, I think because it's fairly stiff and fits tight to the iPad screen.
   The screen cover is also what distinquishes LifeProof's various frē cases from their "nüüd" design, which establishes a seal around the device screen so there is nothing between it and your finger. Frē started with iPhone and nüüd came along with LifeProof's iPad 2/3/4 case. I've met several boaters who were very happy with their iPad nüüd. Now LifeProof offers iPhone 5 and Samsung Galaxy SIII cases in both frē and nüüd styles. I have no opinion about which is best, but maybe someone out there does 😉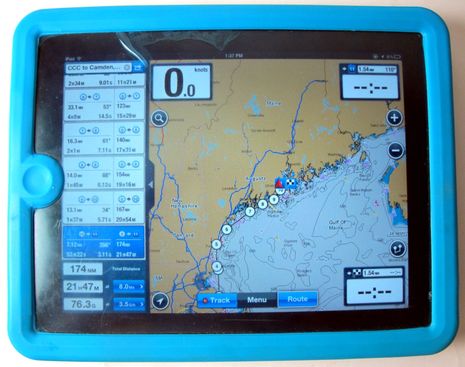 I was enthused when Scanstrut introduced the Lifedge iPad case early last year, but at least the iPad 1 version has issues. The main one is difficulty getting the rubbery outer shell to fit properly over the stiff back piece, which is also something you have to do at least partially whenever it needs charging.  Scanstrut recommends using a water or oil-based lubricant — and now includes Lifedge Lube with the case — and that definitely makes the process easier. But it's still a pain in my experience, though I should note that my hands are a little screwy (from dupuytren's contracture) and the newer Lifedge iPad 2/3/4 case may be an easier fit.
   Note the top of the photo above. I did leave this case right under one of Gizmo's large windows for quite a while, but I was still surprised to find that the anti-glare coating is apparently becoming detached from the main plastic screen protector. Don't do what I did! The screen, by the way, shows Navionics add-on nav module, which I like and is nicely illustrated on The Hull Truth.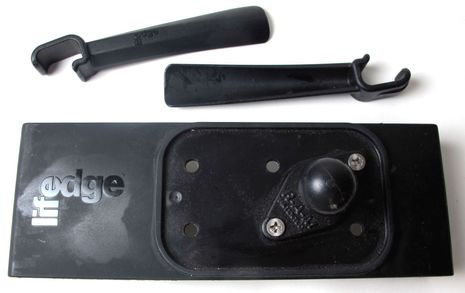 The Lifedge is the only iPad case I know of with a sturdy hand strap on the back (not shown), which may be particularly useful for racing sailors moving around a cockpit. There's also a Surface Mount Kit that can work with adjustable ROKK deck and rail mounts (also available fixed and with new Scanstrut Rail Pods). However, if you're settled on using RAM ball mounts around your boat, you'll be pleased to know that the hole pattern on the Lifedge case holder works fine, as shown above. Also shown are the two combination install tools and case legs that come with the case. This video shows how the legs can clip on in portrait or landscape modes and how the tool's "shoe horn" end is used to get the difficult case corners fitted. Is the YouTube commenter who claims they used an especially flexy cover correct, or are we seeing the difference between the iPad 1 and iPad 2/3/4 cases?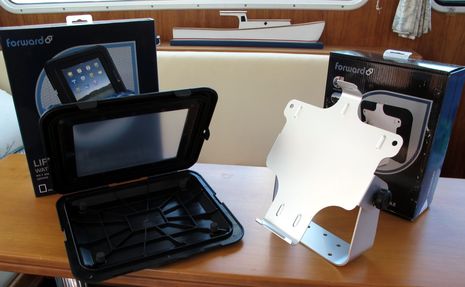 The Life Jacket waterproof iPad case, which is also sold as the "forward" by Fugawi and others, is a newcomer and that's why I've illustrated the full packaging. It's a big case that can hold any existing iPad model, and it floats; a drawback is that only the home button is accessible (though of course you can get to rotation and volumn controls on the screen)…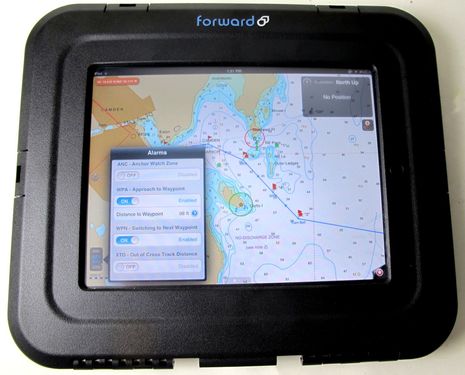 I don't think that many folks would want to walk around with the Life Jacket anyway, as it doesn't have soft edge bumpers or a non-skid back, and the four snap tabs that make it very easy to insert or remove an iPad are not friendly for hand holding.  Though hard to see in the photo, this non-glare screen cover also suffered a little delamination while sitting in Gizmo's window, and I should note that cases like this that extend right to the edge of the pad's touch screen can sometimes get in your finger's way, like when trying to tap that "star" button (lower right) in Transas iSailor…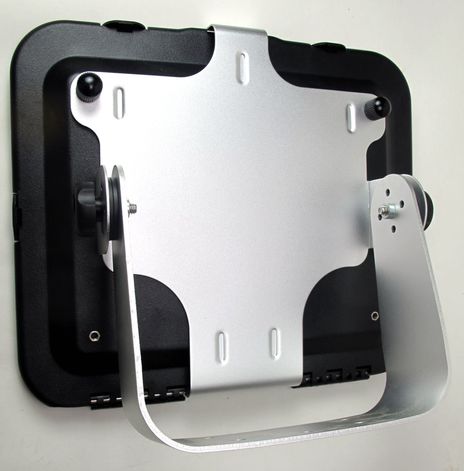 What the Life Jacket seems best suited for is mounting securely in its accessory bracket, not unlike a chart plotter!  I picture boaters leaving the case and bracket in place and sticking their iPad in it when they get underway. The bracket has a nice ratcheting mechanism and is quite solid, though the early model I received for testing does not snap snugly around the case and one thumbscrew needed extra washers to tighten on the bracket. The company reports that these issues are rare and also that they'll soon be out with a charging port that will be waterproof even in use (take that, LifeProof) and an alternative mounting plate.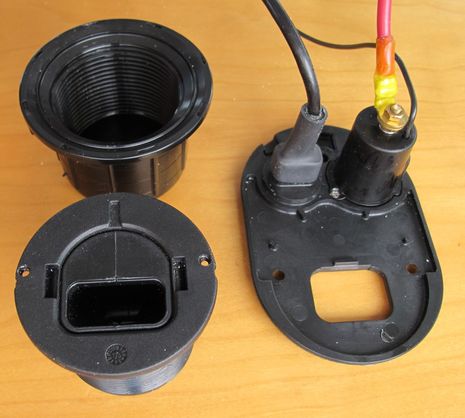 There are many ways an iPad can serve around a boat, but if you use one for underway navigation, I think you'll want it mounted in a sturdy way so that only one hand is needed. I liked Tallon's mount when first spotted and it's turned out to be a winner on the boat. I use the full Tallon Ultimate iPad Mount to put my (naked) iPad 1 just where I want it at Gizmo's lower helm. Since Tallon uses RAM mount ball connectors, I can move the iPad holder up to the flybridge (in fair weather), as seen in Panbo's current header photo, or I can mount the Lifedge case either up or down, as seen here.
   What's neat about the Tallon Elite Socket USB are the 12v outlet and USB port and the fact that you can remove the ball and cover all three holes for a flat, yachty look. The mount housing also seems very strong once you've drilled the big hole and screwed the parts together. Note that the USB port wire has a male end you can attach it to a computer or the like, but I recently found a 12v USB adaptor that I plan to try out soon.
   It seems likely that LifeProof will come up with a "Lifejacket" (confusing!) flotation collar and universal cradle for the iPad mini frē case, like it has for the iPad nüüd.  Note that RAM already has three iPad mini cradles designed to work with sleeves and cases. It may seem strange to mix manufacturers so, but LifeProof, RAM, and Tallon may be a sweet way to go. What do you all think?