Hand's on Vesper Vision, Class B AIS superstar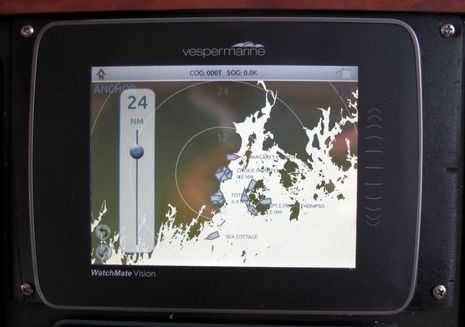 I ended my entry about Vesper Marine's excellent AIS collision avoidance software with tentative enthusiasm about the company's next generation WatchMate Vision transponder.  Well, a test unit has been installed on Gizmo's dash since mid-July and frankly, it's spectacular. While it certainly offers the AIS target filtering and alerting genius previously discussed, now these talented developers have put maximum AIS utility into a 5.7-inch touchscreen, while also creating what could be the central WiFi link between a boat's fixed sensors and a boater's mobile apps…
Just one example of the clever interface is how the screen range is handled. Normally, there's just that minimal "+/-" button seen at lower left below, and then when it's tapped you'll get the substantial range slider seen above, along with the "Return" and "Accept" buttons. After a pause long enough to finger the new range easily, the slider dissappears, so you'll have as much target screen as possible. But the Return and Check buttons remain onscreen indefinitely, waiting until you decide whether to return to your previous range or stay with the new one. In other words, the interface takes you right to the point where it can't know what you want to do next and doesn't make you take extra steps. I see this sort of thoughtfulness throughout Vision.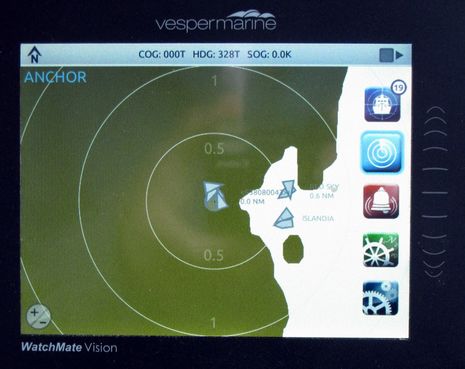 The screen above also shows the main menu icons that only stay visible briefly after you tap the upper right button. The top one lists the 19 current targets on the left (as seen below), and the list can be expanded full screen and sorted by range, cpa, tcpa, etc., as desired. The second button is for full target screen, currently enabled as indicated by the extra blue border. Buttons 3 and 4 put alarm or your own GPS data in the left panel instead of targets and the bottom button is for system stuff. Tapping on the "WatchMate Wheel" just right of the screen gets you a context menu you can roll through with the wheel or tap on screen (if, say, you want to change from 'Anchor' mode to one of the three alerting setups). The touch commands take a bit of force, but that's not a bad idea on a boat and, that said, I think most users will get the hang of Vision quite quickly.
   Note on the top screen that the Vision's built-in shoreline map depicts the island paradise to my east quite accurately — when I zoom in on a vessel I can usually visualize right where it is — but let's also note the map's failure to properly show Camden's Inner Harbor on the second screen.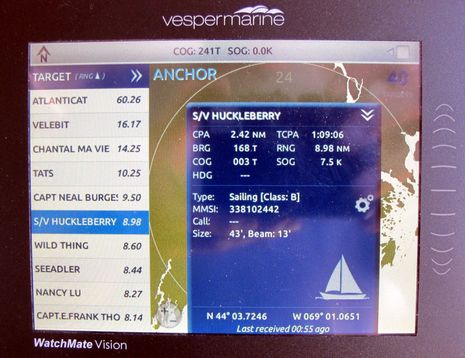 When you select a target from the list or screen you first get a compact description at the screen bottom that you can expand into the full detail box seen above. As with Vesper's earlier displays, the target details are presented in a notably readable manner, and — another interface nicety — once you're using the full detail box, you can select other targets on the list without going backwards. The "Gear" button is particularly interesting, as it lets you disable all alarms for a specific vessel and/or give it a special proximity alarm, as explained here in the fairly thorough Vision online User Guide.
   Note that S/V Huckleberry is a Class B vessel only transmitting AIS data at 2 Watts, yet the Vision is seeing it more than 8 miles away from within Camden Harbor using a medium height and performance antenna and ditto for Wild Thing, Seeadler, and Nancy Lu. We've heard a lot of harrumphing about Class B range over the years, but in fact, the Vision is often seeing Class B vessels at over 10 miles. Then again, a test seemed to confirm the hypothesis that Vesper builds an especially sensitive radio. Gizmo has been equipped with a Raymarine AIS 650 for nearly a year, and this close relative to the Em-Track B100 and other SRT-built transponders is way more than satisfactory. Yet, while Gizmo's best antenna on the 650 yielded 34 targets with the Vision receiving 24, switching antennas put 35 targets on the Vesper and only 19 on the Raymarine. The same test later that day was 35 to 25 Ray to Vesper, then 35 to 21 the other way. Conclusion: antenna height and quality is very important to AIS performance, but there can still be reception differences between two good radios built to the same strict standard.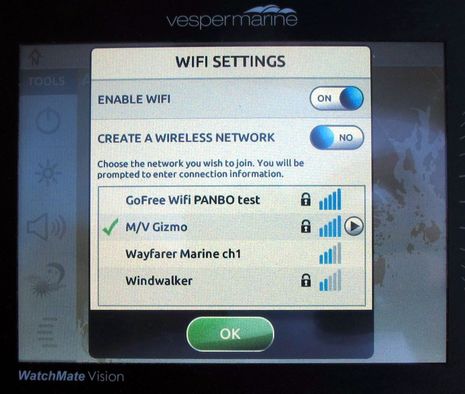 But wait! The Vesper WatchMate Vision and its blackbox sibling, the WatchMate XB-8000, can distribute AIS info via NMEA 0183 (including USB), NMEA 2000, and/or WiFi.  The latter is a first for AIS transponders, I think, and also a big deal. Besides supplying AIS to every MFD on a boat, the Vision or XB-8000 can talk verbosely to Vesper's own WatchMate app and can conceivably feed all of a boat's NMEA data to third party apps and PC programs. Plus, the Vision happens to be the first WiFi-enabled marine electronics device that I've gotten to work with Gizmo's own WiFi system. While the setup is easier than, say, Navico GoFree, because there's no high bandwidth radar and sonar on the network, I still needed some help from Vesper about how to spec an IP address acceptable to my router.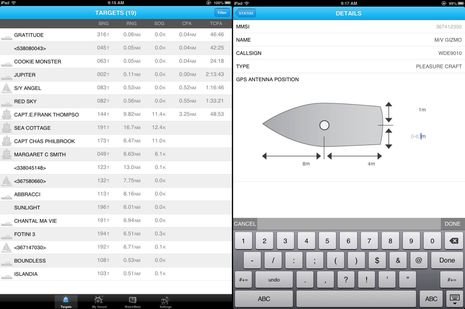 WatchMate, which I can now run without changing hotspots, is very much an app in development. It only shows a list of targets, because apparently Vesper concentrated first on enabling all the setup and diagnostic functions a third party app will probably never support. The iPad screen at right above suggests how a user or installer can specify a Vision or XB's GPS location plus vessel name, type, and MMSI.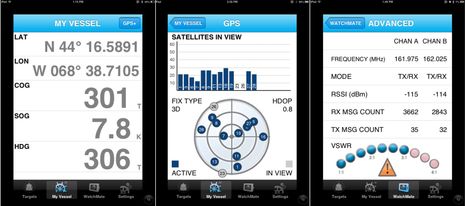 Until the latest revision was released over the weekend, WatchMate only supported iPhone screen resolution, as seen on shots above. And so far the transponders are only WiFi distributing Heading info received from NMEA 2000 or 0183, but the plan is to add other data fields like Depth, Wind, etc. Eventually the WatchMate will be able to display AIS (and more) and control filters/alerts so thoroughly that an XB-8000 will have almost all the functionality of a Vision (there is an unresolved problem with firing off alarms while in the background on iOS, but apparently Android doesn't present that issue).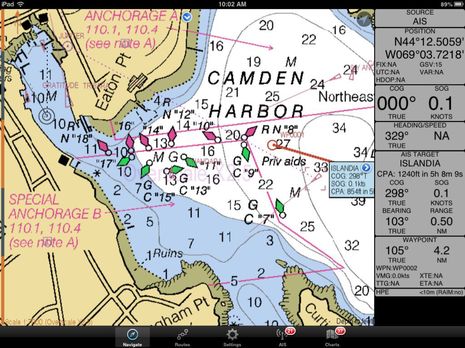 Apps that already handle NMEA 0183 over WiFi well, like those recently discussed regarding GoFree, seem to do well with the Vision output. The $10 SEAiq USA app, for instance, not only shows all the data (above), but also has terriffic diagnostics so you can see what's going on behind the scenes. And the PC screen below shows how a free HW virtual serial port program can be used to get Vision WiFi data into a program like Nobeltec Triton TZ, if the USB run is too long. Vesper has a list of compatible apps down the Vision product page, and I'm really looking forward to what they'll do as Vision/XB capabilities expand.
   Plus, there's more than data-rich apps that can happen here. These transponders are easily updated, I gather, and one possibility is support for the recent NMEA 2000 alarm PGN's, which means that the Vision could kick off Gizmo's effective Maretron ALM100 modules or any other N2K noise maker that supports the right PGN. Though not yet even on the road map, the Vesper developers also like the idea of enabling these WiFi transponders to send target info to sites like MarineTraffic and AISHub (and hence app systems like SmartChart AIS) — no PC involved — and maybe even adding Web-collected AIS to their regular target display (in an intelligent way, I'm sure). Vesper indeed had a vision, and now it's getting real.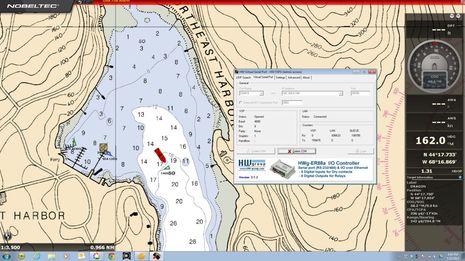 PS 8/30: I'm adding an image of the Vision's full screen target list, because I think some readers got confused about the capabilities (my fault). A Vision user can tap the heading of any column to order the list by that value. The value description then goes in parenthesis next to Target — like TCPA is below — which can be tapped to resort ascending/descending. The double arrowhead lets you collapse the spreadsheet at any time, so that you can see the plotting map along with the main Target column. My example is not great because Gizmo was moored, but underway I'd usually be using TCPA or CPA to sort the list.