Icom's CommandMicIII, and some (juvenile) electronics humor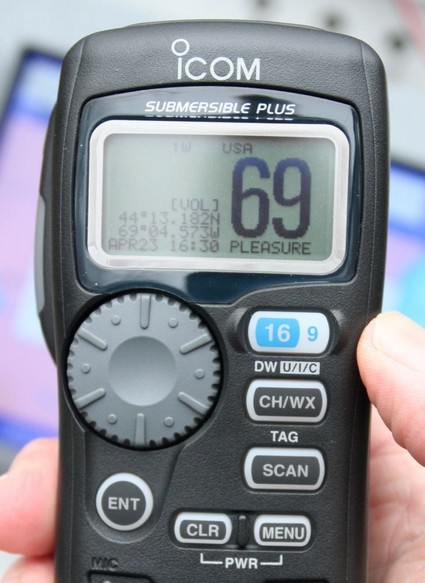 So I spent a good part of my weekend wiring four different DSC radios to two plotters and a PC, and experimenting with some of the selective voice calling, position requesting, and caller plotting functions then possible. It turned out that the NMEA 0183 interfacing was relatively easy, and the DSC stuff worked pretty well, but there were some hassles. I'll probably write several entries on this subject this week, but let me start with some comments on Icom's new CommandMicIII.
It's nice! Fully pictured here
, you can see how hunky it is (my hand is average size). That means a big, fine sounding speaker. And, while those small screen fonts are quite small, they are sharp. This remote mic will do everything the radio can do, including all the DSC (there's a distress button on the back). I particularly like the "jog dial", which alternately controls channel, volume, squelch, menu settings and more. In fact you might say I'm a knob guy; for instance, I think the 'rotary' controls on NavNet and Raymarine E/C machines are very desirable features. But, wait, I've way outgrown the dirty mind of a 12 year old boy. That's why I didn't really notice this finger photo until the finger owner made noise about it, and I didn't even notice the giggly conjunction of VHF channel 69 and the word "pleasure" (Icom's fortuitous label for this 'recreational' or 'non-commercial' channel), until I saw the photo above. Honest.