Impedance-driven NMEA 2000, & SimNet gets a "Noise Filter"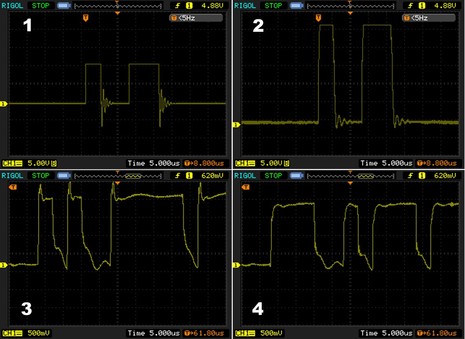 Maretron's Rich Gauer has repeatedly tried to explain to me how NMEA 2000 is an impedance-driven networking technique and that's why it's so important that the cabling have the right electrical characteristics with the proper termination. He can get quite passionate about the subject, almost poetically describing clean waves of N2K data bits getting distorted by reflections to the point that microprocessors along the backbone can't recognize them anymore. But then again Rich is an electrical engineer and Maretron may well have more troubleshooting experience than any other company with the large N2K networks where impedance problems tend to show up. Installs or other manufacturer's gear that cause trouble because the impedance rules aren't abided to get him upset! However, a guy like me is way better at visualizing the dynamics of a hull passing through ocean waves, and I couldn't begin to fathom the "Transmission Lines, Reflections, and Termination" PDF Rich once linked me to. Which is why I am especially taken with the graphic N2K analysis (above) that our friend Kees Verruijt posted on his Yacht Electronics blog…
Kees has equipped himself with a Rigol DS1052E digital oscilloscope and he's been using it to peep into his SimNet network. What we're seeing on his screens really are data bits, though he tells me they're more accurately defined as NRZ or Non Return to Zero encoding. If you read Kee's entry you'll see that screen #1 shows a very short, simple network with no terminating resistors — which at least partially accounts for the ringing that follows the nice square NRZ waves, as demonstrated in screen #2, in which the same backbone has some terminator-style resistance added. Screen #3 shows what's actually happening on Kee's own boat with 13 active sensors and about 60 meters of SimNet cabling. Apparently it works, but those waves are looking a little raggedy. Or were until he installed a SimNet Noise Filter as seen in screen #4.

SimNet Noise Filter? Nope, I hadn't heard of that component either, and can't find any mention it on Simrad's SimNet page or in the SimNet manual. But as Kees wrote about in an earlier entry, the latest NSE manual suggests that the Filter be used on large SimNet systems or when there's a long mast cable as illustrated by the "F" in the diagram below. He's also heard that the SimNet cable wires I once documented have been upgraded, but I don't know that for sure. Apparently after all these years — and, mind you, SimNet was one of the first NMEA 2000 cable and connector systems available — there have been some impedance issues.
This is interesting, but let's not make too big a deal about it. I've had zero problems with the SimNet system I installed on Gizmo last summer, and I appreciated how thin the cables are and how loose Simrad is about design. (Note the daisy-chained backbone in the diagram, for instance, which may cause smoke to come out the ears of NMEA's Technical Director 😉 Even Rich Gauer — after warning about the dangers of non-spec cables and installs — adds that "This isn't to say that a small network can't get away with breaking the rules because the network is small enough where impedance mismatches don't really cause a problem." Which I've proved to myself many times in many ways! In fact I'm right now installing yet another 'temporary' N2K network in Gizmo as I need to go cruising tomorrow, and included is all sorts of older Airmar and Garmin cables that don't meet the OVDA DeviceNet specs that NMEA used for the physical layer of N2K…but I'll bet it will work fine. On the other hand, I'm also finishing up design details for Gizmo's permanent N2K backbone and I'm going to spend a little extra money to make sure that it's a good impedance environment so I don't run into trouble as the number of devices and volume of data inevitably grow.