Inmarsat iSatPhone 2, a solid satphone but here come Globalstar Sat-Fi & Iridium GO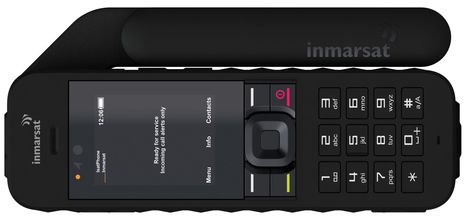 A brief test of the new Inmarsat IsatPhone 2 showed it to be quite a good satellite phone. Compared to the original IsatPhone Pro I tested in 2010, the new phone locks onto both GPS and Inmarsat satellites noticably faster and the voice calls seem to sound better. I also found the screen quite readable in most conditions including direct sun, and the user interface struck me as fast and easy to get the hang of. However, if you sense some "buts" coming, you are correct. At nearly $1,000 street price, this phone is not the "game changer" promised in 2010. Also, long gone are the $200 prepaid SIM cards good for 250 minutes and two years mentioned in my 2010 review; Inmarsat phone service is pretty costly these days. Perhaps more important, we are just entering an era when we can supposedly have all the services of a satphone without actually having to own another darn phone and possibly at a lower overall cost…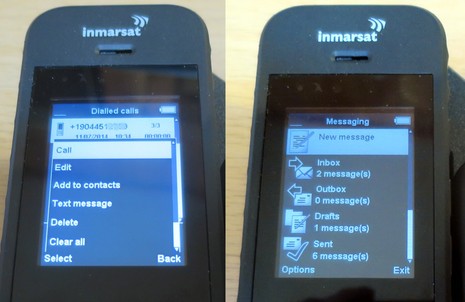 Before getting into the latest on Globalstar Sat-Fi and Iridium GO, here are a couple of IsatPhone 2 screens I appreciated. At left is what you get by tapping the dedicated Call History key and then the Options soft key. So, just two taps and you're ready to add a number to contacts, text it, etc. At right is the similar Messaging History screen, quickly reached via Menu soft key and mail icon. All messages, though, are texts; you can send or receive them using an email address, but they're still limited to "approximately 1600 Latin characters or 740 non-Latin characters," including the recipient's email address. And you have to use the phone's alphanumeric keypad to compose texts, like an old cell phone. (The phone has Bluetooth — especially useful for a headset as its antenna needs to be carefully aimed, at least at my location — but it doesn't support a keyboard).
It's apparently possible to use the IsatPhone 2 as a modem for real email and maybe even weather files, but note that Inmarsat doesn't even mention the possibility in its marketing. This may be because once the original IsatPhone was data enabled (after my test), it turned out to be very slow. Global Marine Networks (GMN) estimates IsatPhone data speeds as follows: setup, 40-50 seconds; latency, 5 seconds; raw average down speed, 12 kbytes per minute; and raw average up speed, 6-8 kbytes per minute. That's real slow, even compared to the slow Iridium system, which GMN rates thusly: setup, 20 seconds; latency, 1.5 seconds; raw average down and up speed: 15 kbytes per minute. Not to mention Globalstar — if you have working coverage — with 5 seconds setup, 0.25 seconds latency, and 60 kbytes per minute raw average download and upload speeds. An offshore boater wanting even minimal data services probably shouldn't consider the IsatPhone 2, or at least will need GMN's Redport Optimizer to squeeze usefulness out of the slow connection.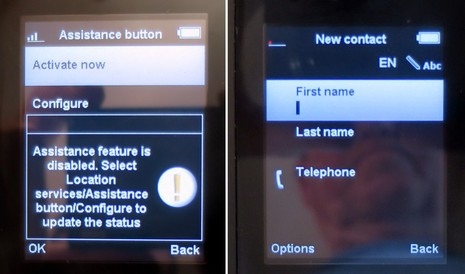 The IsatPhone 2 has a dedicated tracking button, which can be set up to auto send a track point every 5 to 9,999 minutes. It worked fine in my testing, but it's sent as a text or email text and does not collect to an online tracking map, like the DeLorme inReach, unless arranged via a third party. Similarly, the user has to specify their own Assistance service contact to make that button useful, as I'm being told on left screen above. (Inmarsat does offer free 505 emergency SAR dispatching, but only for FleetBroadband services including the new FleetOne.)
I photographed the New Contact screen at right above because I was surprised it didn't include an email address field. You can add one easily enough via the Options menu, but it was another indication to me that the IsatPhone 2 is mainly designed for voice calling and texting.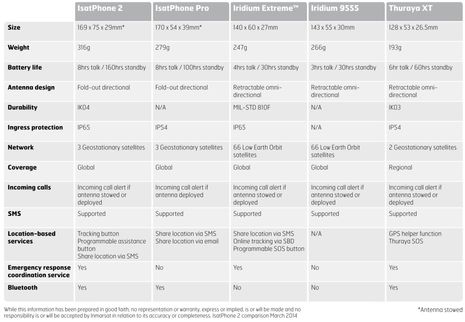 When Jeff Bezos recently spent ninety minutes introducing the Amazon Fire smartphone, he didn't even mention voice calling. But while we're all generally using our phones less and less for phone calls, that may be less true of satphones. Being out in the middle of the ocean may be exactly when the intimacy of a voice call with loved ones is most valuable. A phone call may also be the most efficient way to troubleshoot a medical or mechanical issue, especially without fast email and Google. So the fact that calls on the IsatPhone 2 sounded good and were easy to make may be quite important versus my various negatives. The Iridium Extreme I tested in 2012 is also an able voice phone, and actually a little more "global" than Inmarsat credits on its comparison list above. And now that Globalstar's new satellites are online, maybe its satphone deserves to be on that list (it's now marketed as the Spot Global Phone, though it's still less global than the other two).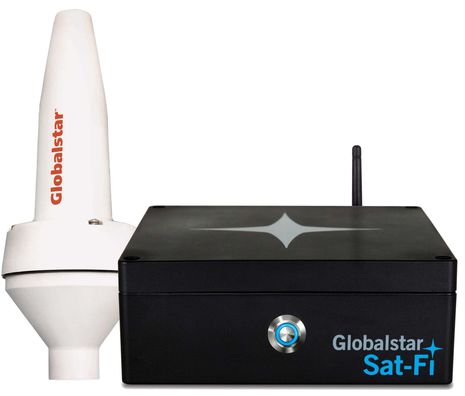 But what if you could use an app on your own smartphone to easily make satellite voice calls? And another app on a phone, tablet, or PC to easily manage narrow-band satellite email, downloads, and possibly limited Web browsing? That's the promise of the Iridium GO device, which we discussed here in February and which is slated to ship in a week or so. It's also the promise of the Globalstart Sat-Fi, which I was so embarassingly skeptical about in that entry! Sat-Fi is not only interestingly real — not nearly as portable as GO, but that fixed marine antenna looks good for serious offshore — but Sat-Fi is already available from GMN and other dealers, and has already earned a favorable Wired review.
Meanwhile, Iridium GO service pricing was recently revealed and it seems as aggressive as promised, ranging from long-term prepaid cards to unlimited data rates that will likely make their phone customers jealous. Globalstar doesn't differentiate between phone and Sat-Fi rates, but they seem quite competitive with GO, especially considering the much higher data speed. I look forward to hearing more reports from the field and maybe testing these new satellite hotspots myself. Will a satellite call on my phone sound as good as the IsatPhone 2? Will making such calls be as reliable? If so, will the traditional satphone go the way of the bag phone?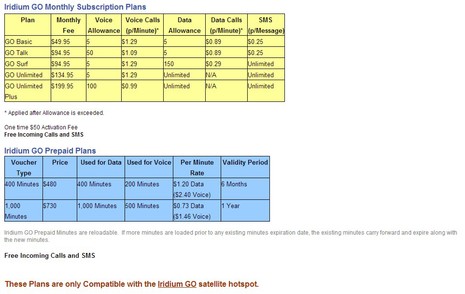 PS, 7/15: Wow, this area of satellite communications is moving quickly. It turns out that Inmarsat recently announced an IsatHub service in which — surprise! — you use smartphone apps to make voice calls and manage data. It's not based on the IsatPhone hardware, though, but rather BGAN terminal technology with WiFi added. First out will be the Wideye iSavi at about $1,350. This means much higher data speeds, like 240/384kbps send/receive (that's seconds, not minutes). It's not being marketed for marine use and probably won't work on a moving boat though the coverage appears to be there.