Instruments, goodies from TackTick and B&G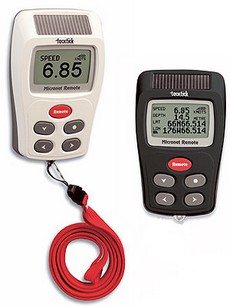 At METS, the U.K. company TackTick—a prior DAME winner for its Micronet wireless instruments—introduced these remote displays. Like the Micronet fixed displays, they're solar powered and, using a Universal Wireless Interface, can show most any NMEA 0183 data, besides, of course, what's collected with Micronet sensors. I'm just now realizing how powerful this Interface could be—capable of, say, data networking GPS, PC, another manufacturer's instruments/sensors, and Micronet. In fact, TackTick even supports proprietary data sentences created on the boat's PC and then displayed as desired on the Micronet screens (pdf here). It sounds like a savvy sailor or developer could use this to create a very sophisticated instrument system.
Speaking of which, Sailing Anarchy put up a fascinating piece on the super high end sail racing instrumentation that B&G is capable of these days. Note that it is apparently written by a B&G employee, but nonetheless…wow.
Here's wishing all the Yanks in Panbo world a wonderful Thanksgiving holiday. It's spitting snow here in Maine, perfect for holing up with friends, family, and a lots of good food. There's much to give thanks for, but let's include gizmos too. Needed they're not, but aren't they fun?