Love thy coax, love thy connectors!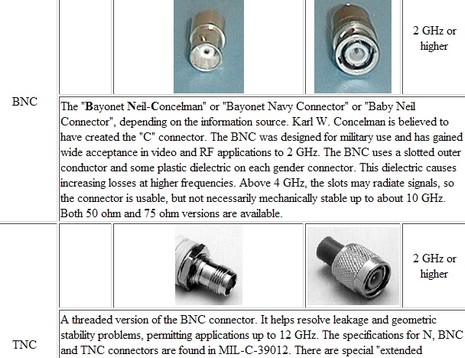 Let me say right off that the delightful title above—antenna cables and connectors really are important to performance—is stolen whole from a first class essay on antenna cabling written by Jason Reilly. And the illustration is cut from another useful coax connector page by Edward Kuester. I don't want to be an expert on such matters, but anyone who fools much with VHF, GPS, AIS, TV/FM, WiFi, and cellular antennas runs into all sorts of semi-standard connectors, and often the need to transition from one to another. The links above are great for the nomenclature, intent, and limitations of the various types, but I don't think I've yet found the best sources for all the bits and pieces I could use in the lab, and you might need on your boat.
I've bought antenna hardware at Radio Shack, Universal Radio, and my local wholesale marine outlet (which stocks the Shakespeare solderless connectors I like, though I'm not convinced they are quite as good as soldered). Maybe someone out there in Panbo world can lead me to connector heaven?
And lest anyone think this a dull subject, don't forget that there's sex involved, as noted by Professor Kuester:
One day a number of years back, my daughter (who was about 8 years old at the time, if memory serves) was in the lab with me while I was working at the network analyzer with one of the grad students. She overheard our conversation, peppered as it was with the terms "male connector" and "female connector". After we were done, she asked me why the connectors were named that way. Well, this was a conversation I had expected to have in somewhat different circumstances, but I gave her a quick summary of the "how-babies-get-made" story, followed by the analogy that is implied by the connector terminology. She thought about it for a few moments when I was done, and then said, "Daddy, that's just weird." It's hard to argue with that.