Lowrance LCX 113c, good N2K citizen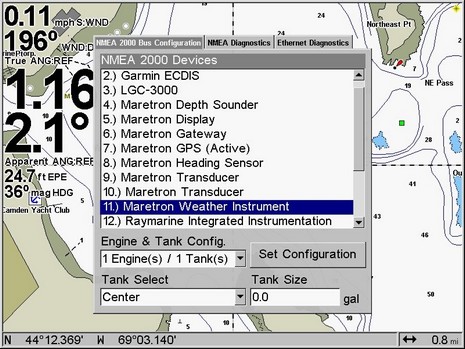 Speaking of good NMEA 2000 citizenship, the Lowrance LCX-113C HD in the lab is stellar. Press "Enter" on any of the devices listed above and you'll get its details including live data. Click on the diagnostics tab and you'll get info on error messages, total bandwidth being used, and more.

I also like the way it handles data overlays and gauge screens. Instead of picking types of data, Lowrance takes you right to your sensor list and what each offers. I suppose this might confuse some folks, but the possibilities are pretty cool. If you have port and starboard depth transducers, say, you can look at both their outputs on the same screen. Note between the two screens how you can change overlay text sizes. This same overlay ability is also on the XOG, by the way, plus there it's easy to move the data wherever you want it on the screen (a feature which should be added to the MFDs).
But truth be told, Sandy nailed Panbo reality in yesterday's comments. If I never post again, write it off to death by sea food. "But he died happy!" Gotta go.