Marinebeam: Ultra Long Range LED flashlight tested, MarineKinetix wind turbine admired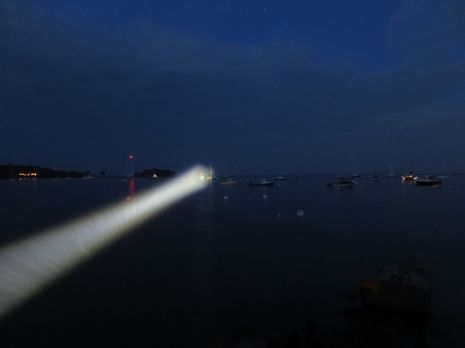 You really should click on the photo above to see the higher resolution version. With my camera on a tripod I was lighting up boats and mooring buoys about 500 to 700 yards away (460 to 640 meters) with only an LED flashlight powered by three D cells. What's more, the beam is so tight that I was able to do this testing without blinding myself or (hopefully) anyone who was on their boat in Camden's outer harbor last night. The Marinebeam Ultra Long Range RLT Illuminator is an unusual and useful flashlight as is, but it also demonstrates a promising technology…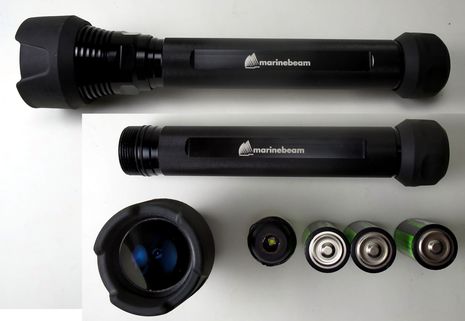 The Ultra Long Range flashlight is big at 13-inches long and it seems to be made well enough to take down a large mammal if used as a club. Marinebeam doesn't make claims about waterproofness, but note the double O-rings where the big lens screws onto the body. The rubber-encased switch is on the tail end and cycles between full power, half power and a strobe function that would definitely get someone's attention if your aim is good. The heart of the beast, though, is the little LED assembly you can see next to the batteries. It uses a technique called Recycled Light Technology (RLT) to multiply and collimate the relatively modest 300 lumen LED chip into a beam with a rated usable range of 650 meters, which might normally take 2,800 lumens according to Marinebeam's detailed write-up.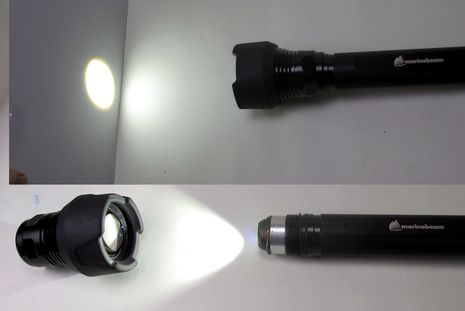 The thick reverse fisheye style lens also has something to do with how far the Ultra can throw light, as shown in this collage. Without the lens, the flashlight at least appears to have a fairly normal conical beam, but apparently the lens works with the RLT to produce that highly focused spot. Note that with the lens on, even that bit of light on the table is not spillover, but rather reflection from the white board. Note, too, that the ability to collimate 300 lumens so tightly is why this flashlight can purportedly run 12 hours at full power on three fresh D cells. According to Marinebeam's resident geek, Jeff Field, RLT is also why this sort of long range spot beam will eventually come out in smaller, less expensive flashlights and may also work well in a high-power, pan-and-tilt marine spotlight format (stay tuned).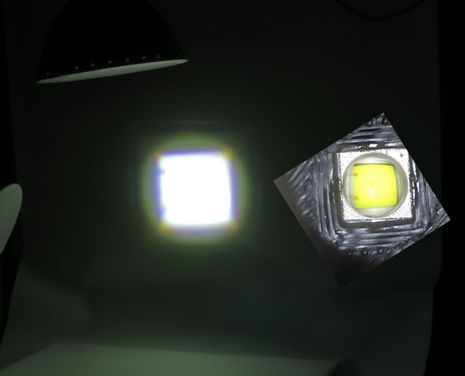 I had fun trying to photograph the Ultra's special properties. Above is another composite, showing on the left what the Ultra beam looks like once it's 10 feet or more from a white surface. It's square and so sharply collimated that you can make out the two tiny electrical connectors that slightly block the Cree XPG2 Led's surface seen to the right (inside the Ultra). I believe that the black lines around the LED are the back of the reflective material that's pushing high-angle, spillover light back onto the LED phosphorus where it becomes more light focused across the harbor. RLT was invented by Dr. Kenneth Li, who's working with Marinebeam and other niches (like bike lights).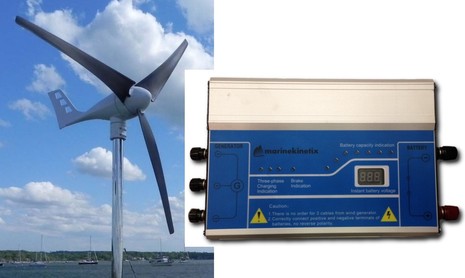 During a long conversation with Jeff Field, I learned that's he's not only a self-proclaimed electronics geek, but before Marinebeam he already had a lot of big industry experience sourcing technologies around the world. Now he's built quite a business sourcing and/or manufacturing good marine LED lighting — like the running lights recently covered here — but there are other surprises if you dig around the site. He's quite proud of the MarineKinetix MK450 wind generator, for instance, saying that while it does not involve any breakthrough technologies, every aspect of it has been improved over other turbines out there. In fact, Marinebeam claims that their generator "seriously outperforms the Air-X, Air-Breeze, Rutland, KISS, Superwind, and other much more expensive wind systems." I like that sort of bold competitive claim, and the details seemed impressive to me, but I have no experience with wind generators. Anyone have an informed opinion about the MarineKinetix system?
Finally, I was also pleased to learn about "energy harvesting" switches from Jeff. Just your finger clicking the switch can generate enough power to send a wireless signal to a relay module, no cables or batteries required. Jeff is working with EnOcean technology and will soon offer a 12v marine module that can handle enough LED lights and switches for even a large boat and can also work with CAN, Bluetooth, and other interfaces. Demo video here.