Miami 2014 comms #1: WiFi, Cellular, and V-SAT advances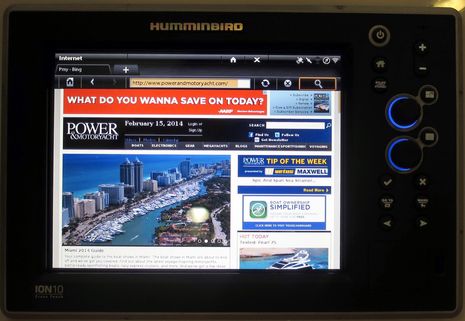 That's the Web browser built into the Humminbird ION10 MFD that I first saw demoed in Lauderdale (pre browser), and the test was pretty realistic for a boat show. It was easy to log the ION onto my phone's WiFi hotspot and if you click the image bigger, you'll see how well it rendered a complex site like www.powerandmotoryacht.com. It even supports tabs for multiple sites, so if I were out fishing on, say, a sunny center console, I could have had a weather site open while still checking my gmail or moderating Panbo comments, all on a bright waterproof screen. This is a MFD first, I think — the Standard Horizon CPN1010i can access the Web, but not while in navigation mode — though the lack of ION detail on Humminbird's site suggests that they are taking their time getting it out the door.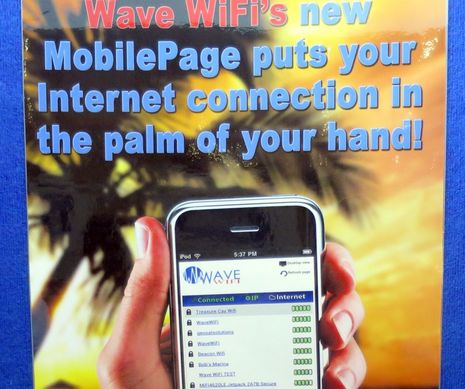 More conventional boats' WiFi often involve an onboard router combined with a hi-power bridge like the Rogue Wave I've been testing for years. One thing that distinguishes the Rogue from other solutions based on the same Ubiquity hardware is custom browser pages that make changing hotspots easy, and it was nice to see that there's now a mobile version suitable for phones. Cruise into a new harbor, find a good hotspot on your phone, and all the devices using your boat router will be online.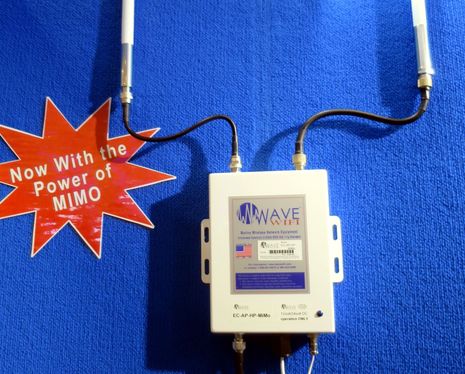 Wave WiFi was also showing smaller versions of its marine broadband router and dual-antenna MIMO versions of its bigger-boat EC-HP and EC-ER models. But notice all the locked access points on the screen above; WiFi Internet access can be great on a boat, but it's not as easy to find as it once was. Wave WiFi wants to help in that department, too, encouraging electronics installers to work with them on creating quality marina hotspots. (And I encourage installers to pitch an AIS receive station at the same time, as it's another relatively inexpensive way to make a marina stand out.)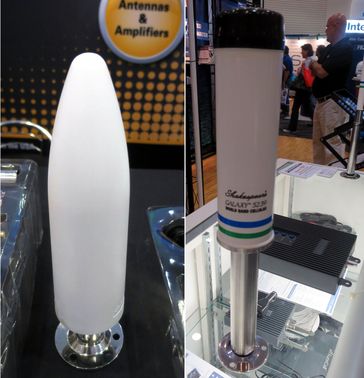 A lot of cruising boats use cellular data connections instead of WiFi, or at least when beyond good hotspots, and marine cellular accessories seem to be entering a new phase. Behold the new and interesting-looking Digital Antenna 1285 and Shakespeare Galaxy 5239 wideband antennas that may soon distinguish some masts. After testing a Wilson cell booster that includes 4G/LTE frequencies, I learned that Shakespeare is working with SureCall on a series of "anywhere" booster kits — I think the Halo 2G/3G/4G kit is almost ready to ship — and in Miami I saw a prototype 2G/3G/4G Digital Antenna amp. All the booster manufacturers are scrambling to meet just-extended FCC technical requirements, but the end result should be a better booster environment without worries about "taking down a tower."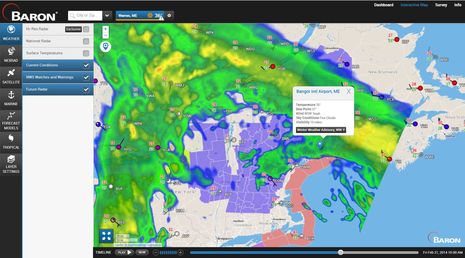 If you do have a fast Internet connection right now, you might want to check out BaronMarineWeather.com's interactive map. It's mostly U.S. data right now and a little buggy, but I don't think I've ever seen so many interesting data layers on a free site before. This screen I generated yesterday afternoon shows the predicted precipitation (future radar) this morning, and so far, it's been fairly true (a yucky day). The justifiably proud Baron meteorologist who showed me this site in Miami wasn't sure if it will stay forever free, but I'm trying to find out.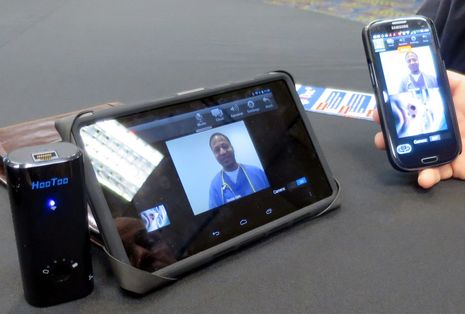 Cruising in a warm exotic locale would be nice right now, but I am getting to the age where access to telemedicine is moving up the equipment list. So, it's good to learn that bandwidth-efficient Digigone SecureChat can be used with GWU's Maritime Medical Access service, and that the large, expensive remote viewing station will soon have an alternative consisting mostly of the Android tablet above and a neat wireless hi-res macro camera that's pointed at the "patient's" face in this demo (the "doctor" was actually a computer tech with a stethoscope back at the Digigone offices). Though I've experienced SecureChat video conferencing that seemed useful at only about 60 Kbps, Digigone recommends a minimum of 150 Kbps for telemedicine, and I think that means at least an Inmarsat FleetBroadband 150 connection. (Hey, there's a new "small boat" service called Fleet One coming, though all that's out now is a partner announcement).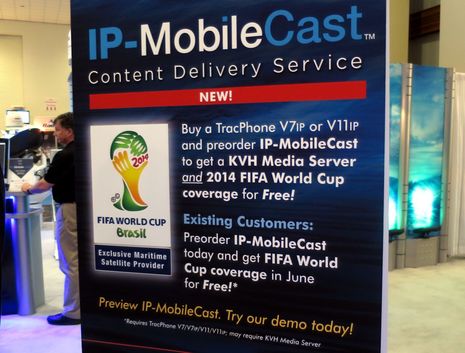 But while I'm having yucky day fantasy, I might as well include broadband satellite comms, and I'd quite enjoy the very clever add-on that KVH has come up with.  With the acquisition of Headland Media last spring, KVH got access to all sorts of premium movie, TV, and news content, all of which will soon appear as the IP-MobileCast content delivery service. You'll need at least a TracPhone V3-IP mini-VSAT system, plus a MobileCast subscription, but then content like first-run movies will start flowing "over the top" — meaning when the mini-VSAT network is not busy, mostly at night, and also beyond your regular data subscription — and into a KVH-supplied media server. So, most anywhere your big yacht might be, you can use a tablet, PC or smart TV (or converter) to watch things you couldn't even get on your home cable system. Not to mention news in so many flavors it reminded me how far flung the yachting world is.