More AIS listener, hard & soft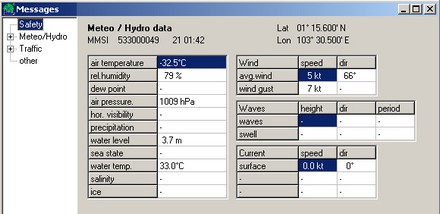 There's an interesting thread about the Chinese-built SmartRadio AIS receiver (click ENG upper left when you get there) over at rec.boats.electronics, but I would caution readers that the $200 price cited seems to be introductory wholesale. (The dual channel SR 161 needs a distributor). A well informed poster named Holger notes that it "receives and processes all AIS messages, not just some like the NASA/Si-Tex Engine". Holger is a principal in a German company called Yacht AIS which has developed two AIS plotting programs. The professional version can display some of the more arcane AIS messages like the weather station shown above. I'm making it a habit to ask folks at major marine electronics brands if they're working on AIS (quite a category at Panbo these days). Every one says something like "oh yeah!", and some are quite interested in how the Class B AIS standard will turn out.
PS: Yacht AIS is associated with a Swedish company, True Heading, which has good .pdf manuals for the SR 161 and its own AIS RX Yacht listener here (but no pricing).