MS Vista, a marine PC train wreck?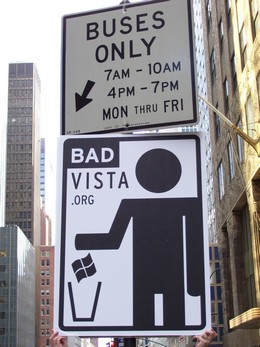 So this morning an acquaintance who sells and services laptops and peripherals to cruisers gives me a buzz. He'd rather not be identified (and don't bother guessing, cause I know lots of guys like this), but he was some agitated: "This is a train wreck! This is going to shake up the whole marine PC world!" He was ranting about Microsoft's new Vista operating system, and specifically the new "security feature" whereby it will not accept hardware drivers unless they are Microsoft Certified. Well, now, just yesterday I installed an older Deluo USB GPS on a tablet computer I'm trying, and I had to check a box saying that I understood that the driver is not Microsoft Certified, something I've done many times.
Apparently this GPS will be useless with Vista, and a small company like Deluo will need to fork over $40,000 minimum to get that driver Certification. Interfacing is the soft, weak underbelly of marine computing, what with all sorts of little developers making sensors, multiplexers, SSB modems, sat. phone data connections, weatherfax demodulators, etc. etc. that wire into PCs, whereas most computer users only plug in a few items, all of which are manufactured in huge volume. And as of about today, you'll have a hard time finding a new PC that isn't running Vista, though even a fairly high profile device like the new Globalstar GSP 1700 sat phone, supposedly superior in all ways to its predecessors, is not "certified" for Vista hook-up, and hence data comms. That's whats got my friend so riled up that he's spending time at sites like BadVista.org, the folks who have been harassing MicroSoft's Vista tour, often humorously (above). So I'm hoping that the many Panbo readers who develop and/or install marine PC apps will now speak up here about what's working, and what isn't.
PS 2/1: This entry was quoted on the Trawlers & Trawling list, and got some interesting replies (click on "Next message").