Navico 2011, firing on all cylinders?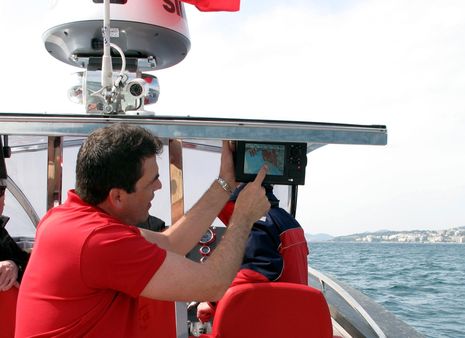 It was just coincidence that all the leather seating on this rather amazing Albatro 50 RIB was darn close to Simrad's shade of red, but you had to wonder as Navico seemed to think of everything when it came to the launch of the Simrad NSS touch-screen MFD series in Palma, Spain. First there were detailed presentations on the state of Navico, where Simrad and NSS fit into the brand and product matrix, and just how the NSS was developed (which included lots of before and during usability testing). Then each of the nearly fifty magazine writers got four demo sessions aboard an appropriate selection of the ten highly varied yachts Simrad had rigged with NSS and selections of what has become a large family of NS display and system options. And throughout the two days we had all sorts of Navico/Simrad staff to ask questions of, and they all seemed to know the products well…
Of course you'd expect Simrad product line director Mike Fargo — seen on the demo trip above, and in
the NSS video now up at simrad-yachting.com
— to know his details, but even
Navico CEO Leif Ottosson
, whose prior work experience was not in the marine world, seems intimate with all the gear his company has introduced in recent years. Actually I learned that when I first met him in Miami two months ago, but in Palma I got to hear his take on the Navico big picture, and I'll make that the first of several stories I brought home.
That's Ottosson below explaining Navico's belief in extending the MFD system to every aspect of a boat's navigation and electrical functions. We've seen that already with the generosity of
the MFD as autopilot head
and the coolness of
MFD as sonic/video hub
, but he put particular emphasis on
CZone distributed power and monitoring
. This system doesn't get much play at boat shows largely because the prime customer is more boat builder than boat owner, but part of Ottosson's story was how much value Navico can deliver to builders and how CZone can figure into that. In fact, Navico used the whole Palma setup to show off Simrad systems to OEMs just before we scribblers showed up, says it's made a very big win in that department that will be announced soon, and even had the BEP CZone product manager from Auckland in for the event (which is how I learned that a checked suitcase full of borrowed CZone modules does not pass easily through international airports ;-).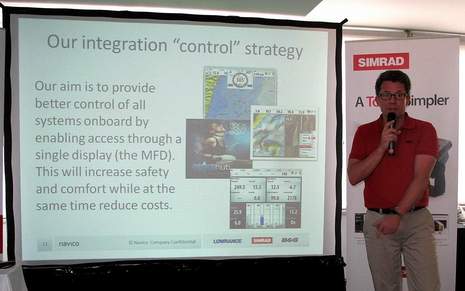 Ottosson also made the case that Navico — purportedly already the largest marine electronics company in sales dollars — is really on a roll, with 2010 market share growth of 14% versus 12% for Garmin and estimates of 4% Humminbird, 3% Furuno, and 2% Raymarine. Now I'd certainly like to hear how the other companies perceive their place in what is really a pretty complicated subject, and wonder if Lowrance isn't an out-sized portion of that growth (250,000
HDS MFDs
sold to date, we were told). But there's no denying Navico's rapid product roll out over the last couple of years, nor all the innovations it's introduced and been awarded for…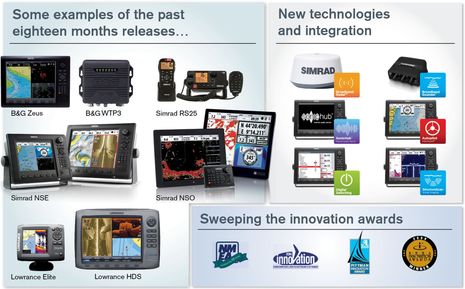 It was also interesting to get a clear explanation about how Navico now orchestrates its three brands. Though the strategy has become fairly obvious in the market place, it's been quite a journey from the
company's 2006 origin
as the unlikely merger of Simrad Yachting and Lowrance, followed shortly by the purchase of the already
fragmented BNT brands
. There have no doubt been some stumbles since — I've heard complaints over the years about poor customer service, poorly built products, lack of products, and unhappy dealers — but consider what they've fashioned from of what was a completely untenable product and brand mix. While some of the original Navico brands like Northstar offered several completely different technical platforms under one brand, Navico now has three reasonably differentiated brands all using the same technical platform. Didn't that have to happen?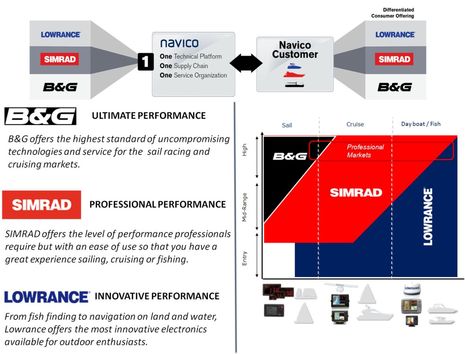 I noticed one little sign of that common Navico technical platform on the backside of the new NSS. Do you see what's not there? Right, no SimNet port, but instead a regular NMEA 2000 connector (next to the yellow Ethernet port). Dennis Hogan, the product manager directly responsible for NSS, told me that he prefers this connector because a SimNet plug could conceivably get accidently yanked from a bracket-mount MFD like this. But Mike Fargo added that Navico would like to settle on one connector for all hardware (and, yes, there will be a Lowrance product based on the NSS hardware eventually).
At any rate, this doesn't mean that SimNet is going away, but — and I like this a lot, even if its unintentional — it does make it absolutely clear that NSS is a NMEA 2000 product, and that consumers have a choice of using standard N2K or SimNet cabling and connectors with it. In fact — and you might not like this — neither a regular N2K nor N2K-to-SimNet patch cable comes with an NSS.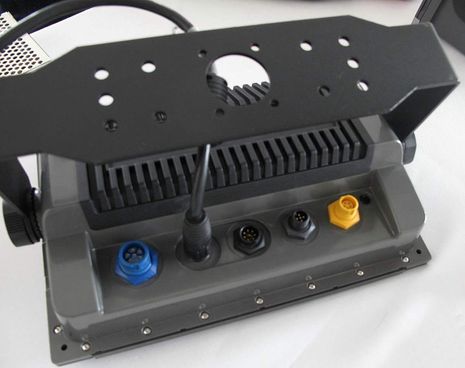 And one final testament of what a product demo extravaganza Palma was: They got a diver to place metal letters on the marina bottom so that a boat full of wizened writers driven just so while looking at a NSS7 running StructureScan would see the following screen materialize.