Navico Broadband Radar, a really big deal?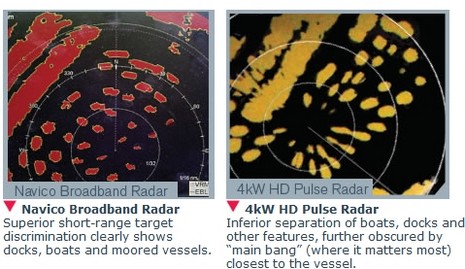 One reason I wish I were at METS today is that Navico not only debuted its Broadband Radar, but may be running it in their booth. That's possible because this 18" solid state radar transmits at "1/2000th the power of typical pulse radars." And it might even generate meaningful images inside that huge show hall as the technology is supposed to be amazingly good at resolving short-range targets (as suggested above). The various Lowrance, Northstar, and Simrad MFDs that are going to be updated to support this scanner will even have a 1/32 nm range. So…high target resolution, very low power draw, almost no dangerous radiation, and no tuning or warm up time needed…is this an interesting development, or what?
I first heard of solid state marine radar a while back (SharpEye) and got more excited when I learned (off the record) that Navico was working on this recreational version. The claims on their new Broadband Radar site may be true: ideal compliment to large yacht radars (and AIS), or ideal primary radar on smaller boats (sailboats particularly). But of course we won't really know until we get to see these scanners in action. I'm told that they'll ship during the second quarter of 2009, and at a price somewhere between conventional 2 kW and 4 kW sensors.
Incidently, some worthy products won DAME Design Awards at METS today, and some didn't (my thoughts tomorrow). I'm also hoping to get some guest entries from Amsterdam, maybe even some more Jeff Hummel observations. But meanwhile I've been busy (and content) putzing around the lab; I think you'll get a kick out of how some very dissimilar product testing came together today.