Navionics road trip, & Panbo irregularity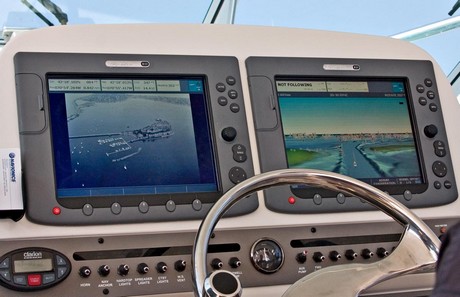 I'm back from Boston, where Navionics showed a bunch of boating writers what Platinum cartography looks like on the water, and also laid out its overall product plan for 2006. Panbo-wise, it's all a little frustrating. I've been beta testing Platinum on a Raymarine E-120 all summer, and have tons of photos and screen shots to illustrate its features in detail. However, I agreed to Raymarine's understandable request that I not use anything until the code is finalized. Soon, I'm told, very soon. (I got the shot above, and bigger here, during the demo; on the left screen you can see how big the oblique marina and port entrance photos are. Incidentally, when there was a chart on that screen, it was neat to see how well it could synchronize with the 3D screen at right, something I hadn't seen in my testing).
Similarly, I can't yet talk about what Navionics is up to in 2006 (very interesting). Instant Panbo publishing is a little too fast for these guys! I may run into this situation a lot this fall, as electronics companies reveal their new products, often timed to magazine cycles two or more months long. Plus my Panbo posting schedule is going to be choppy. In the next six weeks I've got a 'research' cruise with my daughter on the Hudson river, a press junket to the French Riviera, two trips to Florida (NMEA conference and Ft. Lauderdale boat show), and a completely non nautical but spectacular conference (Pop!Tech) where I volunteer so I can hear what some really large brains are thinking about our tech future. I think of this fall period as a regime of fattening my own brain for the winter ahead.