NMEA Conference 2012, improved by strife?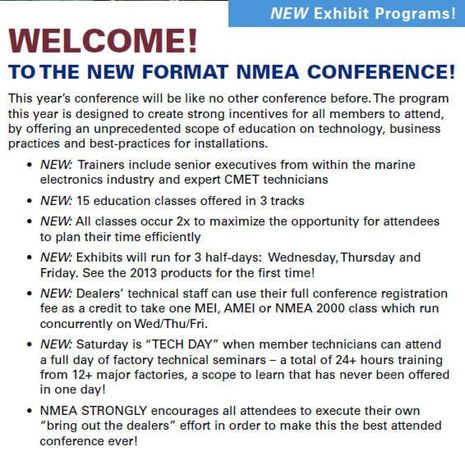 The 2012 NMEA Conference has been completely redesigned — as in NEW, NEW, NEW! — and I have a pretty good idea why. There was a strange moment during last year's conference, a noisy late-night hotel bar scene that got just a little quieter when many of us realized that the most senior managers of Garmin, Furuno, Navico, and Raymarine in attendence were gathered in a corner talking intensely. What the heck? The Big Four of marine electronics are pretty fierce competitors and you don't normally see the honchos having drinks together. Of course there was joking about price fixing but apparently the real subject was how to fix the Conference. To understand the issues — which will affect most all us boaters eventually — you need to know more about the dynamics of the NMEA…
For 55 years now the NMEA has been a dealer centered organization. The official history says that the founding members "got together at the New York Boat Show to discuss how to strengthen relationships with electronic manufacturers" but I've heard that phrased a little differently by an old timer who was there. As in "the little dealer/installers got together so we could stand up to the damn manufacturers!"
There's a natural tension between dealers and manufacturers in any industry I suspect, but especially one where the retail companies are typically quite small, which is still true of marine electronics dealer/installers. But of course there's also common ground, which is why manufacturers have been permitted to be members of NMEA for some time. We see the results in standards like NMEA 0183, NMEA 2000, and the coming OneNet. But the manufacturers do not run the NMEA by any means…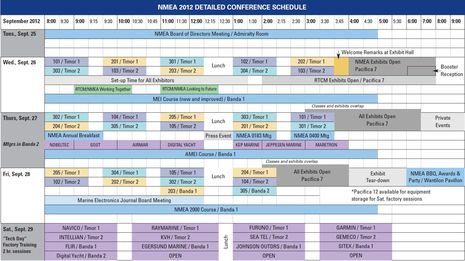 Just check out NMEA's Board of Directors. By my count, at least ten of the eighteen, including the Chairman and Vice Chairman, are dealer/installers while the manufacturers only have three representatives on the board. But then again, the manufacturers must be a significant income source for the NMEA orginization when you consider things like higher dues, ads in the Marine Electronics Journal, and all the ways they support the annual conference. This is a recipe for tension…

The immediate problem bothering the manufacturers is the odd fact that recent conferences haven't attracted enough actual dealer/installers. It's expensive for, say, a boatyard in Maine to send its main electronics person to a four day conference and it's really expensive for a big manufacturer to send a product exhibit and a team to man it and also run trainings. If not enough of the former happens, the latter seems pointless.
And even a small number of dealer/installers can be a tough crowd, as I saw last year when several of them got quite vocal when one manufacturer presented a new warranty policy that seemed to include untrained "dock walkers" (i.e. installers without retail shops). I don't know exactly what happened after that show but things have changed, including NMEA's Executive Director, which is one of its very few paid positions, and clearly the organization is trying to run a Conference that attracts more dealer/installers. They've trimmed away much of the fraternal organization type fun — no more golf and fishing tournaments, for instance — in favor of packing the days with more training and product demo value. I've included various bits of the conference brochure to illustrate, and the program sure looks good for serious installers to me. But attracting that segment is not the only problem facing NMEA…
There are at least two constituencies not represented on NMEA's board at all, the big marine electronics retailers like West Marine, Defender, and even Best Buy, plus the production boatbuilders who now often install complete systems in their factories. The manufacturers aren't happy about that either, and one executive who cornered me at the last Lauderdale show must have repeated the following ten times: "They have to decide if they're The National Marine Electronics Association or The National Marine Electronics Dealer/Installer Association!" The manufacturers want to preview their latest products to all their channels and they want all their channels to get the training that results in good installs and satisfied customers.
I remain a big fan of NMEA. I think that the open standards and installer certification levels the organization has created have yielded enormous benefit to boaters. And I like many other NMEA initiatives, like the recent Master Dealer program, which carefully quantifies the technical proficiency and customer service commitment of specific shops. But I also think that the big manufacturers have a valid point; a future NMEA can be even more important to the health of marine electronics if it can gracefully include all the constituencies involved (hobbyists too!).
I'll close with another enticement to attend the 2012 NMEA Conference in Orlando next month. I don't know for sure that the infamous Single Side Band will play again this year, but who would dare deny them? That guitar front line consists of NMEA Board Chair David Gratton, SouthEast Director and Conference Chair Brad Good, and Interim Executive Director Bruce Angus. They're good too!