NMEA & IBEX 2013 awards, winners & explanations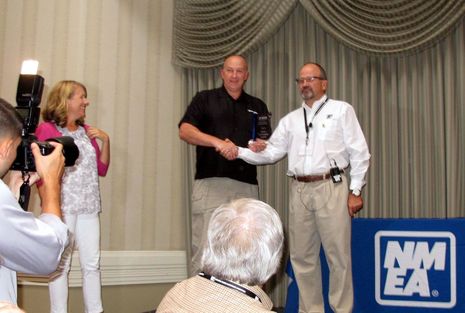 That's Raymarine's Larry Rencken accepting the NMEA New Technology Award for the Evolution autopilot system from NMEA Director Bruce Angus (with NMEA Office Manager Cindy Love assisting). This was Evolution's second honor in two weeks — congratulations! — as it also shared the IBEX Innovation Award for electronics, as discussed on Panbo here. Whereas I was involved in that first contest and a close observer of the various NMEA Awards, I thought I'd explain how they work and also note the other winners. No awards process I know of is perfectly fair, but these are handled quite seriously and are worthy of attention, I think.
NMEA offers Product Awards in several categories plus the single Technology Award, which is quite separate. Electronics manufacturers nominate entries for the Product Awards and traditionally they were judged by all NMEA members who cared to send back the ballot. However, the results became fairly predictable and seemed to largely reflect the high standing certain manufacturers like Furuno have with the U.S. technical dealers who dominate this trade organization. So this year NMEA tried something new by appointing 50 anonymous expert judges who were "proportionally balanced amongst dealer, manufacturer and trade members in each NMEA region."
   Manufacturers could submit one product nomination for each brand as long as it had been "available for sale in North America no earlier than January 1, 2011 and no later than June 30th, 2013." Also, a nominated product "using NMEA 0183 as the data interface must utilize RS-422″ and one with N2K "must be NMEA 2000 certified or have been submitted for certification."  As best I can tell, the expert judges were not necessarily looking for most innovative, but rather a more general "best" product. And here are the 2013 winners in order of announcement:
Autopilot­­: Garmin GHP 20 Autopilot with Smart Pump (which may well be the first time Garmin won an NMEA Product award and drew large applause).
Fish Finder: Humminbird 360 Imaging (another large round of applause — perhaps partially because it was becoming clear that these Product Awards really were different — and I heard that the Furuno crew enthusiastically bought the Humminbird crew a round later that night).
Radar: Furuno TZtouch TZT14 w/ DRS4D (some things are virtually undeniable).
Communications: KVH TracPhone V3 (KVH has also built strong relationships with technical dealers, plus when the nominees were announced, I noticed all sorts of worthy products ranging from security systems to VHF radios) 
Entertainment: KVH TracVision HD11
Navigation: Furuno NavNet TZtouch Black Box System
Computer-Based Software: Nobeltec Time Zero App (this was a new Product category this year and the first Product Award to an app, I think).
Marine Specialty: FLIR MD-625 Thermal Imager (another category stuffed with interesting and divergent nominees and another challenge to the experts, I suspect)
Manufacturer of the Year — Support: Furuno USA (All NMEA members could vote on this and the applause was huge as Furuno has won the category ever since it went on the ballot in 2005!)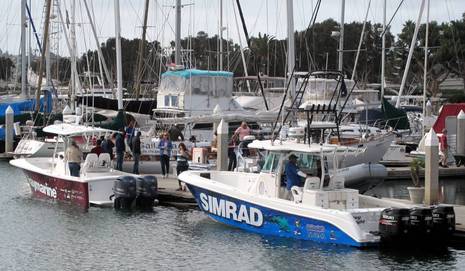 Manufacturers can nominate the same or another product for the NMEA Technology Award except that it has to have been released for sale after June 30, 2012 (and again prior to June 30, 2013). This award is determined by three judges put forward by Boating Writers International and I know the drill well, as I was one from the award's inception in 2009 until I rotated out after the 2011 NMEA Conference. This year's able BWI judges were Bill Bishop, Zuzana Prochazka, and Mark Corke.
   Before they even got to San Diego, the Tech Award judges got packets about each nominee product, and then they went around the conference exhibit area to review them. In some happy cases that also meant a ride on a demo boat like the ones above, and I hear that the judges really put the Evolution thru some paces (like a highspeed sharp turn). At any rate, based on the award's stated criteria of "innovation, benefit to boaters, practicality and value," the trio gave Evolution the nod and also awarded honorable mentions to the Nobeltec TimeZero app (my enthusiasm vindicated?) and to the Garmin quatix watch (with which I'm also very impressed, review coming).
   It's no coincidence that the IBEX (and Miami) Innovation Awards are also judged by BWI members using very similar criteria.  They're just much bigger affairs (and IBEX also allows nominees that will be released for sale within 60 days, which I think a bit dangerous). This year seven of us reviewed 59 products in more than 9 categories (we're allowed not to give an award in a category, and we did). That meant huge boxes of brochures, samples, and USB sticks shipped around the country, then two solid days of walking the show floor as exhibitors set up their booths, and finally, some comparative Google searching and lots of spirited discussion.
   Listed here are the IBEX 2013 Innovation Awards and note electronics-wise that still-innovating Fusion Marine Audio got an honorable mention in the OEM Electronics category won by Raymarine and Volvo Penta/Garmin; that Navico won in the Boatyard and Dealer Hardware/Software category for System Builder (not a consumer product, but certainly of benefit to); that ABYC won for Safety Equipment with its free Boat Essentials app; and finally, that I'll soon put up more detail on Syntec Industries' Smart Wheel, winner in the Deck Equipment & Hardware category. When our super-organized leader Alan Wendt hit the stage at the big IBEX opening breakfast — with silly slides profiling his fellow judges — we even got to honor a particularly compact and easy-to-install Dometic Marine Head.