Panbo at AC34, photo tweeting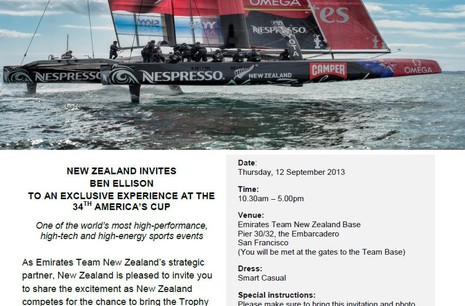 Best ticket ever?  I'm so excited about getting slightly behind the America's Cup 34 scene — and out on San Francisco Bay for races 6 and 7! — that I'm dreaming up things might go wrong. Could there be too much wind to race?  In race 4 both boats averaged 31 knots — with bursts to 45 — in winds that averaged 19 with peak gusts at 23. Obviously, things can really go wrong when a catamaran is going that fast, while delicately balanced on relatively tiny lifting foils. Or might Oracle Team USA find some way to delay further as crew and/or boat changes are hotly rumored…
Jack Griffin's excellent Cup Experience site has a good visual explanation of the several ways Oracle blew its lead on Sunday, and naturally, some folks on the AC Anarachy forum are calling for heads to roll. What's more amazing on that forum is how many AC34 skeptics admitted their error after the early races revealed totally awesome match racing that you can almost feel via television, phone and/or tablet. Tactics, crew work, and design nuances are all at play, and it is still possible that Oracle will snatch victory from the jaws of defeat.
So, while I'm actually hoping that the hospitality boat will have a TV aboard, I also have the AC and CupExperience apps loaded on both Android phone and iPad. My main goal, though, will be to take in the scene and maybe even spot some interesting electronics when we get a "pit lane tour" before the race. I'll try to share the day via Twitter. Geez, I'm so excited I can barely write a sentence!
PS 9/23: I had to remove the Twitter feed widget because it messed up the Panbo feed to Sailfeed — so many feeds — but you can still find it on Panbo's main page or by searching Panbo_BE Twitter. Meanwhile AC34 has been blowing many minds including mine. If ETNZ wins at this point, no one will really know who the better team and boat are, so if that happens I'm hoping some sort of follow-up 'truth' match will be arranged. Whatever happens, Larry Ellison, Russell Couts and company deserve giant credits for visioning and financing the race management and broadcasting systems we've been enjoying.