Raymarine A65 & Navionics Silver, strategies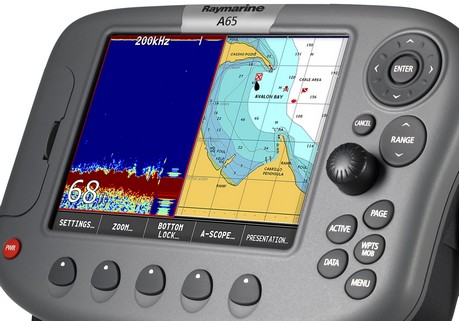 Next week in Ft. Lauderdale I'll get an on-the-water demo of the new Raymarine A65 along with its included Navionics Silver chart card…so details then, apparent strategies now:
* The A65 is a 6.5", though full VGA, plotter/fishfinder (or plain plotter) that seems to incorporate Raymarine's crisp digital sonar technology and some of the friendly soft key interface seen in the C and E Series. It does not support radar, a high speed bus, or even SeaTalk2/NMEA 2000, but it does seem to offer some bigger boat electronics goodness in a smaller package (and price, though I don't have the exact numbers just yet).
* The A65 comes with a Navionics Silver CF card that includes full detail coverage of the entire US coast. My understanding is that this signals the beginning of Navionics' three tier chart strategy—Silver, Gold, Platinum…good, better, best. All the details aren't out but the idea is that users of at least some machines can upgrade through the tiers as desired; meanwhile Navionics can move features down through the tiers as competition dictates. Slick.
The total package seems like a big "hello" to Garmin's 192/198 series, Lowrance's NauticPath etc., and also, in a way, to NOAA's imminent giving away of all U.S. raster charts. (And a note to readers from outside the States: sorry that your governments are not pushing vendors to provide more and better chart coverage for less money, but then again you don't have a powerful politician trying to gag your met offices.)