Raymarine at FLIBS, A & STX & SHD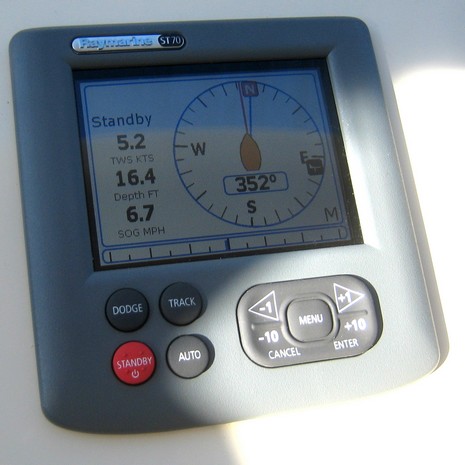 In Fort Lauderdale, Raymarine once again did a great job with sea trials, offering rides aboard a center console equipped with a new A70D chartplotter/fishfinder and SmartPilot X-5 Sport, and the same big G-packing fly bridge yacht they used last year, only now with STX and Super HD radar. While there's certainly been a lag between the STX pilot introduction and actual shipping products, the series does look good. The new ST70 control head (above) is sexy and gives access to new features like fishing patterns, but some users will appreciate the ability to use older Ray control heads as well, or instead of. In fact, the STX family seems remarkably flexible in terms of boat type and system integration.
I'll be particularly interested to see how well STX plays with other NMEA 2000 devices. For instance, its gyro-aided heading should be available across a multi-manufacturer network and it should be able to steer to any N2K wind sensor's PGN. At least theoretically. Raymarine has had some issues with its SeaTalkNG version of NMEA 2000, but I'm told that fixes are coming.
I didn't get a great look at the A Series (I was last on the center console), but it seemed to fulfill the promise I first saw in it. From my vantage point the screen didn't seem very bright, but I'll reserve judgment on that until I get to try one myself. Overall, STX and the A-Series brings STng/N2K down to smaller power and sail boats, a trend I hope Garmin and others will emulate.
As for the G-Series, the photo below would have been neat except the ship headed out the cut toward us is almost entirely hidden behind the mullion. Do check out this larger screen photo, though, for a look at how AIS and radar can work together. I didn't really see the "Super" in this HD radar trial, but trials are brief, and I know some owners are very pleased with it. Raymarine also showed a wireless kit for regular STng G-Series keyboards and a new compact keyboard (all shown here). Choices!