Raymarine G-Series, hints!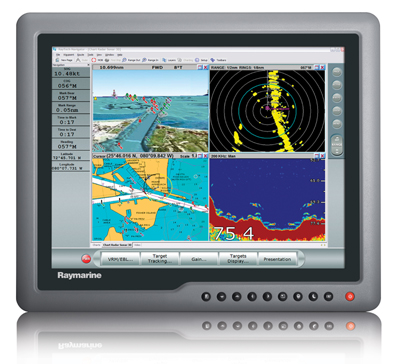 When Ask Jack Rabbit recently got the goods on Raymarine's new 12– and 15–inch G-Series monitors, brochures and manuals included, he hinted that perhaps other models or a coming black box would add "storage and processing capacity." Apparently so, as here's the "launch" description from the Southampton Boat Show:
Offering more than just navigation, G Series is a complete information, command and entertainment system providing a comprehensive and powerful solution for all onboard requirements. This high performance networked system features a built in high-capacity hard drive, pre-loaded with Navionics Platinum cartography providing detailed navigation charts, 3D topography and aerial photographic views. The G Series sunlight viewable, low profile, LCD displays are available in 12 inch, 15 inch, 17 inch and 19 inch sizes, providing unrivaled detailed on clear and easy to see screens.
Very interesting! But note that the screen shown above appears to be the PC program RayTech 6.0. (Remember that these ultra bright, ultra high-end monitors have nine video inputs, including two or three PC types.) There's got to be at least a somewhat newer interface to fulfill the G-Series mission of "information, command, and entertainment" system. I also suspect that 2008 is the year that embedded marine electronics and PC software melds into something hard to differentiate.
PS Today Furuno put about another NavNet 3D teaser, this one about a flurry of "new digital sensors," including a slew of Ultra High Definition radars (2.2 — 25 kw), a black box network fishfinder, and a GPS (new and digital how?).