Richard Stephens, master mini navigator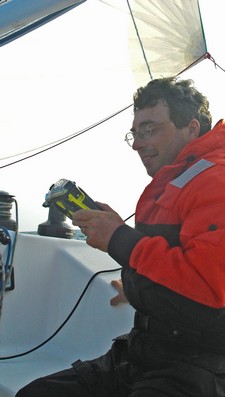 I'm a long time fan of the PDA charting program Memory Map, which is also sold as Maptech Pocket Navigator, and think that its developer, Richard Stephens, is one hell of a programmer. It's no great surprise then that Richard has mastered mini PC navigation, even while overnight racing aboard a wickedly wet Corsair 28R trimaran (In fact, it was so wet, at one point we had a 2' long fish flapping around in the cockpit!). But it's good to know that a coder is out there getting his butt soggy (getting to be one of my favorite blogs), and it surely is interesting to hear about his set up:
I used a PDA for navigation (of course). It was connected by Bluetooth to a GPS and to a cell phone in the cabin, which was in turn connected to a Digital Antenna signal booster and 4′ antenna. The PDA was an iPaq 4700, in a Otterbox 1900 hard case. I wear the PDA most of the time, strapped to my body with bungee cord (under my PFD belt so it does not flap around). It is turned off when I am not actively navigating, to save power. I also wear a Garmin Foretrex on my wrist, programmed with the route and strategic waypoints [using Memory Map either on the PDA or a PC].
The PDA runs Memory-Map for navigation, using the full detail of NOAA raster charts, with all weekly NTM corrections applied. I used the cellular internet connection to access weather information from NOAA. The real-time buoy/weather station reports, weather radar images, and the ETA wind model. were all extremely useful at different stages of the race. All of these were accessed just using the web browser on the PDA.
Richard and the rest of the Flight Simulator team won first in class in their latest race, the Mackinac. How geek cool is that?