Samsung Chromebook, your $129 'burner' boat laptop?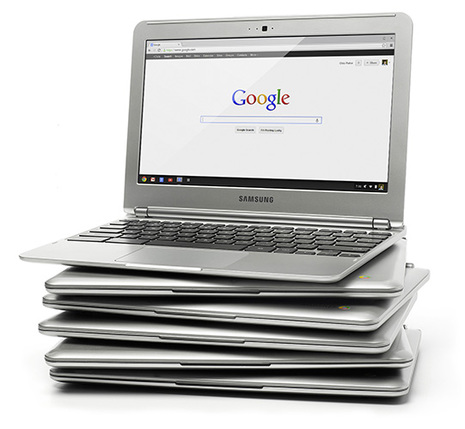 Before discussing my brief but positive experience with a Samsung Chromebook, I have some important advice. Do not brag about how little financial (or data) risk is involved in boating (or traveling) with this 11.6-inch, 2.4-pound laptop even though it looks and acts something like a precious MacBook Air. There's a fair bit of truth to the brag, but the deities of humility may then make you prove the point by, say, leaving your nice new Chromebook on a airport security belt in the Grand Canary Islands…
Yup, that's what I did very early Wednesday morning, and then didn't realize my idiotic move until the next flight left Madrid and I was ready to use the Chromebook to catch up on email and write Panbo entries. Messages to the Las Palmas airport Lost and Found department have gone unanswered and a writer friend who checked their office on her way out Friday found it locked. Now I'm resigned to the loss; after all, it's quite possible that someone in that tourist-crowded security area chaos was bold enough to snatch my orphaned laptop, but here's hoping that they thought it was a Mac Air. If so, they must have been quite disappointed as the silver plastic Chromebook is much less elegantly constructed, much less powerful, and much less valuable.
In fact, I count my Chromebook cost at $129 because while the Samsung sells for $249 on Amazon
it includes two years of 100 gig Google Drive that I was already paying $5 a month for. It was not a problem to enable the voucher and then cancel my subscription without disturbing the 78 gigs of data I've already uploaded to Google's cloud. And of course Google's whole cloud philosophy is why I didn't lose any data whatsoever and could set up another Chromebook in minutes.
And don't be fooled by reviewers who think that Chromebooks only work when online. It's a little hard to find the settings but once done your recent Gmail and all Google docs are automatically cached on the Chromebook and then synchronized once you're back online, if you've changed them. There are also numerous Chrome apps for, say, editing photos; so I was able to do all the tasks necessary to posting an entry on Panbo, which is something I've never figured out how to do with an iPad. Plus the keyboard is much better than any iPad accessory I've tried and what-should-be-simple tasks like cut-and-pasting a URL really were easy on the Chromebook.
But note that you will not be able to load any Mac or Windows programs onto a Chromebook, so when I suggest that it might make a good boat computer I'm not talking about charting programs but rather the other tasks like checking weather and cruising sites. But then again, if you have a laptop set up for navigation, you probably don't want to toss it in a bag and take it to a marina or coffee shop WiFi hot spot. The Chromebook then can serve like the Yacht Phone, a nearly disposable 'burner' device that gets the job done while its more valuable relative stays safely on board.
I have one more piece of hard-earned advice, and it applies to most any laptop. Do log out of your email, etc. before travelling. This is particularly true of a Chromebook, where logging in can mean syncing passwords, bookmarks, cloud drive, email accounts, and much more across all your computing devices. I'm not sure what I did the last time I closed the Samsung at 4:30 am (11:30 pm EST) in the fabulous Hotel Santa Catalina, but the first thing I did after landing in New York City was to change a lot of critical passwords, and I'm still a little anxious.