Scheiber's kinetic Light Air Switch kit, with Marinebeam assist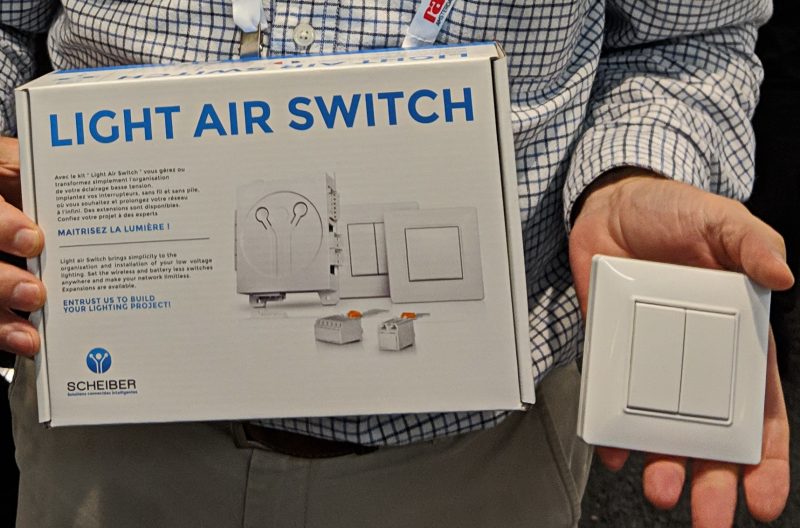 Scheiber is a substantial French electronics company that provides sophisticated systems to large boatbuilders like Beneteau and Lagoon, but it's now offering its lighting control technology in a retail kit form that means a local installer or DIY could use it for refits or custom builds. Moreover, the $350 Light Air Switch is distributed and supported in the U.S. by the crack team at Marinebeam, and what technology it is! For starters, the wall switches themselves don't even need batteries, let alone wires…
In this demo video, Marinebeam's Jeff Field explains how the switch is powered by harvested or kinetic energy. In other words, simply the motion of your finger pushing On or Off — or even push/hold for dimming — generates the wireless signal that gets the job done. Field also explains how a single Light Air module can control dozens of light fixtures with dozens of switches (if desired), and shows how easy it is to program each switch to work with one or several lights, no PC or smartphone needed.
Note that Marinebeam published this Light Air Switch video in 2014, so the basic system has been out in the field for several years. The new OEM and retail version, however, has been improved by separating the wireless gateway from the switching module.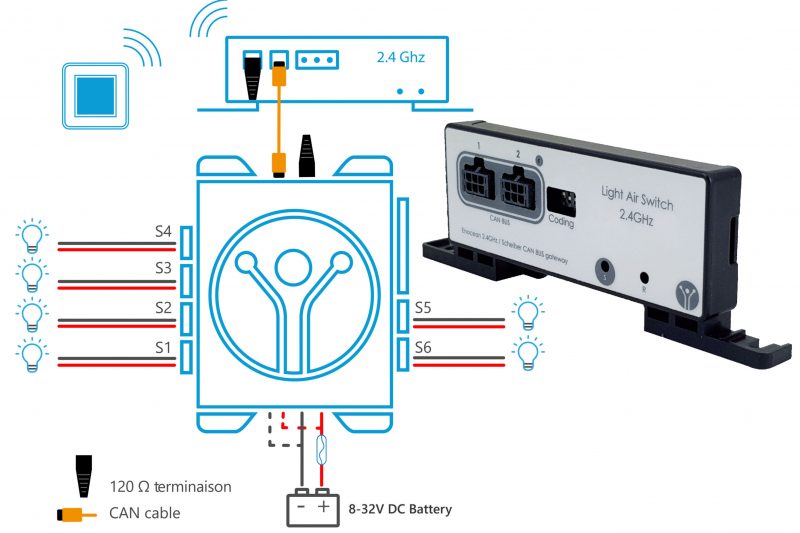 So here's a current Air Light Switch system diagram along with a photo of the new gateway. The advantage is being able to install the module near the light cables with the gateway placement optimized for wireless connection to the switches. Note that each of the module's six lighting circuits has integrated current sensing protection so that only a single circuit breaker is needed for the system, and extension modules are available if six circuits aren't enough.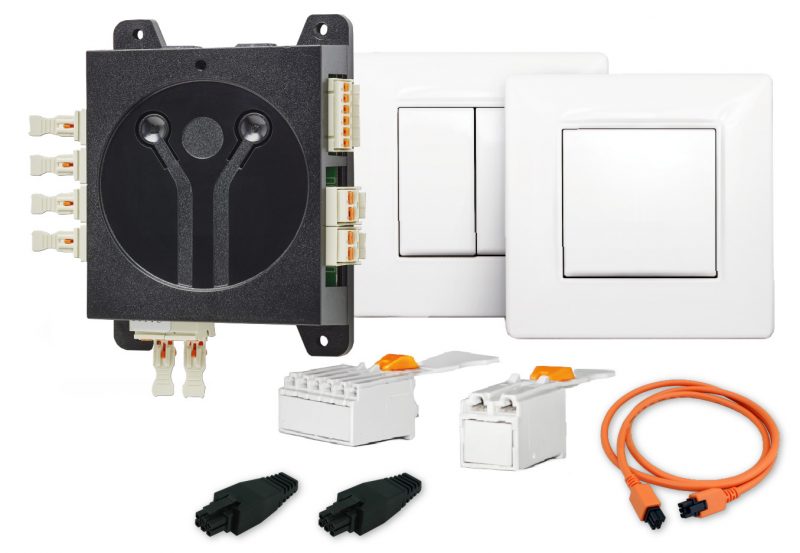 And here's the rest of the kit showing the new main module with the same two programming buttons shown in the 2014 Marinebeam video. The connectors remain the same, though still unfamiliar to me, and I'm impressed with the claimed durability of the Wago picoMax design, which also looks very easy to install.
On the other hand, the unfamiliar orange CAN Bus cable that connects the switch module to the wireless gateway is also a reminder that this lighting control system could be running on the NMEA 2000 version of CAN Bus with standard cables and possible interfaces to all sorts of marine displays. But then again, I can't think of an N2K control product with the Air Light features and relatively low cost.
In sum, this simple task-specific digital switching product can not manage boat lighting as well as systems like C-Zone or the new Lumishore Smart Lighting, but it offers a lot for the hardware and install cost, and in some cases could be much more boat upgrade than just moving to LED replacement bulbs (though Ben Stein just illustrated how easy that is).
Also, while the Light Air Switch can certainly serve standalone, note the mentioned compatibility with other Scheiber and third-party boat systems. I'm sure there were new compatibility discussions going on in Scheiber's 2018 METS booth below and, moreover, I know that very familiar brands like Simrad are aiming for compatibility with most any digital interface that makes boating better, standard or proprietary, en route to full information display style integration.