SeaView & ScanStrut mast mounts, solid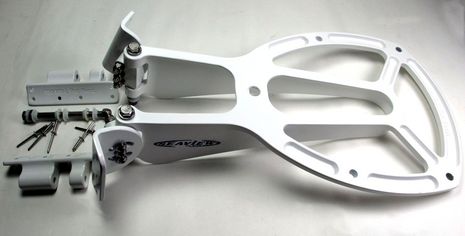 A big thanks to both ScanStrut and SeaView for contributing mast mounts to the ongoing Gizmo radar testing program (will it ever end?). I found the SeaView SM-18-R to be as solid and easy to install as the ScanStrut. In fact, having just two feet instead of four might make the SeaView a little stronger and easier to align (though there may be a reason for the four-footed design I haven't understood yet?) SeaView also offers the optional canting feet shown attached in the photo above, which made the Gizmo flying bridge mount possible…

I had a little trouble getting the six bolts that control the mount angle tight enough, because the nuts are so close together, but it is doable, of course. I hadn't yet drilled, slit, and installed the watertight rubber puck in that Blue Sea Cable Clam also seen below, but can tell you now that it all goes together quite neatly.
I haven't tried any other radar mounts, like Edson's (which may not be their own design), but note that ScanStrut and SeaView seem to have nicely complete and competitive lines. Both even offer self dampening mounts for heeling sailboats. I know that some skeptics doubt their value, but the concept makes sense to me, and it proved out when a German magazine did a head to head test (PDF with translation here).
Incidentally, the Broadband Radar radome below enjoyed a work out this weekend because I got my mitts on a new product that works with it. Read all about it tomorrow!