Seetrac Solo, more tender tracking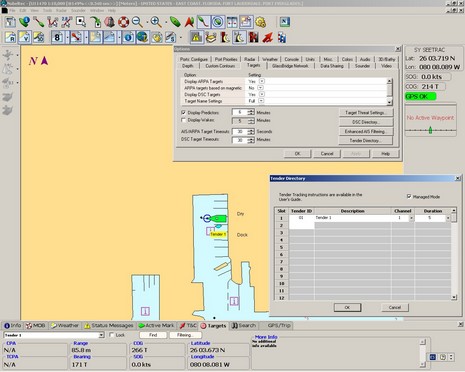 Well, my entry on how Rendez-vous tender tracking uses AIS message conventions seems to have confused even some AIS savvy folks (sorry, Del). To be clear, Rendez-vous will not show up on anyone's screen unless that screen is connected to a specific network of Rendez-vous radios. Rendez-vous just uses the AIS data structure so that plotting software does not have be modified to see the tenders in a network. Get it? I think it clever, but the folks who developed the Seetrac Tender Tracking systems aren't so sure:
With the advent of Class "B" AIS, many smaller craft will now be fitting, or will be required by law to fit, AIS transponders. With the system you have described the AIS targets will all be displayed on the screen at the same time, without the option of de-selecting or choosing targets. This is typical AIS protocol. You are not supposed to be able to selectively "de-select" targets. With Seetrac, by deselecting the AIS targets on your chart, you can see ONLY your tenders. When you are anchored up in a small bay somewhere, do you really want your tenders to be lost amongst the swath of unrelated AIS targets. The answer is simply, no.
I think this is similar to the worry that Class B AIS will make navigation screens too busy. My feelings is that we are not nearly there yet, and by the time there are "too many" AIS targets, most boats will have bigger screens and better software to deal with it. That said, there's no doubt that plotting software especially designed to distinguish and track your tender fleet is going to do that job better, as illustrated in the Nobeltec Admiral screen above, bigger here (but this software costs not a little extra). Finally, I'm glad to hear that Seetrac is introducing a new Solo model aimed at less than mega yachts. $7,000 will get you the two radios below and all the bits needed to rig a mother ship and one tender or PWC for tracking, panic button, and "break rope" towing alarm.