Rendez-vous, clever use of AIS standards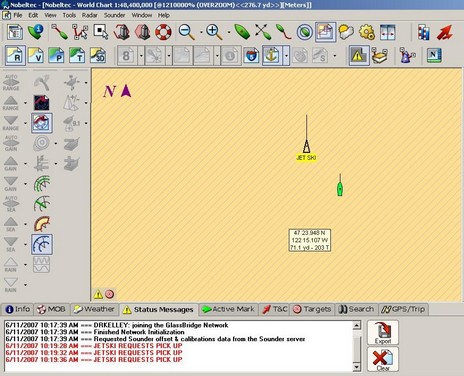 Tender tracking systems, like the Nobeltec/Seetrac combo discussed here last year, are a bit exotic (even a bit mockable). But I've seen the captain of a big charter yacht worry over a ditzy guest out on a PWC, plus I see how over-the-top some mega yacht tenders are getting (like the Vikal Limo). In fact, when I was in the British Virgin Islands last spring, it seemed like every big, really fine center console I saw turned out to be the "little" boat often towed by one much bigger. In other words, tender tracking can be serious business, and I think the new SeaCas Rendez-vous system looks to be a powerful solution.

Here's my recent writeup in PMY, and here's Rendez-vous's Web site. As noted this system cleverly uses standard AIS messages for the basic tracking function. In other words, any plotter or software that can plot AIS can privately plot a tender if a Rendez-vous radio is hooked to one its NMEA 0183 ports (the regular AIS frequencies are not disturbed at all). And applications that understand AIS safety messages, like Nobeltec Admiral above, will show a "pick me up" message being sent from "Jet Ski" using an optional button. However, Rendez-vous can also take in and transmit a lot of data that's not included in the AIS scheme. To make use of it, a mother ship will use the company's own software, as shown below (and bigger here), or …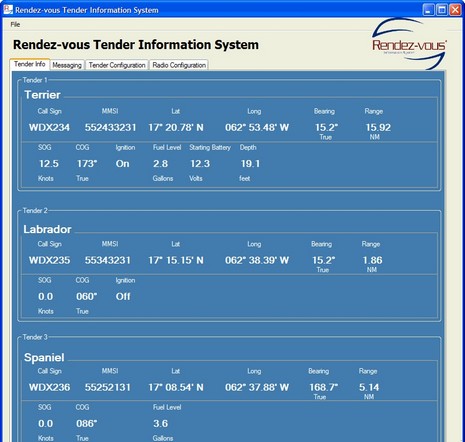 Or programs that have been adapted to Rendez-vous, like a coming version of Krill Systems monitoring software (below). Obviously it's possible to send depth data from a tender back to the mother ship—something a lot of expedition-style cruisers would like to do—but I don't know how it gets usefully displayed over a chart.