Shipnet, "reality tagging" on Nomadness
Zounds! When we last checked in on Steve Roberts, he was installing a Simrad AP20 with a rudimentary NMEA 2000 network, and waiting on a Furuno NN3D MFD12. It was pretty standard stuff for a guy who's into "geek expressionism, gonzo engineering, gizmological expeditions, and applied technomadics." Well, check out Steve's current vision of the network that will eventually reside on his 44-foot steel pilothouse cutter Nomadness. I think he changed his mind on the Furuno — too bulky for his helm — and is still undecided on the plotter/radar front, but, wow, has he been thinking about communications and system monitoring/control. Steve explains the whole diagram here, but let me just add that all those nodes lower right are based the interesting open source Arduino I/O project…

Steve calls his home built Arduino-based nodes "Busy Boxes" and he's already beta testing the "sewage" model (below). He's also started selling gear — like this simple magnetic position sensor kit — for similarly inclined boat geeks, and he's planning a book on this whole Shipnet project.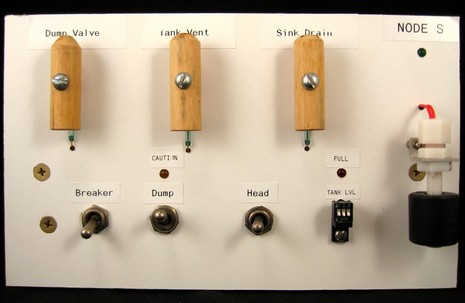 I think it's all neat, and look forward to following Steve's adventures on the cutting edge of DIY. I was particulary struck by his answer to the query "is there a danger that the complicated gadgets will distract from the fundamental operation of the boat, negatively impacting seamanship?"
Well,
not if I do my job right. The idea in all this is not to tinker
endlessly with gadgetry, but to strike a balance between the kind of
stuff I find most amusing and the practical needs of maintaining an
18-ton voyaging machine. None of this should ever be in the critical
path to basic sailing and primary safety; it is instead a layer of
"local situational awareness" that is intended to tag reality with
additional information… and otherwise stay out of my way.
I'm with Steve. Just last Friday I had a similar conversation with a boatbuilder who was annoyed at all the possibilities he faced outfitting a blue water cruiser. "Too many damn screens," he grumbled, "the boater gets distracted and doesn't get his head out!" I won't argue with that, and I'm guilty myself sometimes, but I do think that we're working toward boat systems so integrated and intuitive that we will be less distracted by them. Which will gives us more time to be aware of the world outside the boat, for safety and for pleasure.