Lowrance Simrad SonicHub, some details revealed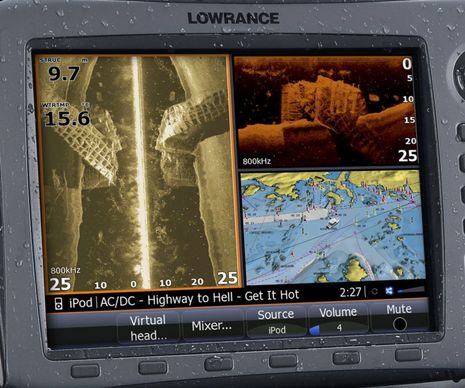 Here's what excites me about innovations like the Navico's SonicHub: If you're going to spend fairly big bucks on what is essentially a dedicated waterproof computer with goodies like an extra bright screen and custom soft keys — like a Lowrance HDS or a Simrad NSE — plus a rugged NMEA 2000 sensor network running around your boat, why not have them do as many display and networking tasks as possible? I first heard about SonicHub last weekend — in a very pleasant way — and now that I understand more of the details, it sure looks like a winner…
If you look closely at the Lowrance HDS screen above (click on it!), you'll see that the stereo controls are only taking up a small fraction of the screen, and of course none of the dash board, since it's a black box design. (And let's forgive whoever chose AC/DC for the photo shot; this is about technology, not taste 😉 But note the "Virtual Head Unit" button, which means that you can use that whole color screen to access your iPod/iPhone audio selections, and maybe other stereo functions, when you want (as you can see toward the end of this demo video). In other words, the Lowrance SonicHub spiel — "the perfect choice for craft with limited space" — makes sense, especially given a suggested retail of $300 for the 200 watt box with a pair of 6.5-inch speakers and an iPod/iPhone dock.
But what about larger boats, like the cruisers that might consider Simrad NSE SonicHub? It seems like a downside of this system architecture is that you'd have to leave your MFD and N2K networks running even when you were listening to tunes at anchor or on a mooring. Well, a close-up of the petite audio server (below) reveals a DIN remote plug, and, sure enough, Navico tells me that it will take the second generation Fusion MS-WR600 wired remote (maybe even a series of them). Note too that the box has outputs for amped subwoofers and a third zone (by implication it can power two zones of speakers on its own), and both RCA and USB inputs for auxilary devices, as well as inputs for an AM/FM and/or a Sirius Satellite receiver.
What's not clear yet is the video story. The NSE, for instance, has dual video inputs (and can make sharp use of them in my experience), and the latest Fusion RA-200 head and DKIPUSB dock can manage and output iPod/iPhone video (as discussed here). Can the SonicHub accomodate full Apple A/V with the right dock, or might that entail a future model? Also, will SonicHub integrate smoothly with Simrad and Lowrance's own Sirius Audio/Weather module? I dare say we'll learn these details as Navico and partner Fusion prepare the SonicHub for planned delivery in September. But the SonicHub details we already know are pretty attractive, I think, and given the CZone and DSS distributed power options already announced, it's clear that Navico is doing some very creative development around the latest Lowrance and Simrad MFDs and N2K. What the heck else could be up their r&d sleeve?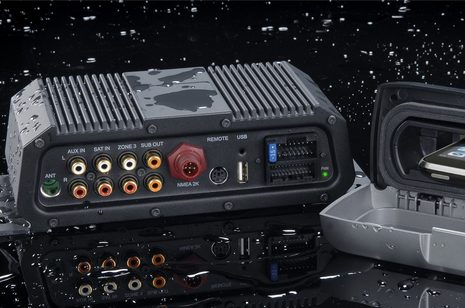 PS, 5/28: It turns out that SonicHub already includes the iPod/iPhone video features I wondered about. I don't know why the feature isn't mentioned anywhere in the marketing materials (talk about a product exceeding expectations!), but here's some pretty good proof: