SL Fridge Optimizer, smart new product from a new company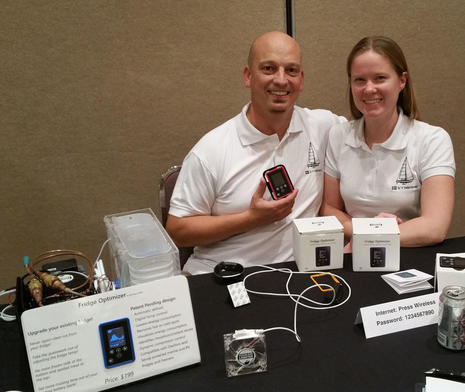 Here are Arvid and Annika Elias as they showed me a prototype of their very first marine electronics product in the press room of last fall's Ft. Lauderdale Boat Show. I was quite impressed and am now pleased to report that the Stainless Lobster Fridge Optimizer is official and shipping. If you'd like better monitoring and control of your boat's electric refrigeration system, and/or automated defrosting (fridge only, not freezer), and/or improved battery time at anchor, read on…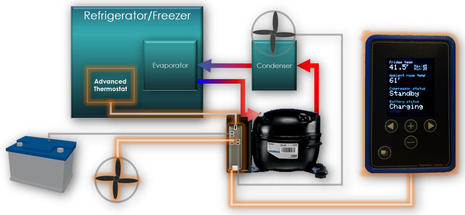 Here's an overview diagram of the Fridge Optimizer concept, with the parts that get added to your existing system outlined in orange. The main piece is a small monitoring/control head that plugs easily into the wiring harness of most Danfoss and Secop cooling units, which are used by many marine fridge/freezer companies. You also get an "Advanced Thermostat" module that replaces the thermostat currently in your fridge (and the control knob that may also be in there and thus often hard to set accurately). This module also has a humidity sensor and a small fan to both help even temperatures in the box and speed up defrosting. The exterior fan shown near the battery is optional, but if added, the Optimiser can use it to make the cooling unit more efficient.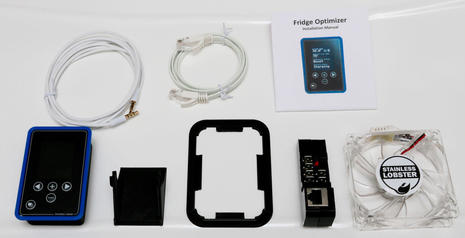 Here's what comes in the box. At lower right is the Advanced Thermostat module and next left is the clever connector that plugs into your existing cooling unit. You just reattach the existing wires with blade connectors for power and condenser fan (leaving two for the optional exterior fan), and then run the audio style cable into the fridge box for the new thermostat and the Ethernet style cable to the control head. The latter can be freestanding with that back bracket or flush-mounted into a panel with that back flange, which sort of ratchets onto ridges in the sides of the head to accommodate different panel thicknesses.
There's a lot of smart design going on there, I think, and in fact, the display head parts are all "printed" out of a composite material, which is why the front bezel can be had in numerous colors and also partially why this fairly complex product seems reasonably priced at $250 MSRP. Yes, you might notice in the opening photo that Arvid and Annika hoped to introduce it at $199 when we met in the Fall, but they were also smartly trying to get quality distributors involved. The bottom line: If you attend the Seattle Boat Show this week you'll find Arvid showing the Optimizer in the Sure Marine booth (E1101), with Sure apparently offering a show price of $180 and online at $204.
I'll also add that while the Stainless Lobster "about us" page is modest, this couple are deeply experienced tech developers (as well as seasoned cruisers onboard their S/V Inspirare). At our meeting, for instance, they were wearing brand new and beautiful Microsoft Band fitness/tracker/smartwatches because they were both on the development team (before Arvid went full time with their own Stainless Lobster).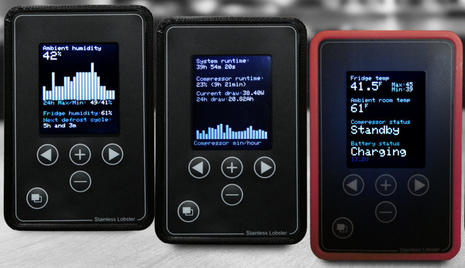 Finally, let's look at what the Optimiser can do for us, as detailed in the screens. Note, for instance, that the control head also senses temperature and humidity, so both ambient and fridge values are shown real time and historical. And I, for one, have always wanted access to the info shown middle above — a day's total fridge run time and amp hours used — but it's very hard to measure. Heck, sometimes I'd just like to precisely modify the fridge temp without trying to slightly turn a knob that's mounted upside down in Gizmo's fridge and often frozen. But for me the cherry on top is suggested below left. With Optimizer you can set a lower fridge temperature to be applied when the batteries are being charged by engine, shore power or solar panels, and thus use somewhat colder food to reduce cooler unit activity when the battery bank is on its own.
Gizmo does have a somewhat unusual reefer system — two separate Sea Frost BD coolers, each driving a plate in the freezer side of the box — but I think there may be a way to make use of a test Fridge Optimizer next summer. The Sea Frost gear has never failed, by the way, and I've sometimes considered adding their optional remote controls and internal fan widgets, but now I suspect that the Optimizer can do a lot more for the money.
Stainless Lobster already has a lot of Fridge Optimiser beta testers — another good sign — but maybe we'll hear from new users below. And even if you're completely happy with your boat's refrigeration system as is, I hope you'll give Arvid and Annika a warm welcome to the little world of marine electronics. (I know that they have several other interesting ideas already simmering.)