SmartCraft, the parallel universe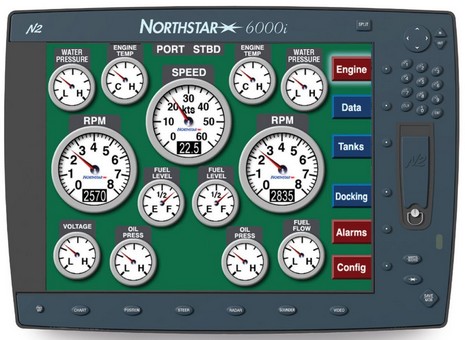 I got a peek at this display during NMEA , and I'm looking forward to going deeper in Lauderdale. What's the docking display? How much control does the user get over engine alarms? Are detailed diagnostics also available? This Northstar 6000i is (theoretically) connected via a gateway to a Mercury inboard or outboard engine equipped with SmartCraft, a CANbus data networking and control system with many similarities to NMEA 2000. The big difference really is that SmartCraft was developed by Brunswick and is being used by its New Technologies group (MotoTron, Northstar, Navman, et al) mostly in boats build by Brunswick. Other companies like Airmar, Onan, Dometic, Xantrex, and DNA Group have gotten involved, but SmartCraft is essentially driven in a top-down, business-like way. By contrast, NMEA 2000 sometimes seems like chaos. Maybe that's why there are currently lots more SmartCraft boats out there than NMEA 2000 ones. It may be a parallel universe, but if it works well for you…well, cool. Then again I've heard that there are some downsides to SmartCraft worth discussing one day.
Note that the 6000i above is a new 12" model, meaning that you can now get these networked multifunction displays in a phenomenal five sizes—15", 12", 10.4", 8.4" and 6.4"—which is great for folks designing a multi display helm like this (put together, unfortunately I think, before the 12 or 15 inch models materialized).