Tacktick Micronet, part 1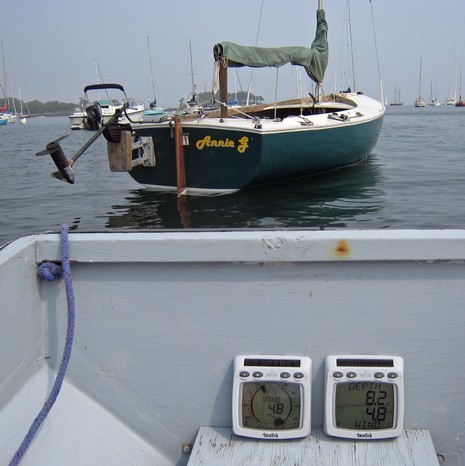 I finally launched Annie G., my Rhodes 18 (named after me mum), and am getting pretty excited about the various Tacktick instruments I've installed. I had to drill a substantial hole in the hull just forward of the mast for a T910 triducer that's wired to a T121 Hull Transmitter mounted just under the mast partners. And I had to modify the old Windex mast-head plate to attach the T120 Wind Transmitter . But I did not have to run a wire down the mast, which would have been a major pain. And of course the T112 Analogue and T111 Dual Digital displays—also wireless and solar powered—don't need wires either, as I'm demonstrating from my skiff above.

I was able to row over 100 feet from Annie before I lost the depth reading below, and close to 300 feet before losing the wind transmitter. There's more Tacktick bits to the system, and I've integrated all with a Garmin 430 via NMEA 0183, but I'll show you that tomorrow. So far I'm impressed with the build quality of this gear, the screen readability (I've selected the "wide" wind arrow display lower left), and the wide selection of data I can view. It may be a bit bizarre to have such instrument power on an 18' day sailer, but I think it's going to help me negotiate Camden's tight and very fluky Inner Harbor. Not to mention really get to know Tacktick.