TBF: Icom M93D, Garmin Quatix 3 & GNX Wind, Imtra Largo LED, and Navico makes ForwardScan more accessible
I'm slightly reluctant to mention this Icom M93D announcement because it's only "scheduled to be available in the second half of 2016" with price unknown, but, dang, it sure looks like an interesting DSC VHF handheld radio. I still think that many boaters don't realize the added safety, tracking, and navigation capabilities possible when GPS is integrated with portable VHF, though the Standard Horizon HX870 (that Icom is clearly gunning for) has been earning great reviews for a while. Also, note the lovely color-screen Icom GM600 fixed VHF "coming soon" with an SSB sibling.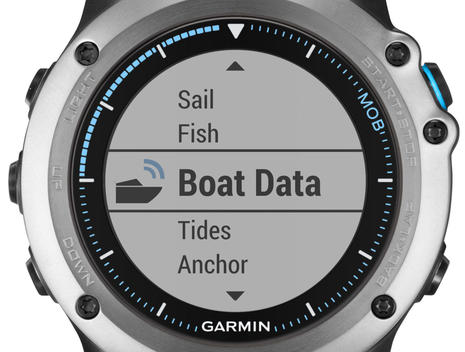 Yesterday Garmin announced the Quatix 3, an absolute monster of a marine smartwatch, and it's supposed to be available by April for $600. By monster I mean loaded with technology, not particularly huge — though that transflective color display is 1.2 inches in diameter. According to the Quatix 3 specs versus my experience with the original Quatix (and here), the 3 has GLONASS in addition to GPS, WiFi in addition to Ant and Bluetooth, and a whole lot more. Since the Q3 is based on Garmin's existing Fenix 3, for instance, you can learn about its many other multisport abilities in DC Rainmaker's exhaustive F3 review. I particularly like how Garmin has opened its latest watches (and more) to third party developers — information here — so that a Q3 owner can use their Connect IQ Store to try new watch faces and apps, and even new hardware integrations.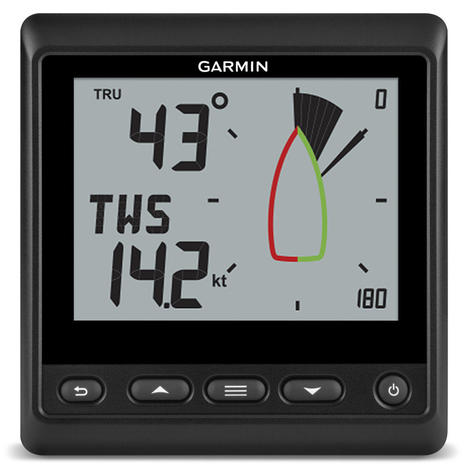 Garmin also announced the GNX Wind, a $500 out-by-April alternative to the big GNX displays introduced last year. The GNX Wind specs are not specific about it, but the new 4-inch screen also seems to use both segmented and dot matrix LCD tech to get some graphic flexibility along with high readability and low power consumption. Hopefully, it will work as well in full sun as the big GNX I saw at MIBS 2015 and note the power consumption of 0.35 Watts during the day, 0.4W at night.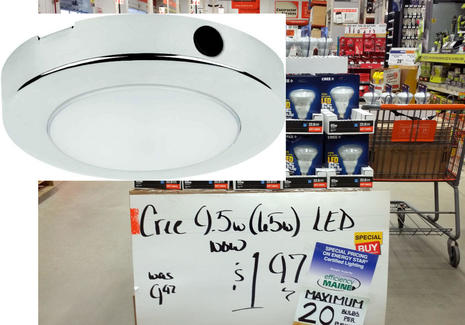 Speaking of saving electricity, that's my shopping cart loading up on $2 Cree 9.5W LED flood lights at Home Depot, and I already had a box of $1 60 Watt equivalents. They're working very well, especially given what I spent on earlier home LED bulbs, but I sure wish it were so easy for boats. In my experience, most LED bulb replacements for existing boat light fixtures are compromised regardless of cost. That's why I was happy to spot the relatively new Imtra Largo LED fixtures, which can replace a regular two-wire overhead fixture with dimmable white, red, or blue light. It's not just power savings but quality bright light with dimming and even color choices that LED tech can bring to your boat, and Imtra has a tremendous reputation for LED quality. I will note, though, that the four similar Lumitec TouchDomes I installed on Gizmo in early 2013 have been excellent and can sometimes be found for about $100. Note that the TouchDome's max 244 white lumens uses 6 watts — and is quite bright in my opinion — while the Largo's max 230 lumen only uses 4.7w, indicating somewhat better LED efficiency. For some excellent information on marine LED tech, check out Hella's recently published free PFD guide.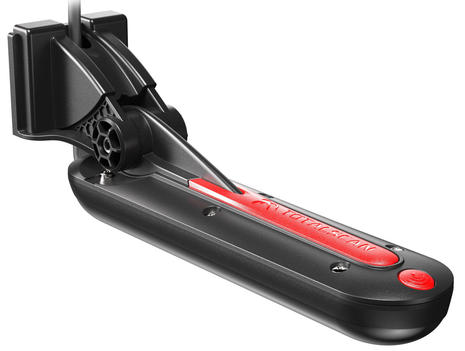 There are lots of fresh products coming out this winter and the rate is likely to increase. This new Simrad TotalScan transducer, for instance, can provide Broadband, CHIRP, StructureScan HD and DownScan imaging, and it's no surprise that there are Lowrance TotalScan equivalents (except with blue accents). They seem similar to the Garmin GT52HW that's purportedly due out soon (though there is some doubt due to the patent issues described in the comments here). Note, though, that the ForwardScan transducer I've been testing remains standalone — which makes sense due to its optimal install placement — and unique to the Navico family.
But ForwardScan is now easier to add to your boat because the new Simrad GO7 XSE and B&G Vulcan 7FS chart/instrument displays can support direct connection to the FS transducer (though not networking the results to other displays, of course, since they don't have Ethernet). I look forward to seeing them, and probably more, in action next week (if I can make it through the blizzard area) as well as presenting at TrawlerFest Riviera Beach. Plus, it's not too long until the newly located Miami International Boat Show and newly named Yachts Miami Beach, and little birdies are telling me about some exciting news there.