Garmin GNX 20/21 instrument displays, monochrome mashups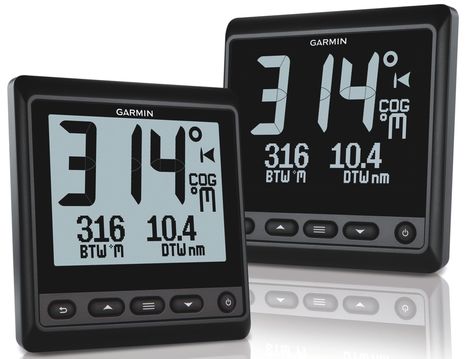 The press release for the new Garmin instruments doesn't mention it — and I didn't notice it at first myself — but can you see what's quite unusual about these monochrome displays? The GNX 20 at left and its inverted GNX 21 sibling have LCD screens that are partly segmented and partly dot matrix. I didn't even know that was possible, but I think it makes sense in terms of maximum power efficiency without completely surrendering to the readability limitations of large segments…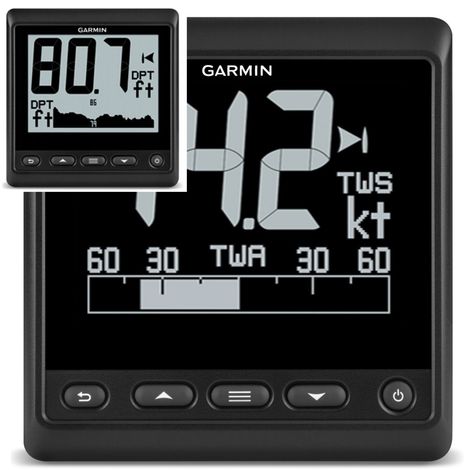 The GNX 21 true wind speed/angle screen above illustrates the segment/dot matrix mix pretty well, especially if you click to make it bigger, and the inset depth/depth graph does it even better, though I don't have a high resolution version. The segmented upper left section of these screens display big numbers crisply, much like Furuno FI-50 Digital and Multi displays. But the Furuno's can't show a graph and sometimes even label text is a little hard to make out. By contrast, the all dot matrix Simrad IS20 Combi and Graphic displays are good at strip charts and small fonts, but not so great at large numbers. The Garmin GNX 20 and GNX 21 use both power efficient LCD display technologies.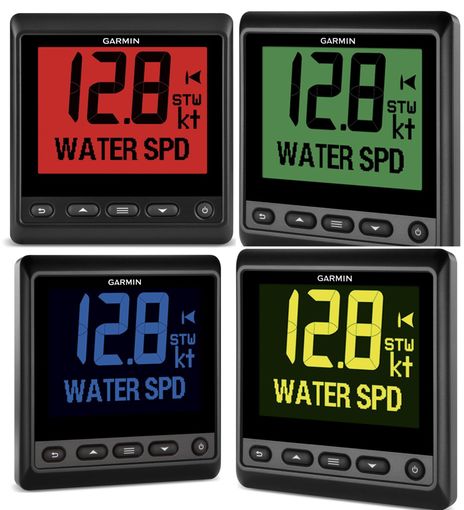 Garmin has also done something unusual with monochrome LCD backlighting, offering seven color choices and even the ability to custom mix them. Nonetheless, Garmin reports that the GNX displays only use .4 watt with mid level backlighting on and .35 during the day. And power efficiency — so important to sailors — is really what these $450 displays are about. A powerboater with plenty of spare amperage underway is apt to get a $550 all-color, any-graphic GMI 20 instead. Even big numbers look good on the new breed of all-in-one NMEA displays, as seen here, but they do use more juice (max on the GMI 20 is 2.5 W).
Powerboat may be the name of one set of data screens built into the GNX, but the other three are Sail Cruise, Sail Race, and Custom. I suspect the name change from GMI (Garmin Marine Instrument) to GNX (Garmin Nexus?) further signifies the sailing orientation. But Garmin didn't have to do anything special on the backside to accommodate Nexus systems, as they already introduced the GND 10 Black Box Bridge last fall (along with GWind and lots of other stuff). So existing Nexus users can add GNX displays via that NMEA 2000 port, and like the GMI 20 there's still an NMEA 0183 port for older sensors (though we're at the point where that cable is an option).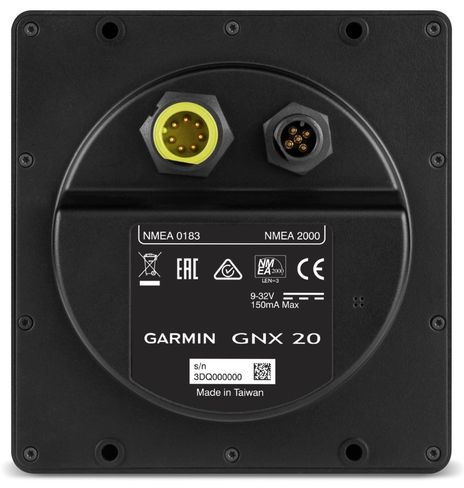 PS 12/19/2016: I made a mistake in the comments below, presuming that the GNX20/21 displays could not show large data fields like latitude and longitude. In fact, they can use either a small font as seen on the lower left GNX below, or in medium font like the one showing SOG MPH on the same screen, and they can do similar with many other data types you'll find listed in the GNX20/21 user manual appendix.