TBF: Spinlock, Humphree, Actisense, Victron, GC Rigging, and Minn Kota's must see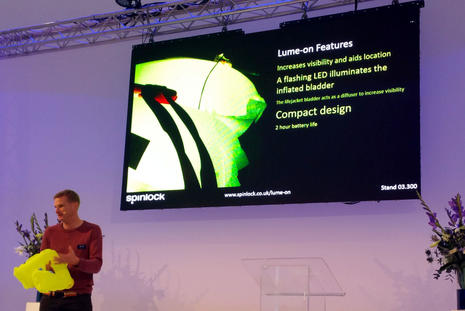 It's easy to understand and appreciate Spinlock's new Lume-On lifejacket illumination lights. The $20 pair should stick easily to the underside of any inflatable bladder (as long as you can get access) and then use the bladder's translucence to nicely diffuse their flashing LEDs if and when they are water activated. It seems a small cost in money, weight, and hassle for an added aid to person overboard recovery, and thus Lume-On won a 2015 DAME Award in the safety category. It also shared the overall DAME award (the Grand DAME?)…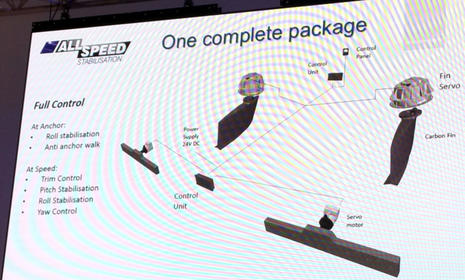 The other overall DAME award went to this Electric Stabilising Fin & Interceptor System designed by Humphree. It should improve boat comfort both at anchor and underway, and the judges expect its fully coordinated pitch and roll control to result in "much better handling and reduced fuel consumption." But it's certainly not simple and probably not inexpensive, a contrast with the Lume-On that was not missed by the judges. This was the first time ever that the overall DAME Award was shared, and I like how it highlighted two possible sides of innovation and design excellence.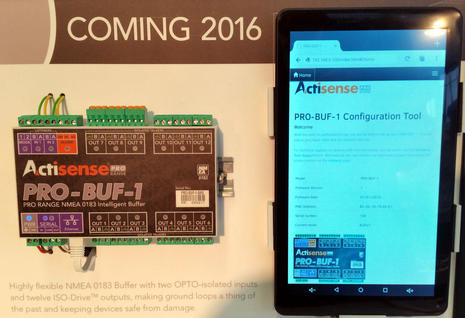 It's not online yet, but Actisense's Pro-Buf-1 will clearly be a powerful alternative to, say, their existing NBF-3 NMEA 0183 buffer. There is a bit more Pro-Buf detail here and apparently it's just the first in a new Pro range. I particularly like the incorporation of an Ethernet port and web server, which allows for extensive Pro-Buf custom configuration easily done by an installer with a laptop or mobile browser. This sort of configuration interface would also be quite handy on the EMU-1 analog-to-N2K engine gateway and I suspect that Actisense's experience developing devices like this will pay off further when they're able to work on a NMEA OneNet gateway.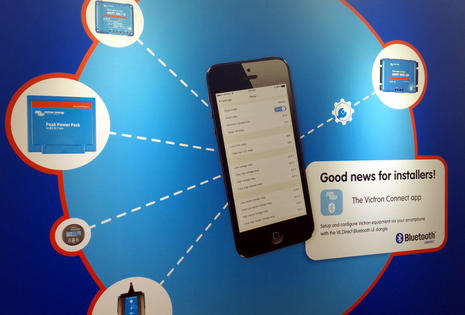 Victron is offering similar access to some of their many power-related devices, except with a Bluetooth LE dongle and mobile apps. The Android version is just coming out with configuration features that will eventually get to the iOS app. At METS I also saw a 1.30 update to the Color Control GX that can manage generator start/stops on many factors including desired quiet times or periodic test runs, more detail here.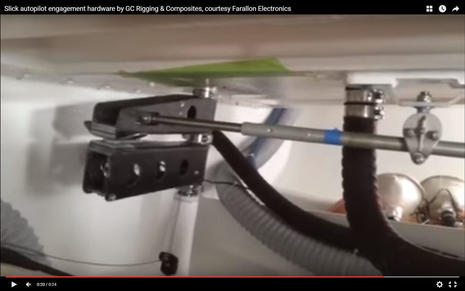 Meanwhile, Eric Steinberg of Farallon Electronics recently sent in this short video as "too cool not to share!" What you'll see is a semi-custom carbon rudder tiller arm with a stainless engagement pin and remote disconnect via a control line, all crafted by GC Rigging & Composites in Richmond, California. The result is a helm with zero pressure from an AP drive when you're steering, and in this case Eric was able to get some weight out of the back of the boat by connecting the tiller arm to a Simrad SD10 Mechanical Drive unit with a Morse cable.
I'll close with an ad so good it's a must see. It was already notable that the trolling motor can deploy (and stow) itself, work with a wireless remote (or with an MFD), and can hold station (among many other manuevers). But it took a clever team to show how coolly and humorously that could all come together at a launching ramp. Enjoy the video and wishing you a nice weekend.