Testing the KVH TracVision M3, continued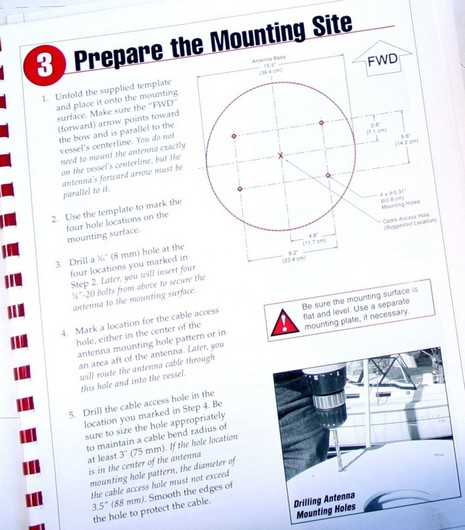 I'm still thinking, and writing a PMY column, about my TracVision M3 experience. I called Chris Watson, KVH's Communications Manager, yesterday and wasn't surprised to learn that the company has two full time technical writers on staff. They're good too! I just can not imagine a better written or illustrated installation guide (full install image here), not to mention the hole drilling template, list of items shipped (w/photos), receiver user guide, etc. A nearly foolproof installation. In fact, KVH even supplies several extra of the various small fasteners that a fool like me is apt to flick overboard!
Now I'm not sure how many owners will actually install a $5,000 system like this, though it is an almost-guaranteed satisfying experience. But KVH's attention to detail could also make it quicker, and hence less expensive, for a pro to install, plus it speaks so well of the company's style. More evidence is an M3 white paper (available from the M3 product page) that details all the technical innovations required to get a 14.5" dish antenna to perform as well as an 18" one, as shown in the test result graph below. It also lists all the testing this thing went through, which Watson says has resulted in near zero repair issues.
So what's wrong with the M3? Well, it only does DirectTV and it will not do High Definition (HD), plus of course you can find stabilized 18" dishes that cost less, especially if you go to a really unknown brand like the SeaSharp SeaVision that was aboard Shanghai Baby. Which I was looking forward to trying…except it was DOI (dead on install). Even if it had worked fine, as the first eight purportedly have, I'd still question the savings. Especially as I've seen other small sat TV companies show up at a boat show or two and then vanish. Of course there are several much less expensive, much lower performance, boat TV options (which I'll discuss later), or the very simple NO-TV choice Andrea and I are tending toward.
While I can easily picture cruising without TV (as always), I would like a fast Internet connection. For 'work' you know, though I might sometimes enjoy watching, say, Crooks & Liars clips, or YouTube nonsense. Which makes me wonder if a product like KVH's own TracNet 100, previewed here last winter, and now fully detailed and shipping, will end up competing with TracVision?