The sat phone war, "independent study" edition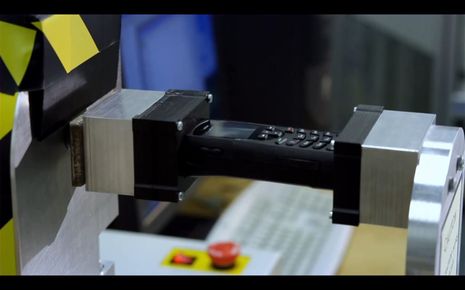 That diabolical test machine is forcing a measured, if destructive, twist into an Iridium 9555 satellite phone, which may be a good metaphor for what Inmarsat had in mind when it commissioned an independent study comparing its Isatphone Pro to the 9555 as well as the Thuraya XT (which doesn't cover the Americas). After all, there had already been crowing about another "independent study" that turned out to be commissioned by Iridium (downloadable here). Now it's very easy to be cynical about studies that each find the hardware and service offered by the company that sponsored their efforts to be superior, but actually I found both reports to be largely credible and quite useful…

In fact, anyone shopping for a sat phone would be wise to read both studies as they're full of valuable details about the specific service and hardware technologies (while most anyone may enjoy the Inmarsat-commissioned video, if only that it's so very British). And I was impressed that the reports, for the most part, correspond to what I found testing both the iSatphone Pro and the Iridium 9555 (but note that my testing was quite limited and not simultaneous). For instance, both reached similar conclusions about comparative start-up times, though the Inmarsat-sponsored one suggested that the iSatphone's slowness might be improved with a future software update.
What seems to largely account for the very different conclusions the reports come to is the amount of weight the analysts put on various features and weaknesses, and that's where shoppers should exercise a discerning eye. Does the size of the phone really make difference to you? Are you ever going to twist one like that nasty machine does? And neither report really gets into comparative hardware and service costs, which seems particularly polite of the Inmarsat-sponsored study, as the iSatphone seems to have a clear advantage (my prediction that Iridium would cut pricing significantly has not materialized).
But there are some significant differences between the findings of each test team regarding coverage, dropped calls, and call quality, and they're hard to sort out. What can we conclude when one team can't even initiate Inmarsat calls from Anchorage and the other reports no problems there (guess which)? I was especially surprised by the frequency of dropped Iridium calls reported by the Inmarsat-sponsored testers. But maybe that's because I mostly hear from boaters who are using Iridium phones in very open sky conditions where the chance a low altitude satellite will be blocked are slim.
While the studies have worth, neither deals with the specific issues of boats. I'm particularly wondering if the iSatphone Pro's pointing needs on start up are a real problem on a rolling yacht. I know that sat phone expert Luis Soltero was concerned about that, though he told me that
the docks his company sells
take care of that problem neatly (though while also negating the hardware cost differential). It would be great to hear from anyone who's tried the Inmarsat phone at sea, as well as what you all think of those studies.