The XTE issue, autopilot behavior & electronics dollars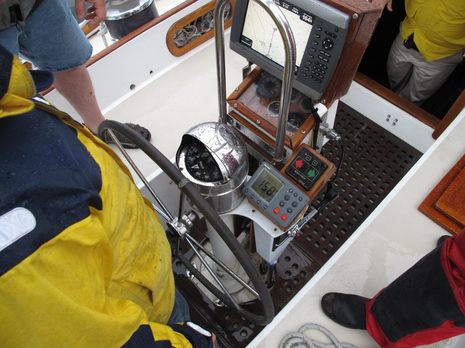 All those bodies boating in the rain represent a lot of money spent over a problem never fully "solved"…which may be why I let the story gather dust for many months. Two are representatives from Raymarine who drove several hours to investigate why the boat's new ST7002 control head and SPX30 course computer autopilot system was still making the owner very unhappy. The other two are employees of Wayfarer Marine, which had already put about ninety hours — some of it uncharged — into what had seemed at first to be a simple replacement needed because the boat's original Raymarine 300 course computer (manual PDF still available) stopped turning in one direction. Anyone with an autopilot, or concerns about the cost of marine electronics, might want to know more about what happened…

I won't get into all the problems Wayfarer had getting the new AP to work with the boat's existing electronics, and then with the Garmin 4212 that was chosen to replace the Northstar 952W in hopes that the new AP would get waypoint info from it. Suffice it to say that NMEA2000, or SeaTalkNG as Ray calls it, didn't work as hoped; a variety of alternate data schemes, mostly involving NMEA 0183, were tried; and Wayfarer's synopsis of the whole deal includes the sad if perhaps redundant line, "Raymarine and Garmin recommendations were not helpful and did not work."
But by the time I got invited to go along on that rainy test cruise, the ST7002 was taking go-to information from the Garmin just fine. The final — and perhaps knottiest — problem was that the pilot seemed to behave badly when it was steering to a waypoint but told to dodge lobster pots or similar and then to resume course. The owner described the results as erratic and downright dangerous, but the guys from Raymarine made a pretty good case that it was acting as designed. However the design had apparently changed significantly from the 300 course computer to the SPX30. When the owner had asked the old 300 to resume course, it simply started steering toward the waypoint again, but the SPX30 thinks that resuming course means getting back onto the original track, and it's willing to make a fairly substantial turn away from the waypoint to accomplish that.
Do you know what I'm talking about here, and, if so, do you know what your autopilot does in these circumstances? I've been asking around the industry, and get the impression that no one is quite sure which is the "proper" way to handle an off-track situation. And while I was persuaded that the SPX30 behavior is predictable, I also went out with the owner of this particular boat and got a good sense of why he disliked it so much…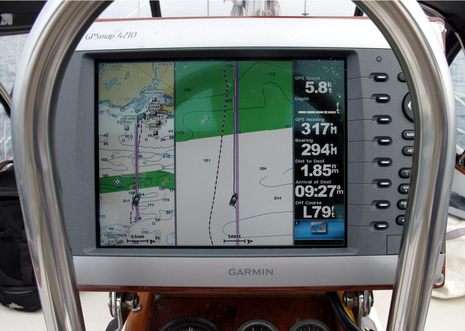 The photo above, and especially the
Garmin Homeport
screen below (made using the same data), illustrate how the SPX30 corrects for XTE (cross track error) before heading directly to the waypoint again. Imagine yourself trying to avoid some lobster trap buoys by turning 10 or 15 degrees to port but then when you simply want to undo that correction, your boat turns almost 50 degrees to starboard till it gets to the line you were on, then oversteers back to port, and finally settles down to the course you wanted. It might be just what you want if your route defines a narrow channel, but it's quite disconcerting when the maneuvering puts you into pot buoys you weren't even worried about, or messes up what had been decent sail trim.
It should be noted that this doesn't happen if you are just steering to a heading and not to a waypoint, but I admire this owner for building routes and using them. If his new autopilot wasn't driving all over the place after the regular dodging required around here, he'd have more time both to keep his head out of the boat and to enjoy himself. And it should also be noted that Raymarine displays have a fairly-easy-to-get-at function called "Reset XTE" which would make the SPX30 return to a waypoint course just like the 300 used to. Plus there's little doubt that some of his unhappiness is due to all the time and money spent replacing the original course computer, which, he told me, was fixed by his crafty son using just a few dollars worth of diodes!
I've heard, though, that this owner recently received an apology from Raymarine regarding the repair work —
"we were going through a bad patch at that time" he was told —
and has also been put in touch with a Ray autopilot specialist who is quite aware of this XTE issue. Maybe there will be a happy ending. In the meantime, though, let's hear how you think an autopilot ought to behave when you dodge off a go-to course and ask it to return.