Tim Thurston, map maker extraordinaire
Tim Thurston earned that grin. We were out on Lake Megunticook randomly comparing the digital map I helped Navionics make last fall with the survey work Tim did for his little Maine Lake Charts company at about the same time. And while that little islet in the background is on the beautiful MLC paper map Tim made, and on that Garmin Etrex he managed to put his digital data on, it was completely missing from the Navionics map! While this is a shallow and somewhat out-of-the-way spot I steered us to — and both maps are way, way better than what was available until to this summer — I tend to think that Tim got the details better. Unfortunately boaters can't make best use of those details just yet…

The problem is that Tim hasn't yet found a way to license his data with one or more of the big digital map providers. What he has to offer may be very carefully collected and checked, but it just represents a couple dozen lakes in a small market, and meanwhile Navionics, Garmin, C-Map, and Navico are trying to collect as many lakes as possible so they can offer the largest coverage, which often is nearly given away on preloaded MFDs. Here's hoping that the march of technology makes it possible for a small but passionate cartography operation like MLC to make its data available in all sorts of digital formats. Some boaters will be willing to pay even a premium price for the quality seen in the following images.
Below is a small section from MLC's 12- by 18-inch printed Megunticook map. The little islet seen in the photo above is between Alden's Island and the mainland. While this section is only 1.5″ wide as printed, it's drawn well enough to make out fairly well. But it still doesn't represent all the detail Tim collected. In fact, when we meandered amongst those rocks inside Echo Island, they seem to be plotted accurately on Tim's zoomed in Etrex.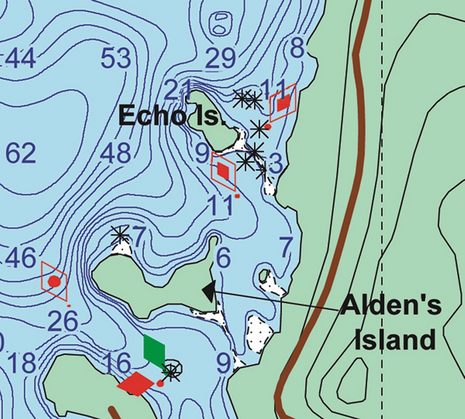 Had we had the MLC data on a big Garmin like below (which Tim photographed after the fact), maybe we wouldn't have, um, "tapped" one of those rocks with Li'l Gizmo's bows (admittedly we could have been looking ahead better too).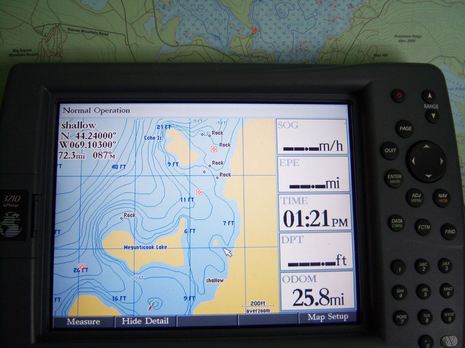 Finally, below is a view of MLC data overlaid on the latest public domain photo maps, which is one technique Tim uses to double check the available shore line data and catch anomalies like the islet. Thurston, incidentally, works days for the Maine Dept. of Conservation managing aids to navigation on some of state's lakes, but he learned about bottom surveying, GIS software, map design, printing, etc. all on his own, and he handles every step in a map's creation in his spare time. Darn impressive, right?
Now I'm looking for signs that Tim's work, and that of similar small map makers, can make it to our plotters and PCs. One is Mapwel, the program Thurston used to get his data into Garmin format, and another is the way Garmin's recently opened some of its handhelds to homemade raster maps. Plus there's X-Traverse, which facilitates an efficient connection between even a small digital chart provider and the end user. None of these is the answer, but is there a trend that will make map data easier to distribute?