Vesper Marine AIS-DSC calling, merry Christmas (again)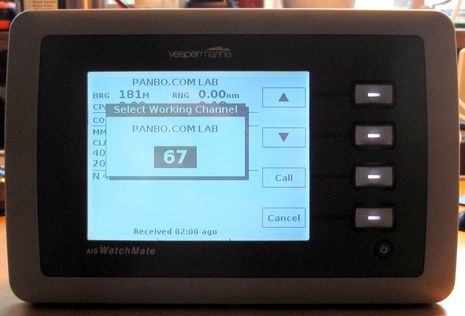 I'll venture a guess that Vesper Marine won't commit to giving Christmas "prezzies" to their AIS WatchMate customers every year, but the company is following up on its terrific 2010 anchor watch software gift with another free update feature that lets users place direct DSC calls to AIS targets if their WatchMate model 670, 750, or 850 is set up to output NMEA 0183 to a compatible VHF radio. But I fear "compatible" is the key word here, and I caution WatchMate owners not to set their expectations high, though I think that this is a very worthwhile experiment…
What Vesper has added to its latest firmware — which you can get by filling out this online form — is some code that makes a WatchMate output a standard NMEA DSC message that will instruct your VHF to set up a direct DSC VHF call to a specific AIS target on the working channel of your choice. The concept is great; a target's VHF should have the same MMSI number as its AIS, and a call like this is hard to miss when it loudly rings. I've tried direct AIS target calling with a Garmin VHF 300 networked to a Garmin MFD, and also with a Standard Horizon GX2100, which has all the needed elements built in. It can work very well, and could be just the wake up call needed on the bridge of a critical target (though I've seen that sometimes even pros aren't familiar with responding to a direct DSC call, which often requires a button push).
And frankly I didn't even know for sure that there was a standard NMEA command message — 0183 or 2000 — to set up DSC calls, and I doubt that many radios know how to use it. Vesper has tested the feature successfully with an Icom M412 and expects it will also work with the M504 and M604 series, but I understand that early versions of these radios need firmware updates to even do direct AIS calls from Icom's own MA-500TR Class B transponder. At any rate, Vesper is approaching this feature as an experiment and hoping that users will help them build a list of radios that work. One thing I can report is that the update is easy to perform, at least on the WatchMate 850 because it can be powered by its USB port. It's also worth noting that the NMEA 0183 connection can supply GPS info to your radio if it's present in the WatchMate.
I can also report on the utility of Vesper's last Christmas present. I used the 850's anchor watch screen quite a lot this season and am quite fond of it. The screen below shows many hours of use while Gizmo was laying to two anchors during Hurricane Irene. I could have used a radar to assure myself that the boat was not dragging during that long, gusty night (the motion documented is just a combination of tide level and wind direction changes) but this tool was easier to use and a lot more power efficient. I have suggested to Vesper that the vessel icon be a simple dot when Heading is not available, but the better solution to this issue is a NMEA 2000 port that will make Heading easier to bring in, as seen in Vesper's 2012 product line up!