Vesper unveils Cortex – combination AIS, VHF radio and boat monitor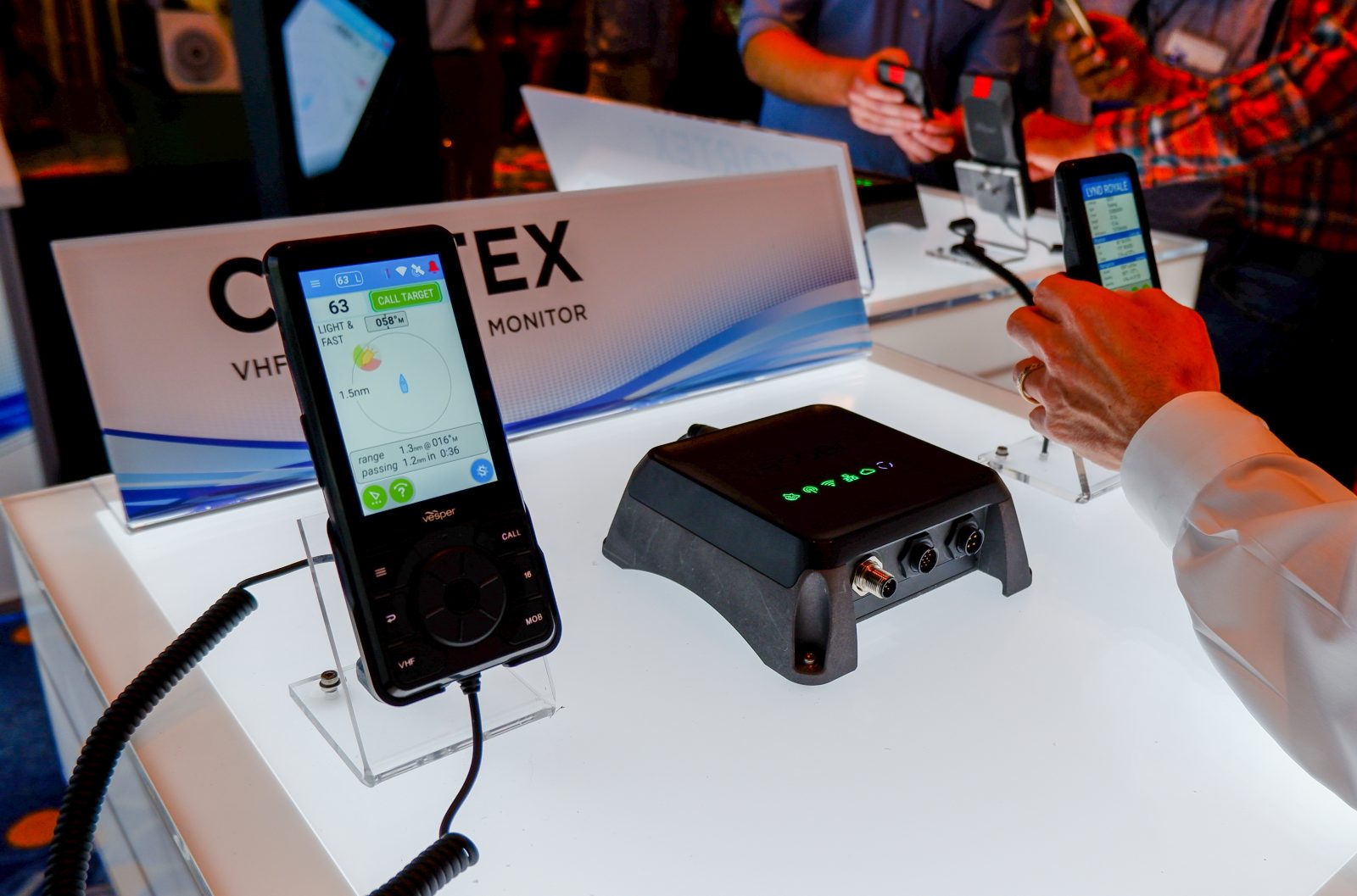 Vesper has cemented a reputation for high performance, well-thought-out, feature-rich products. So, when they tease that "The future is coming" as they have in their recent promotional material it's worth paying attention. It turns out Vesper's take on the future is about continuing their track record of innovative features while expanding their capabilities to VHF radios and boat monitoring.
Today at the National Marine Electronics Association (NMEA) expo and conference in Norfolk, VA, Vesper announced Cortex, VHF, AIS, and Monitor. Cortex is a modular system with a base unit, handsets, and mobile app. Cortex systems can start with just an M1 base unit which provides AIS and monitoring capabilities. Adding an H1 or H1p handset enables VHF audio functionality.
VHF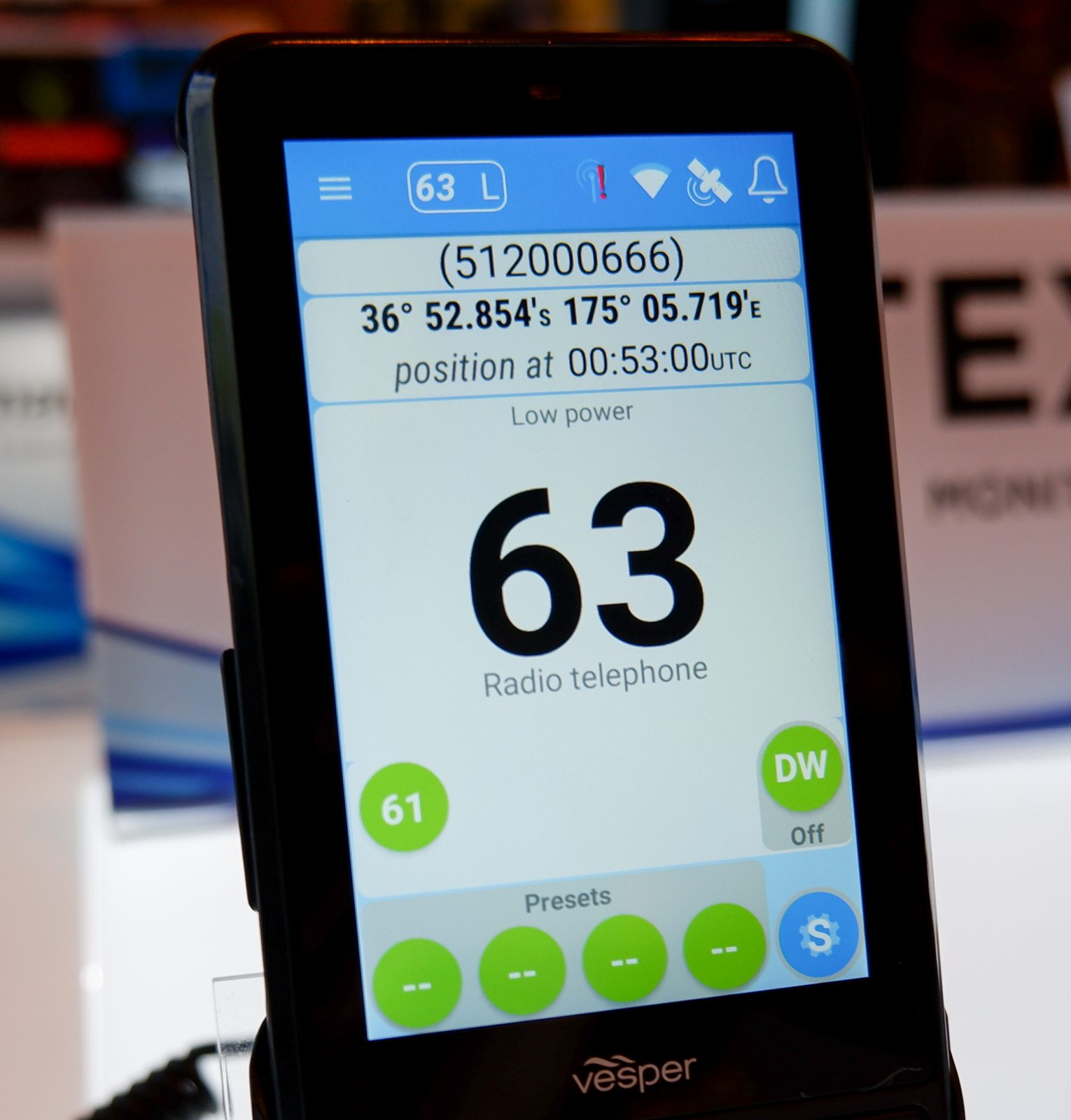 Vesper describes Cortex as "VHF Re-imagined" and goes on to say that Cortex's VHF functionality was developed with a "focus on what people use and need most." A few minutes with the handset in your hand shows what they mean. The functions you might want to access are almost always right on screen. On the AIS target information screen, there's a button right on screen to call them. This makes a big difference when compared to the sheer number of button presses required for many features on a typical VHF radio. I've tried to use DSC station-to-station calling on several radios only to become frustrated by the number of button presses required.
To enable VHF audio functionality at least one H1 or H1p handset must be connected to the M1 base unit. Vesper explained that there are quite a few regulatory requirements for VHF handsets that preclude them from using a mobile device with the Cortex app as a VHF handset.
Most radios on the market today use a two channel VHF radio with one channel dedicated to DSC and the second for all audio. So, if you have a priority watch set to monitor channel 16 but are listening to channel 22a the radio will momentarily tune to channel 16, check for a signal strong enough to break squelch and then change back to 22a. This can be heard in the form of a momentary break in audio on 22a while the check of 16 is performed.
Vesper is using an 8 channel radio in Cortex affording them a lot of flexibility and capabilities. At launch Vesper is using two channels for VHF audio, one for DSC, and two for AIS. This leaves 3 channels available for future functionality. But each channel is dedicated to only one function, so no matter which functions are enabled there's no pausing, etc.
Currently dual watch — monitoring 16 and one other channel — is the only priority watch feature supported. Vesper says they plan to implement additional scanning modes in the future and will use another of the 8 available channels for scanning.
AIS
Cortex features an AIS B/SO transponder and retains all of Vesper's excellent collision avoidance, anchor watch, and man-overboard safety features. The use of a B/SO transponder means more frequent updates for higher speed vessels and pushier behavior by the radio to ensure transmissions make it out in congested traffic areas.
AIS targets can be displayed in a birds-eye view, plotter view or text list. Individual target details can be viewed by clicking a target in any of the views. Plus, as you would expect, all data is output over the M1's NMEA 2000 connections so you can use your existing MFD or apps to display full AIS information.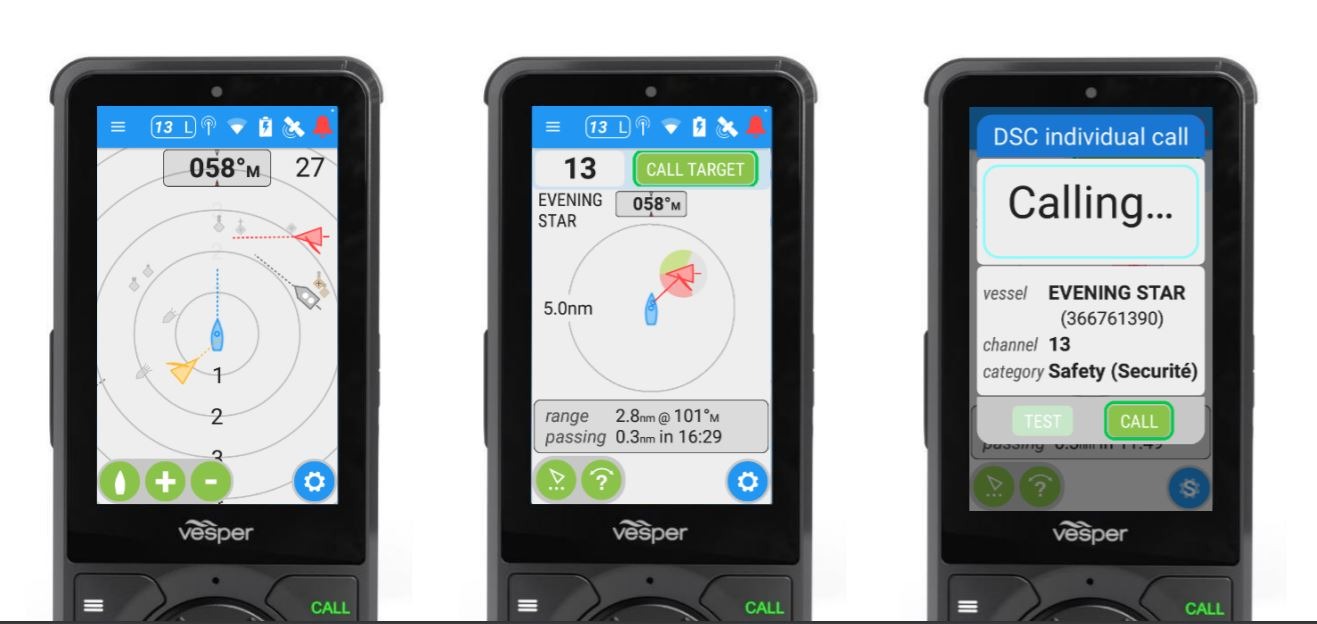 The combination of AIS and VHF functionality means that tasks like initiating a station-to-station DSC call to a vessel visible on AIS becomes as simple as clicking on an AIS target — perhaps one highlighted in red by Vesper's strong collision avoidance UI — and then initiating a call via the "Call Target" button displayed on screen in the app or on an H1 handset.
Monitoring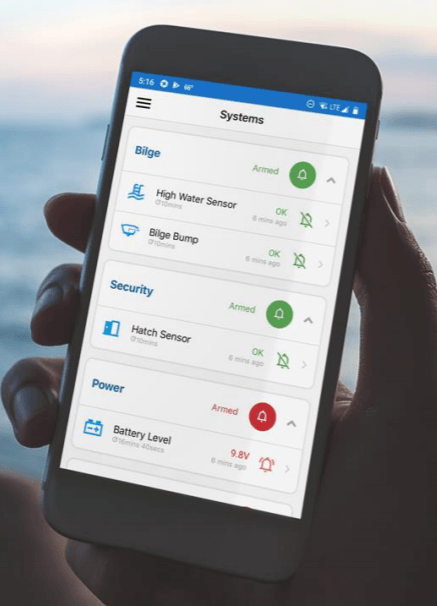 Vesper has a strong track record of using the data their products collect to deliver very useful features. The poster-child for this has been their anchor alarm which makes use of the high-accuracy, rapid-update GPS receiver built into all AIS units. Previously Vesper products made this alarm via an external alarm attached to the AIS unit or via Vesper's mobile app. But, the anchor alarm was only available while on the boat. Cortex includes a cellular radio making the anchor alarm available anywhere there's cellular coverage.
But, they haven't stopped with off boat anchor alarm functionality. They've implemented a boat monitoring and control system. The system can monitor anchor watch, GPS position, battery level, bilge level, temperature, shore power, security sensors, bilge pumps, heading, wind, depth, barometric pressure, and control lights and refrigeration — or anything else that can be controlled via a relay. Monitoring is accomplished by a mix of a five-channel, analog I/O port on the Cortex base and Cortex's NMEA 2000 connection. The NMEA 2000 interface should make expanding the monitoring capabilities to other major systems like engines straightforward.
A twice-daily update of sensor status is included with all Cortex devices at no charge. Paid monitoring updates every five minutes, delivers real-time alarm notifications, and allows control of devices on-board. Paid monitoring is $10 per month when paid annually or $20 per month on a month to month basis.
Hardware
Cortex is made up of the M1 base, H1/H1P handsets, and/or the Cortex app running on your smartphone. Cortex's VHF audio capabilities aren't enabled unless an H1 or H1p is connected but all other functions work with just the base and a smartphone with the Cortex app.
Base unit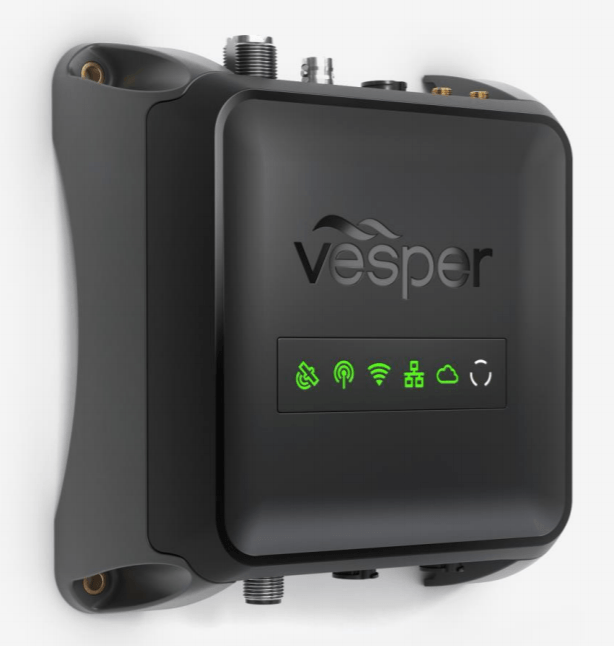 The M1 base unit is the core of a Cortex system. The strikingly compact — especially given all that's packed inside –, IPx7 water-resistant box houses a dizzying number of modules built-in. The M1 has a WiFi and cellular radio, 8-channel VHF radio (for AIS, VHF and DSC), NMEA 2000 connection, GPS input, analog IO port (five channels used for monitoring), and heading, barometer and battery voltage sensors. Plus, the M1 has a no-loss VHF antenna splitter to allow sharing the VHF antenna with another radio allowing a single antenna to serve a total of two VHF radios and AIS.
Handset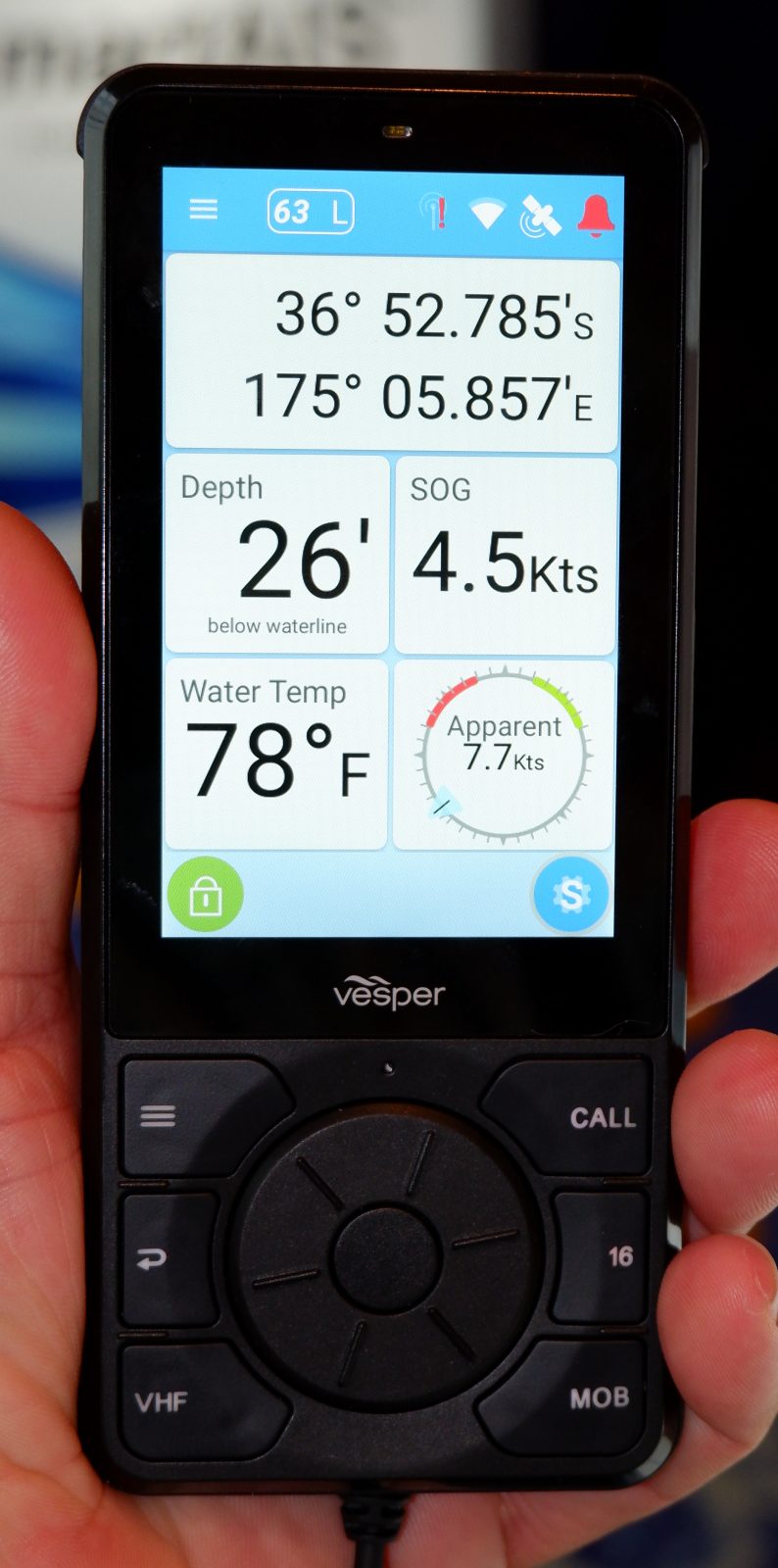 To enable VHF audio at least one H1 or H1P (The P version is the portable version with a rechargeable battery) must be present in the system. Up to 10 total handsets can be connected to an M1 base. All handsets, with or without a power cord, communicate with the M1 via 2.4ghz WiFi. I had reservations about the use of 2.4ghz WiFi when I installed the Ray 90 VHF but haven't had any troubles using them onboard.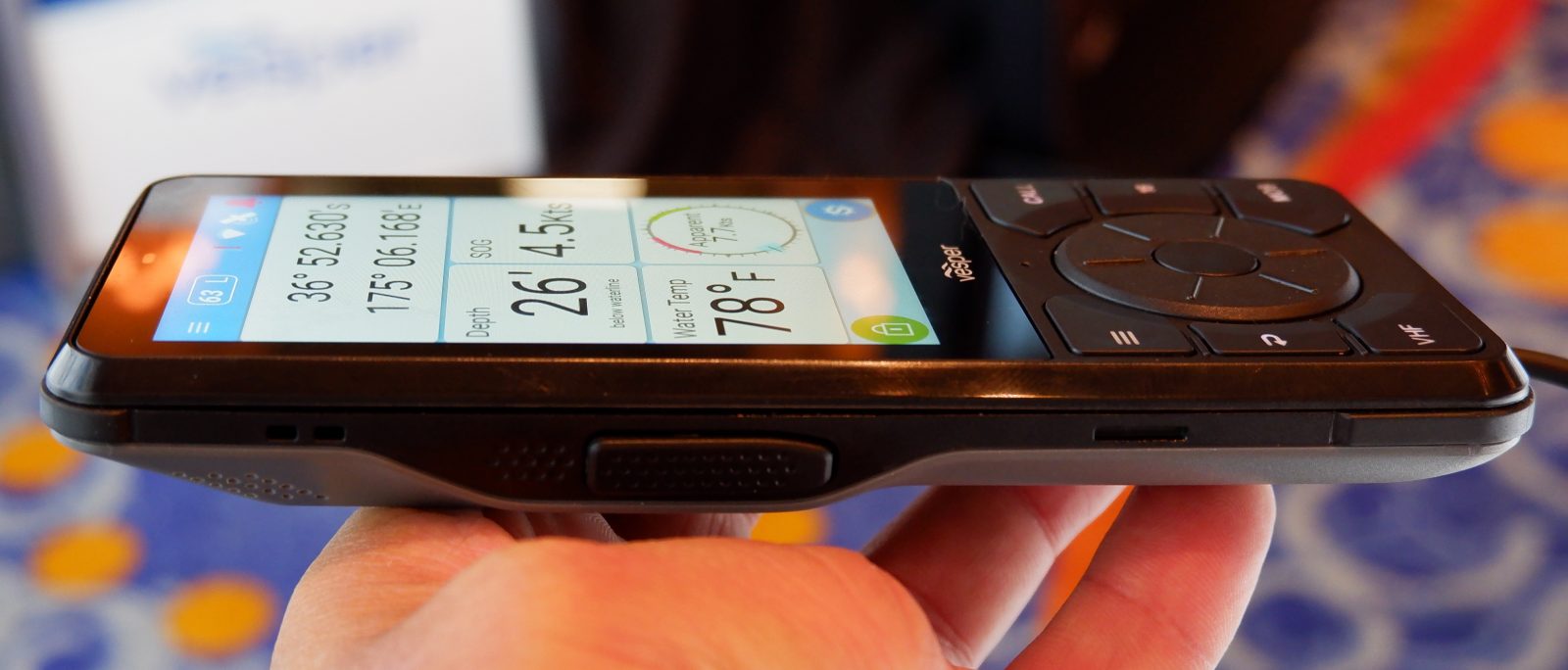 The handsets feature an optically bonded full touch screen covered with Gorilla glass that Vesper says will work with gloved and wet hands. It's clear and bright with excellent off-angle viewing. The handset snaps into a cradle that both holds it securely and charges the non-corded versions. The battery should last more than twelve hours. In addition to the touchscreen, there are six, back-lit, buttons on the face of the handset that surround a rotating wheel with a select / enter button in the middle. Volume and power buttons are on the right side of the handset, the transmit button is on the left, and the protected DSC distress button is on the back.
Upgradability
Vesper emphasizes the upgradability of Cortex through software. At launch there are some advanced features not yet available. These include scanning, recording or buffering of audio, weather alerts, hailing / fog-signals and intercom between handsets. Though they weren't specific about timing, Vesper did say that they're working on quite a few additional features to be released after launch. If their AIS units are any guide it's likely they'll cover any missing features and give us some features we didn't know we were missing.
Alerting
Alerting has long been a Vesper strength with the ability to notify you of anchor drag, dangerous targets, and MOB alerts received via the WatchMate App, a connected alarm and on screen for the Vision line. But, now, thanks to the monitoring capabilities of Cortex, the number of alerts has expanded and importantly the way they're delivered has gotten clearer. Alerts are now spoken through the 85db speaker built into each H1, and displayed on screen, plus, if you're on the boat — or off the boat and have a paid subscription — alerts can be delivered to your phone as well.
Hands-on
I've had the opportunity to try out Cortex demo systems a couple of times recently and I think Vesper is on to something. They've done a really nice job understanding how a boater will use the device and making Cortex simple and intuitive. The handset feels good in the hand, is well balanced and seems easy to use with one hand. I haven't had a chance to test a working system installed on a boat, but I'm looking forward to that opportunity.
A couple of the missing features are important to me. I certainly want hailing, weather alerts and scanning capabilities. But, because of the built-in splitter, Cortex can be installed alongside an existing radio that can help bridge any missing functions while they're being implemented.
Pricing
Cortex is expected to receive approvals and be available for purchase in early 2020. A bundle of one handset and the base unit giving you AIS, monitoring and VHF functionality will be $1,800. Just the base unit will be priced at $1,300 which will provide AIS and monitoring. Additional handsets will be $600 and can be added to the M1 base at any time to enable VHF.