Standard Horizon GX6500: a loaded VHF radio also integrated with Class B AIS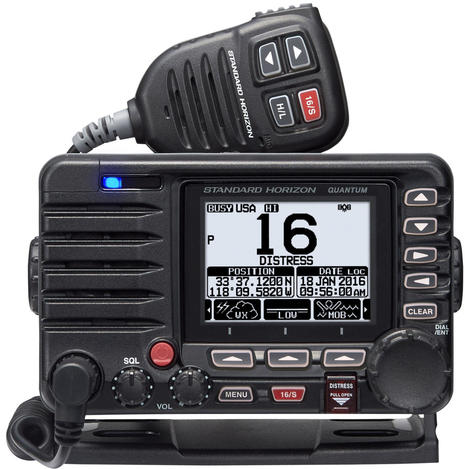 1/6/2018 Warning: Before you get excited about the GX6500 combo Class B AIS and VHF, know that it is still not available for purchase and according to Standard Horizon may never be available. I do not know the details of the apparently failed approval process, but I'm sure that SH was once confidant that it could be approved, and I know they're embarassed about what's happened. Meanwhile, the less ambitious but still feature rich GX6000 also hasn't shipped, but apparently that may change this year. ~ Ben
The wait is almost over. The Standard Horizon Quantum GX6500 combines Class B AIS and VHF transceivers into one device, an important first in critical marine communications that some boaters have long hoped for. It is not yet for sale pending FCC approval, but the expected price of $800 seems quite reasonable given the install efficiency, the integrated GPS/VHF/AIS features, and a lot more that Standard has designed in. The GX6500 would be an extraordinary radio even without the AIS…
I briefly got my fingers on a prototype GX6500 at the NMEA Conference, and the interface to its many features seemed completely up to the task. I don't have dimensions yet, but that's a huge display, and note both the soft key row and the up/down, left/right key column for getting around the menu systems, which are often usefully graphic, plus the knobs for common adjustments.
So that interface accesses an "advanced 80 dB commercial grade" Class D VHF as well as a full Class B AIS with its own target display and CPA/TCPA alarm system. Plus, since it has its own GPS, it can also display COG/SOG and manage waypoints. But here's what else: a dual zone 25W PA / hailer with programmed fog signals and listen back, a voice recorder able to play back two minutes of receive audio, and two types of voice scrambling. And while all that is available just from the single standalone device…
…the Quantum GX6500 also offers AIS and DSC info integration with navigation systems over both NMEA 0183 and 2000 and — holy cow — up to five wired and wireless full-featured remote mics. The two upper right RAM ports handle all those mics, as will be explained shortly, and the bottom ports go like this: one for the plug-and-play 66 channel WAAS GPS antenna, one as an alternate attachment point for the hand mic (with a 20-foot extension cable available), and the standard N2K port (Standard's first on a VHF, but probably just the beginning).
But, yes, the GX6500 does require two antennas, one for the VHF and one for the AIS (preferably an AIS specific model, though a regular VHF stick will work). In other words, it does not contain an internal splitter, which does make installation more difficult and expensive, but it is also arguably the high-performance pro way to go. In fact, the dual antenna requirement also applies to the AIS-receive-only GX6000 model, which will have all the other features of the 6500 and will cost $500 once it's been FCC approved.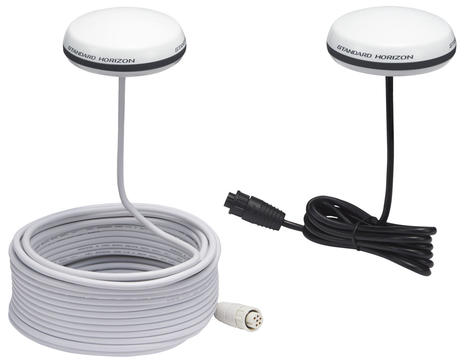 At left above is Standard's new SCU-31 GPS Smart Antenna, which is included with the GX6500 but will also be available as a $120 option for the GX6000, thus making it a standalone DSC VHF and AIS plotter if and when you want it to be. To the right is the SCU-30 Wireless Access Point that can connect either new VHF/AIS (via one of its RAM ports) to as many as four RAM4W wireless mics with a range of about 65 feet from the antenna. The RAM4W is shown alongside the RAM4 wired mic below and each of these three optional components will cost $150. It will add up, but a boat could have six Quantum GX stations — one wired RAM, four wireless, and the base.
However many stations you have, all will have full control of the base, including AIS displays, intercom ability from any one to another or to all, and even an MOB function. The wireless RAM has USB charging to an 1800Ah Li-ion batter purportedly able to provide "up to 14 hours of use", and it not only floats but has the water-activated emergency strobe light seen on Standard's recent handhelds. It even has programmable hot keys for, say, quick access to that intercom function.
So did Standard Horizon leave anything out? The only missing feature I can think of is the numeric keyboard that some pros like, but with either the GX6000 or 6500 you won't have to key in an MMSI to direct call an AIS target. And the 6500 will only have to be set up once with its own MMSI to have both DSC VHF and AIS, either standalone with a single efficient power source (like perhaps when anchored) or data integrated with your underway nav electronics.
This is a first glimpse, and further detail on these new products isn't online yet, but I tentatively applaud Standard Horizon for designing a terrifically full-featured and flexible VHF/AIS combination system at fair prices. I can particularly picture the GX6500 as a valuable communications and safety tool on vessels both small and large. Now what do you all think?
PS: Here's a dimensional drawing of the new radios: