Standard Horizon GX6000 VHF & wireless RAM 4W mics, finally!
Many readers got excited when  Panbo covered the "coming soon" Standard Horizon GX6500 and GX6000 radios in October, 2016. It looked like SH was about to blaze trail once again, especially given the full Class B AIS transponder in the 6500. But then the story got confusing, even sad, as Standard Horizon's many hoped-for ship dates failed to materialize, frustrating potential customers and embarrassing the company.
The GX6500 remains a mystery; while it's listed in the SH 2018 marine brochure (PDF) as "NEW for 2018",  the company's U.S. representatives can only shrug their shoulders when asked about actual availability.
But a real GX6000 along with the trailblazing RAM4W mic materialized at my door on Friday, they're for sale at many outlets, and I'm tentatively impressed.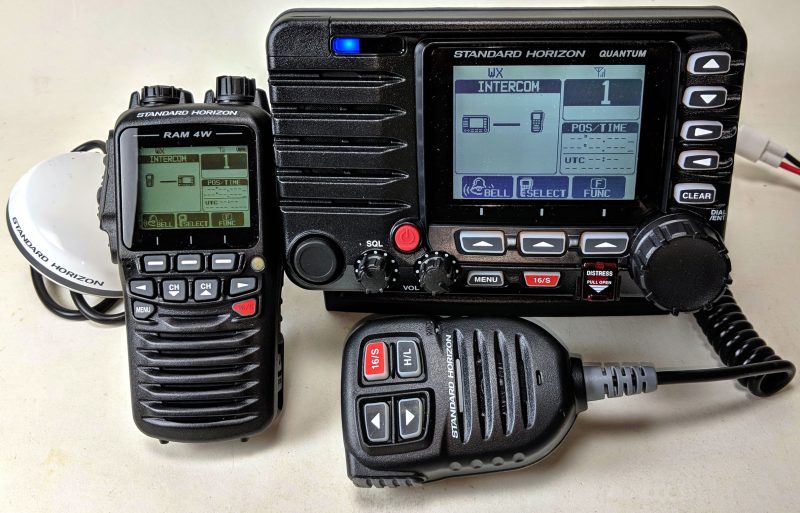 The Quantum GX6000 is a big commercial-grade Class D VHF with an AIS receiver built in and oodles of added features. But what really sets it apart is support for up to four cordless RAM 4W remote mics, which use WiFi for what I expect to be outstanding wireless performance and reliability. In fact, the actual WiFi hotspot is separate from the radio, which could improve range even more, though the white SCU-30 Wireless Base Station seen at left above is an extra expense.
So one of the first things I tried was the intercom feature, which was quite easy to find and includes the ability to intercom All stations or individual ones in a larger system, which, incidentally, can be given custom names. You can also repeatedly key the Bell on the receiving station if someone is not paying attention, an extra I have never seen on a VHF intercom before.
Note the three "soft key" interface on both screens. They disappear when not in use (you can set the time delay), there are 12 soft keys total that you can scroll through with left/right buttons, and you can easily customize which of many more than 12 settings/functions appear as soft keys and where.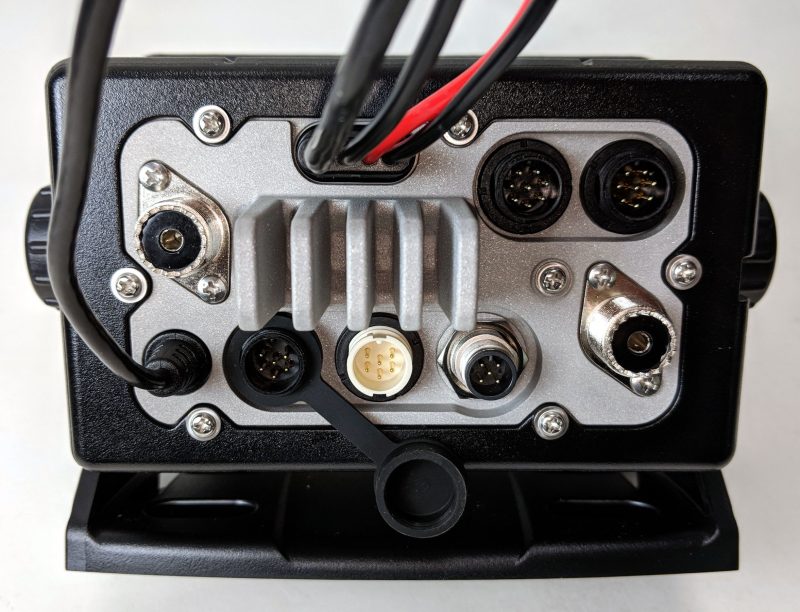 Looking at the backside of the GX6000, let's deal with the possibly bad news first. Yes, those are separate antenna connectors for VHF and AIS even though VHF/AIS receive-only is usually done with just one VHF antenna and not much performance loss I'm aware of (unless you transmit a lot). The obvious reason is that Standard Horizon used the same hardware format as the GX6500, which likely required separate VHF and AIS antennas to meet the two separate type-approval requirements (which it still apparently failed to do).
But then again the same thinking does extend to the GX6000, as explained by U.S. Standard Horizon manager Hans Rooker:
The reasoning for this is the GX6000 is designed to be our high end AIS model so when the VHF radio side is receiving or transmitting you will not lose any AIS signals coming into it, in other words the AIS is continuous duty. If your boat only has room for one antenna (e.g. sailboats) then you will be required to use an antenna splitter which will cost between $120 to $250 depending on the model.
Rooker did add that they are looking for a less expensive alternative, and I suggest that they update the GX6000 manual (PDF)'s terse entry about the dual antennas to note that a user will get even better AIS performance if they use one of the many VHF-style antennas especially optimized for the two AIS frequencies (like Vesper's).
And the rest of the connectors are good news, I think. The upper right pair can support two wired RAM4 mics or one RAM4 and the SCU-30 WiFi hub with up to four RAM4W remote mics. The NMEA 2000 port lower middle right purportedly supports "all PGNs for Navigation, GPS, AIS and DSC functions," which can not be said for all VHF/AISrx combos with N2K.
The white connector next is over is for the optional SCU-31 external GPS, which can give a GX6000 independent location knowledge when NMEA 0183 or 2000 sources aren't available and also supply GPS to those protocols if desired. Finally, there's an optional backside connector for the base station's wired mic (being used in these photos), as well as wire pigtails for dual NMEA 0183 dual; forward and aft 25W hailers with auto fog signals and listen back; and external speakers. Marine radios at this level are systems.
So a relatively small GX6000 system is now installed on Gizmo, and I'm looking forward to more testing as I sense that the RAM4W mics and also what they're calling the E2O (Easy-To-Operate) menu system are truly noteworthy. And note that above the same helm is the even bigger and higher-end Icom M605 installed last summer. I still love its color screen and audio performance, but the interface could use several improvements and I'm not sure how a software update could be done (while both GX and RAM4W have USB ports).
A feature comparing these two serious VHF systems is in order, but will take some time. Don't hesitate with questions about either in the meantime. I'm back in Camden now, but the boat is short bike ride away.