Standard Horizon GX6000 bad and good news, plus new HX890 and HX40
What the heck? An AIS transceiver with a decent antenna up reasonably high can see other AIS transceivers fairly far away, but not 3,508 nautical miles! What's actually illustrated here was a Standard Horizon GX6000 mistranslating AIS target positions into NMEA 2000, as strongly suggested by the photo below. But as bad as that glitch was, there's already a firmware fix and the way the update operation works has further benefits.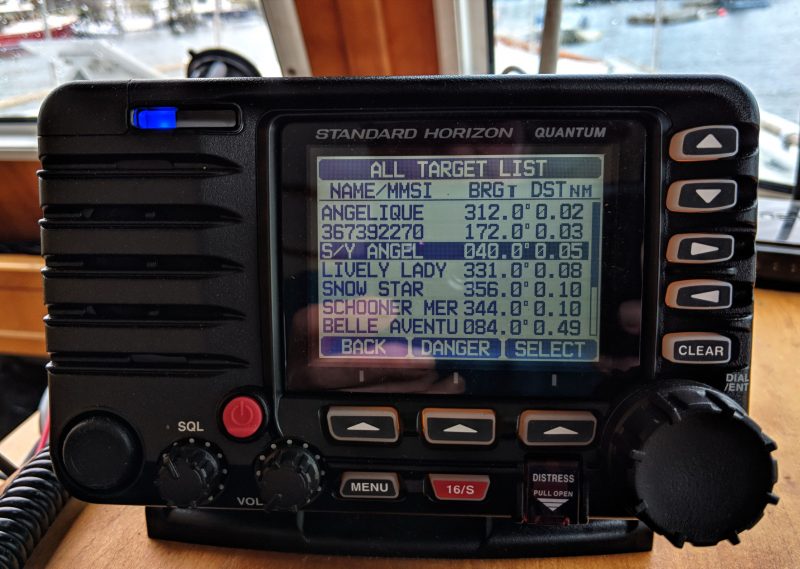 Here's the GX6000 I began testing in June photographed at the same time I grabbed the Garmin 742 screen at top. Note the realistic bearings and distances for vessels like S/Y Angel and Snow Star.  This evidence that the radio was properly decoding AIS signals even while both Garmin and Raymarine MFDs showed screwy target positions strongly indicated that NMEA 2000 translation was the problem, though I did not know for sure that it wasn't caused by some wackiness on Gizmo's complicated N2K network when I reported the issue to Standard Horizon. They didn't seem to know either, at least at first, but a few weeks later they sent an update for testing.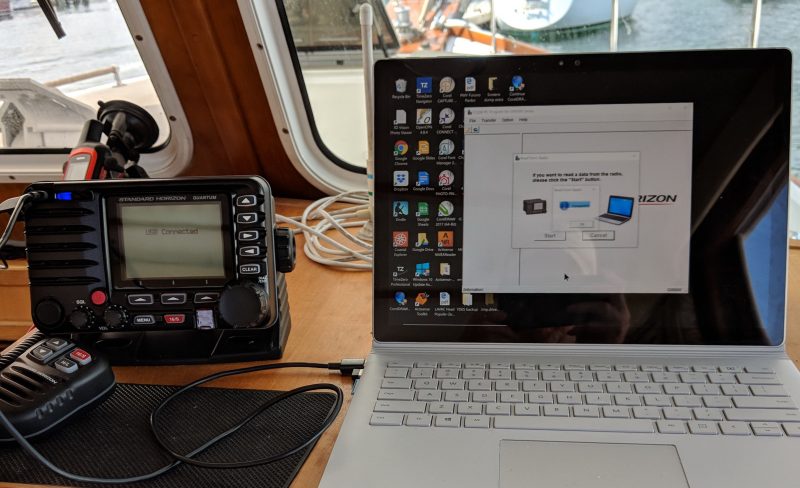 I once updated a Simrad RS35 VHF/AISrx radio over N2K using an SD card and a Simrad MFD, but marine radios are not usually upgradeable in the field, and the Standard Horizon process is easily the most sophisticated I know of. You do need to link a Windows PC to the GX6000's USB port and download the firmware updates and the YCE08 software found under the Files tab at SH's GX6000 web page, but then the possibilities even get fun.
So the top two images illustrate the update process, which did indeed fix the GX6000's NMEA 2000 AIS output so that targets now display correctly on Gizmo's Garmin and Raymarine MFDs. I don't know what V2.00.03 Radio update did — and it would be nice if Standard Horizon was more informative about releasing new updates and what they do — but maybe I'll notice in further testing.
And now the fun part: As shown on the lower screens, the YCE software lets you download the current settings of the radio, modify them easily using the PC's big screen and keyboard, and then upload them back to the radio. It's already nice, I think, that the GX6000 already allows you custom configure the Soft Keys, Channel Names, and more, but that's all much easier with the PC software. And it could be terrific for, say, a fleet manager setting up multiple radios optimized for particular boating tasks. And similar software is available for the existing HX870 handheld and the brand new HX890.
New HX handhelds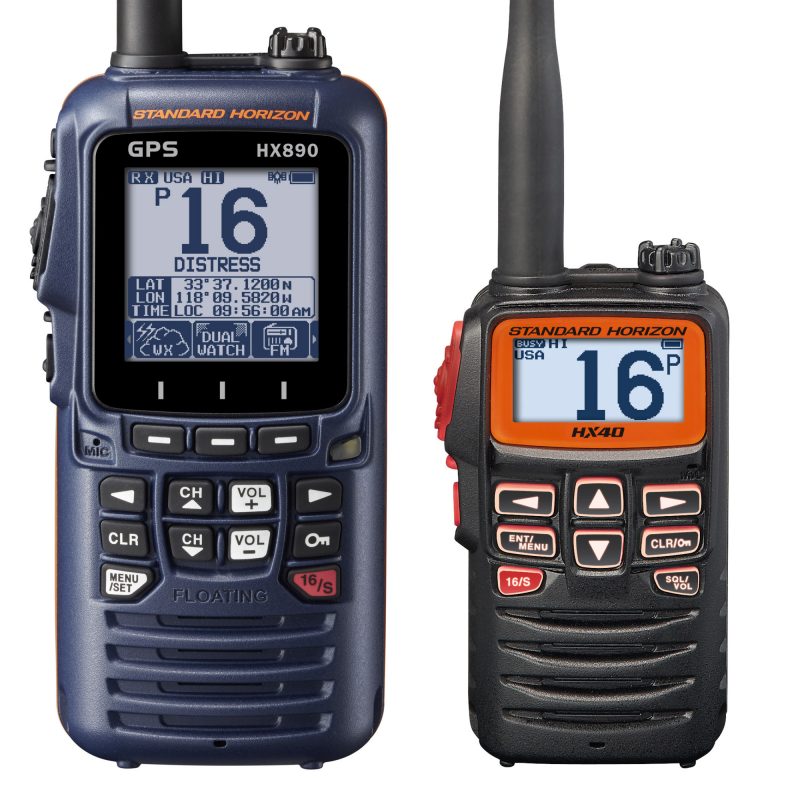 I have not seen any publicity about them, but the HX890 Handheld VHF/GPS and the HX40 Ultra Compact Handheld are not only detailed at StandardHorizon.com but in stock at various outlets for about $270 and $170 respectively. The new feature I really like is that both can be tuned to the FM broadcast band. While that means you're no longer monitoring the VHF band, you can sweep the FM band for available stations which you can save as presets, and even the little (and long gone) SH HX471S I still have sounds pretty good, especially for news and/or talk radio when, say, you're on a project up the mast.
PS 12/17/2018: According to John Sherman in an informative comment below, the new HX890 does not support some useful features — like transmitting a DSC Position Request, or All Ships Urgency and Safety messages — that were available in previous Standard Horizon models like the HX870 and HX851.
PS 6/10/2019: Standard Horizon is pleased to report that "​We just received the revised regulations from the ITU regarding Handheld DSC operations  (ITU-R M.493 from 14 to 15) and now our HX890 can be updated with new firmware that will allow it to perform DSC position requests, and all ships calls. The firmware update link is on the product page under files here:
http://www.standardhorizon.com/indexVS.cfm?cmd=DisplayProducts&ProdCatID=85&encProdID=182D978C9908C3DD4EBE62DC0E44BFED&DivisionID=3&isArchived=0
I'll add that it's great how the HX890 can be updated in the field, and in fact it can also be configured with the free software discussed in this entry.