Simrad RS35 VHF & HS35 wireless handset, testing pretty well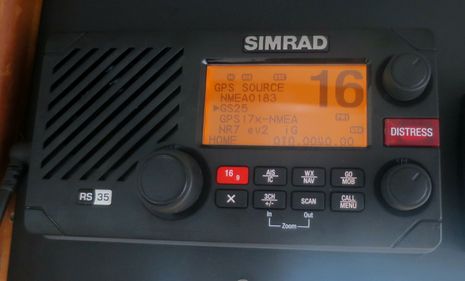 It's taken a while but I am becoming quite fond of the Simrad RS35 VHF radio and HS35 wireless handset accessory. Panbo first covered the RS35's nice combination of full Class D VHF DSC capabilities, NMEA 2000 interface and built-in AIS receiver in late 2012. But when I received a test unit last summer, it was quickly apparent that the radio had trouble interfacing with many N2K GPS sources (as you can read about in the comments to that 2012 entry). I was slow to return the radio for the software fix, but now it's installed at Gizmo's lower helm and has no problem with the three GPS sources shown above and a lot more I threw at it. I've also seen it output AIS info over NMEA 2000 to every MFD currently on Gizmo (though there is a glitch if you also have a transponder, explained below). And while some interesting radios have come to market in the last year, the RS35 at about $300 to $350 seems the VHF/AIS/N2K value leader (except for its sibling Lowrance Link-8 if you don't care about the wireless handset option)…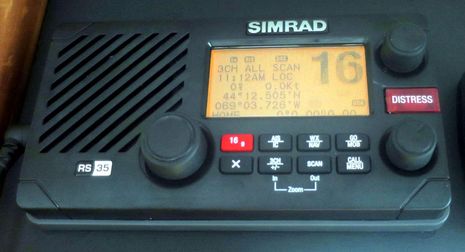 At first I was disappointed that the RS35 does not have the channel tagging feature I've enjoyed on Icom, Standard Horizon and Garmin radios. I like to eavesdrop on VHF, especially when alone on the boat, and tagging is the ultimate way to scan all the channels you want and none of the ones you don't. However, I'm pretty happy with the Simrad's 3 CH ALL SCAN mode, which actually flips through 3 favorites and channel 16. TRIWATCH gets you one favorite plus 16 and 9 (if you've set up Watch Mode that way), and there's also an ALL SCAN mode that checks 16 every 2 seconds and has a handy SKIP feature to temporarily eliminate open channels. The speaker sound is good and the RS35 seems as good at bringing in distant stations as any recreational VHF I've tried.
Now about that screen. The RS35 manual warns that screen viewing is optimal only within 20 degrees up or down, left or right. I find it better than that if you push backlighting and contrast to their maximum values. But photographing the display well is hard, as illustrated above, and you may need your reading glasses for some screens like AIS. It is big, though, and I'm enjoying how much nav info it's showing, including bearing and distance to Gizmo's float since I input the waypoint.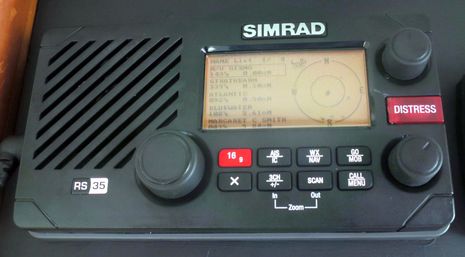 The AIS screen is informative and you can quickly select targets and get even more info on them with the main rotary/click knob (great to have volume and squelch knobs, too). You can also zoom in and out of the graphic target plot with the 3CH and SCAN keys. Note, though, that you can not scan while viewing the AIS screen, and that the RS35 cannot place direct DSC calls to AIS targets. That feature is planned for a future software update, though, and the update will be possible over NMEA 2000 from a Simrad MFD. Also slated for that update is the ability to ignore your own vessel if you are running an AIS transponder. As shown, the test RS35 constantly sees Gizmo as a very nearby target and would be sounding loud CPA/TCPA alarms if I hadn't turned them off completely. The same issue was true of Garmin, Furuno, and Raymarine MFDs, where I was always closely followed by my own AIS target, but is not a problem on a Simrad or Lowrance MFD because they've long had the ability to accept and filter out an "own vessel" MMSI. You can also simply turn off the RS35's AIS receiver, keeping it in reserve until your transponder fails or the update comes out.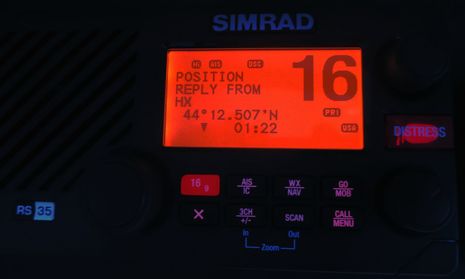 I tried every type of direct DSC calling possible between the RS35 and the ever wonderful Standard Horizon HX851 handheld (850 reviewed here), but they both have the same MMSI number, which may have affected the results. Individual calls worked fine both ways, as did position requests. But the RS35 would not accept a Position Send from the HX, and would not enable "Buddy Tracking" with it. The Simrad manual doesn't say that Buddy Tracking only works with other Simrad radios, but then again, it doesn't say much about the feature. Anyone know? Sorry for another poor photograph but it does suggest the nice key backlighting on this radio.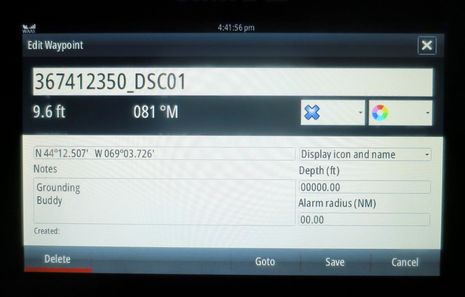 When I requested a position from the HX851, the Simrad radio placed a waypoint for it on the Simrad NSS7 evo2 that's on the same NMEA 2000 network, and I'm confident that it would do something similar if I received a DSC distress call. However, I don't know why "Grounding" was placed in the waypoint notes. I hope to do further experimentation, particularly to see if DSC positions are sent to other MFDs and am hoping other users will chime in.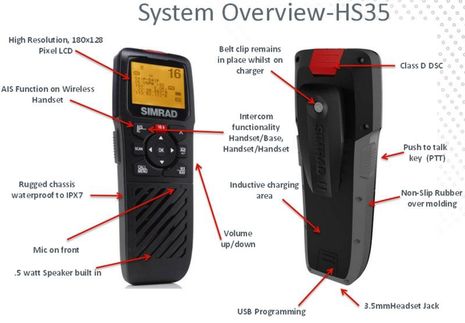 In my view, one of the main reasons to consider a Simrad RS35 — or maybe the newer blackbox RS90 premium model — is the chance to use the HS35 wireless mic. My habit now is to turn on the base station with volume down and work around the boat with HS35 clipped to my pocket or sitting nearby. It, too, has good sound as well as a complete set of fast-acting keys, and I've yet to experience any wireless issues anywhere on this 37 foot boat (which has lots of other wireless activity). I was a little skeptical about the inductive charging, especially as I can feel the heat generated, but a meter check indicated low amperage drain and the fact that the charger seems to shut down completely when done. The AIS screen below definitely calls out for my reading glasses, but then again, you can put a wireless mic like this right up to your eyes or ear and mouth. We're day one on a week-long cruise during I which I plan to use this radio and mic a lot, so I may be adding more observations in the comment section.