Simrad RS40-B, the first VHF radio with AIS transceiver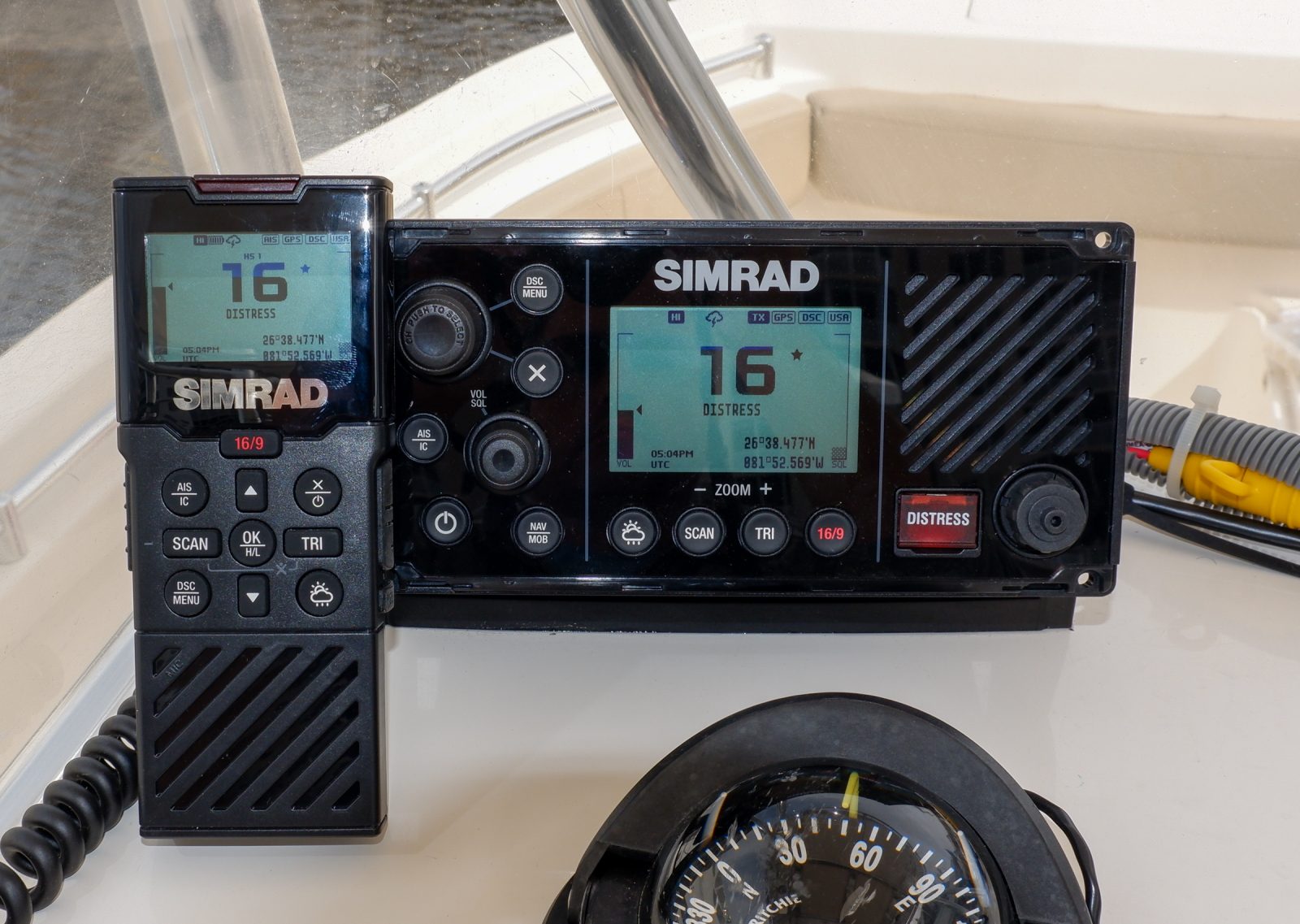 AIS and VHF voice radios operate in the same frequency band, so it's a natural step to combine the two functions into one device. But, combining a VHF radio and AIS transceiver has proved difficult. Although other manufacturers have tried, Simrad and B&G are the first to make it through approvals and ship radios to boaters. But how does the radio perform in the real world and is this a good choice for all your VHF communications needs?
The Simrad RS40-B — and the B&G V60-B from its Navico sibling — was announced in June of 2019 with an $1,100 list price. This full featured radio can support up to two wireless handhelds and also has front and rear connections for the included speaker mic. There's a hailer with listen back and fog horn when the radio is connected to an external speaker. The radio has NMEA 2000 and 0183 connectivity for sharing AIS data. Plus, there's a GPS receiver and antenna built into the radio, so as long as the radio has a clear view of the sky it won't need an external GPS antenna for AIS or DSC.
VHF radio functionality
The RS40-B checks nearly every box for a VHF radio. With DSC, dual-watch, tri-watch, scanning, weather, intercom, and many other features, the only major feature I've noticed missing is a replay buffer. Plus, because of the GPS receiver built-in, DSC position functions including distress work out of the box with just the MMSI input into the radio.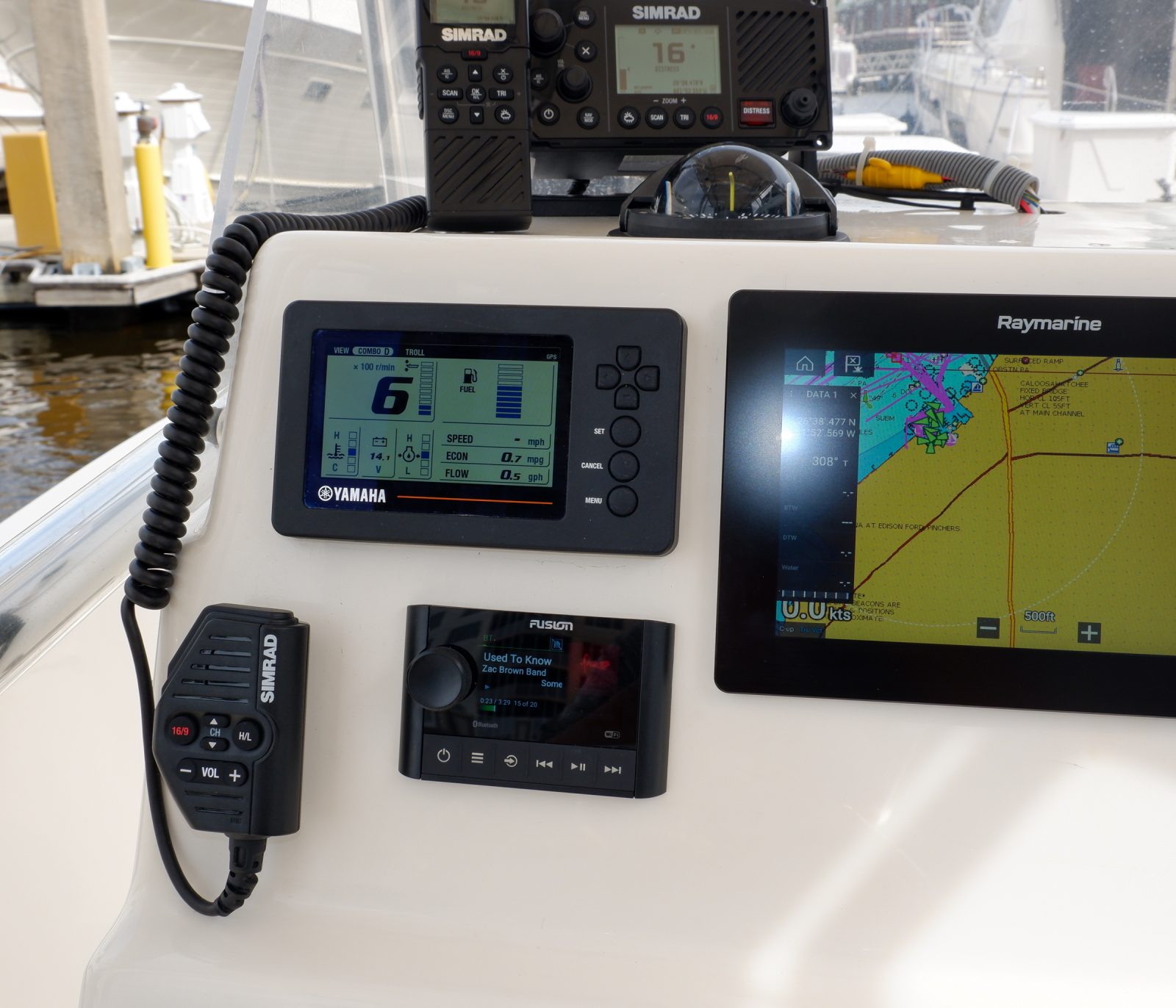 The speaker mic has volume, channel, 16/9 quick access button and high / low power selector. It feels good in the hand and the buttons are nicely laid out to allow quick control of the radio from the hand mic. I've installed the radio on the helm of Panbo(at), my center console, which can be loud when moving along at 25 knots. I frequently have to turn the radio up to maximum volume to hear it over the wind and sometimes wish for a little more volume, but there is a connection for an external speaker. The audio quality is good from the radio, the wireless handset, and the speaker mic.
Wireless handset
The RS40-B supports up to two $220 HS40 wireless handsets per radio. The wireless handsets are nearly full function remotes of the RS40-B allowing use of all features including VHF voice communications and AIS except for the hailing and fog signalling features. The HS40 includes a charging cradle that holds and wirelessly charges the handset. The handsets communicate with the radio using 2.4ghz WiFi and though I've sometimes criticized the use of the 2.4ghz band I haven't had any issues with interference or range while using the wireless handset (I've had similar successful results with Raymarine Ray90 VHF and its wireless handhelds).
Channel numbering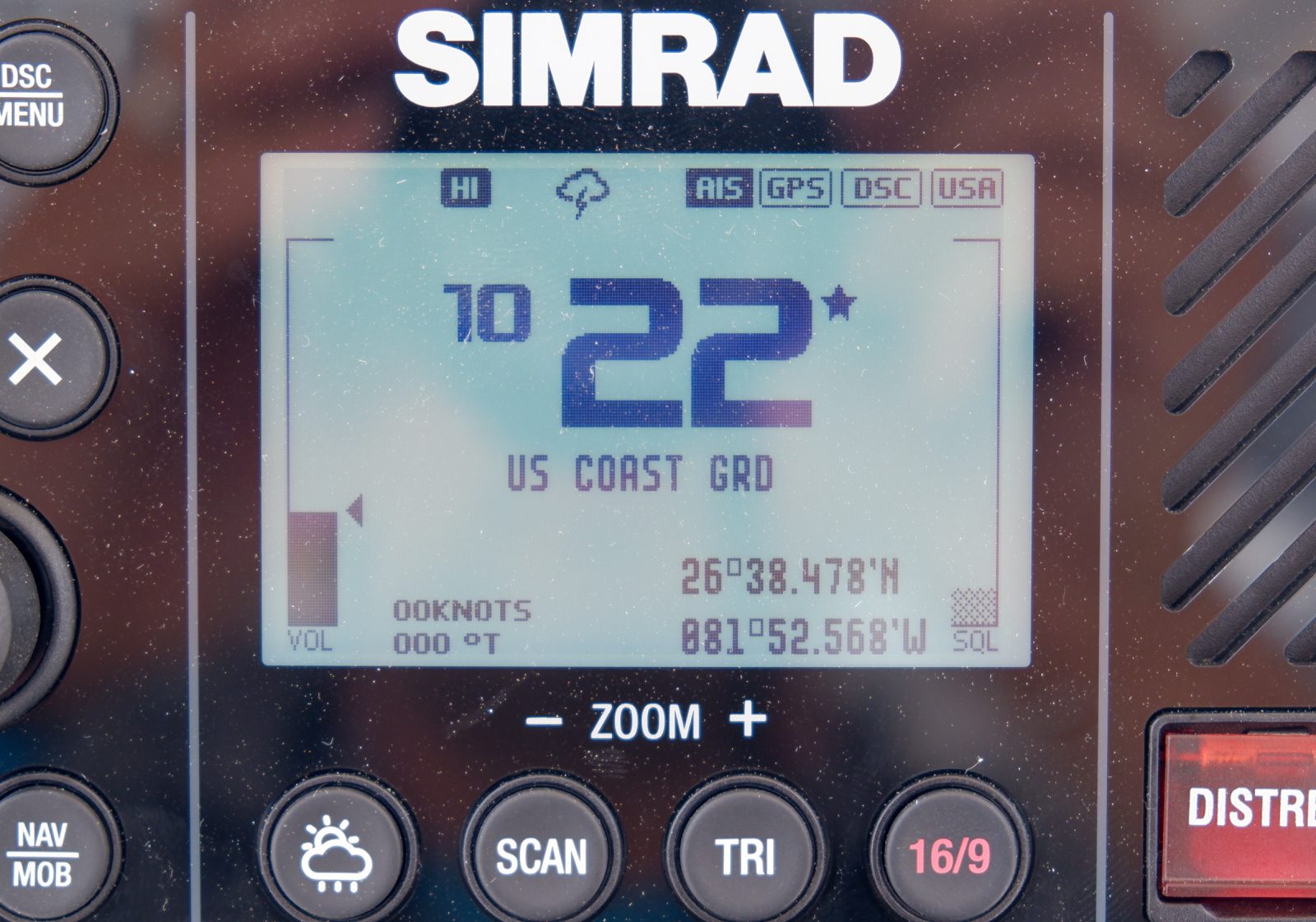 I was initially stymied by the radio's use of the new channel numbering scheme that moves channels previously designated with an A to a four digit number starting with 10. This means that while the U.S. Coast Guard still broadcasts that their scheduled marine broadcasts can be heard on 22A you will need to tune this radio — and any others that follow the new numbering system — to 1022 instead. The A and B designations after channels are a vestige of the intent to use these channels in duplex mode with a separate frequency for transmit and receive. I should note that while I was confused — and I think others might be also — I don't believe Simrad or any other radio manufacturers have a choice about adopting the new numbering system.
AIS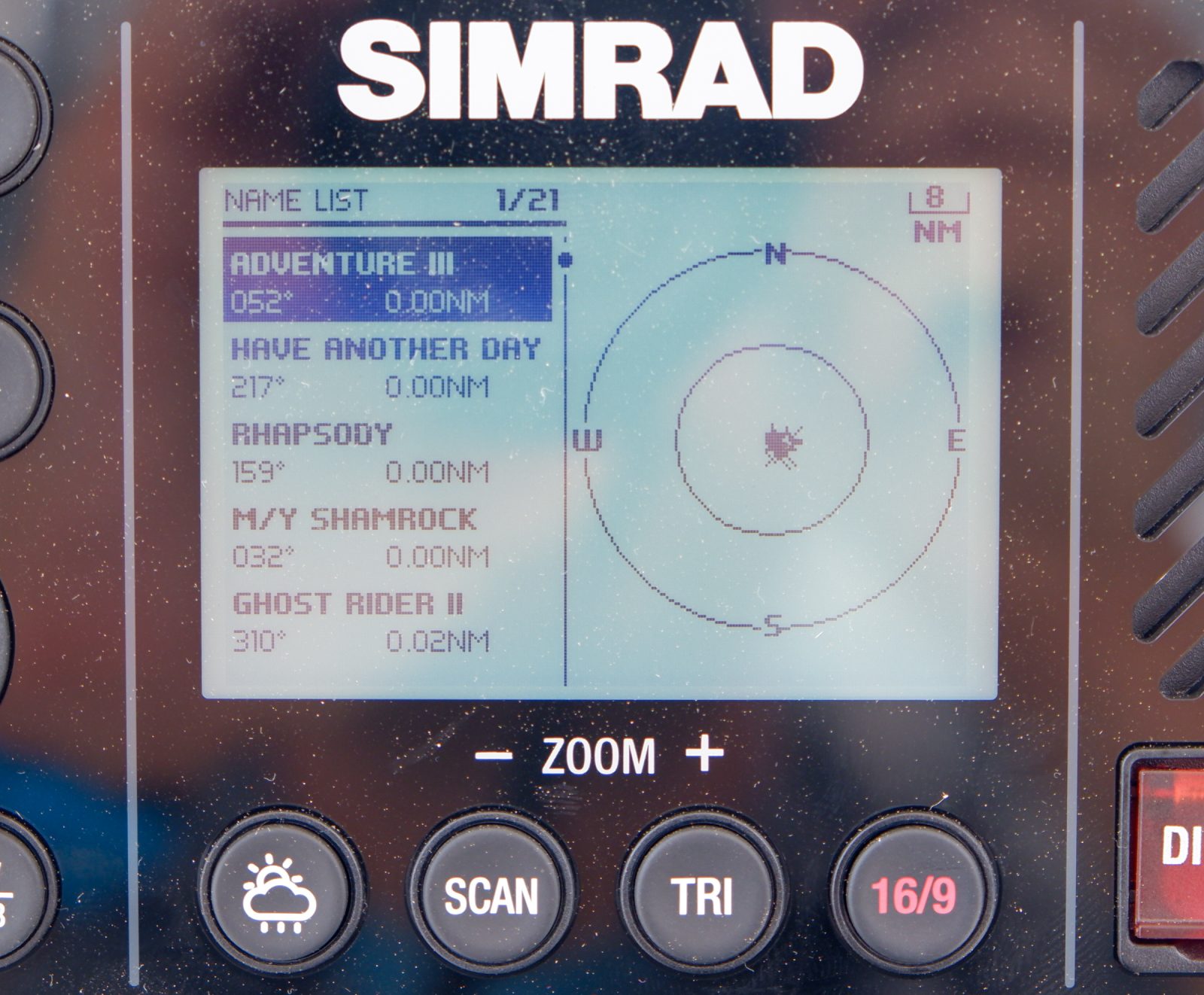 The RS40-B has a built-in Class B C/S AIS transceiver; to my knowledge it's the first VHF radio with a built-in AIS transceiver to make it to boaters' hands. Standard Horizon's GX6500 was announced in late 2016 but apparently fell victim to issues during the approval process. Although the Navico radios were announced in 2019 the AIS transceiver in the unit is C/S rather than the higher powered and potentially faster updating SOTDMA (see our C/S vs SOTDMA primer). I suspect Navico may have played it safe with tried and true technology in order to ensure regulatory passage.
Vesper's Cortex (Panbo previewed here) looks like it will be the first combination VHF radio and B/SO AIS unit to ship if they're able to meet their March estimate for shipping the first units. Also, because Cortex uses a single radio for AIS and VHF, unlike the two separate radios in the RS40-B, only one antenna is required.
AIS configuration is handled through the user interface of the radio; unlike most AIS units I've configured there's not an option to configure it through a PC. But, I found configuring AIS through the radio's interface painless. AIS functionality in the RS40-B is comparable to standalone transceivers from B&G, Garmin, Raymarine, and Simrad but lacks some of the premium features like WiFi, mobile apps, and richer features of AIS receivers from ACR, Em-Trak, Si-Tex, and Vesper.
The RS40-B has separate antenna connections for VHF/DSC communications and AIS so you will either need two antennas on-board — as I have on Panbo(at) — or an antenna splitter. The physical installation of the radio is very easy with just a VHF antenna and power connections required to get started but without an internal splitter you will need an external one or another antenna to enable AIS.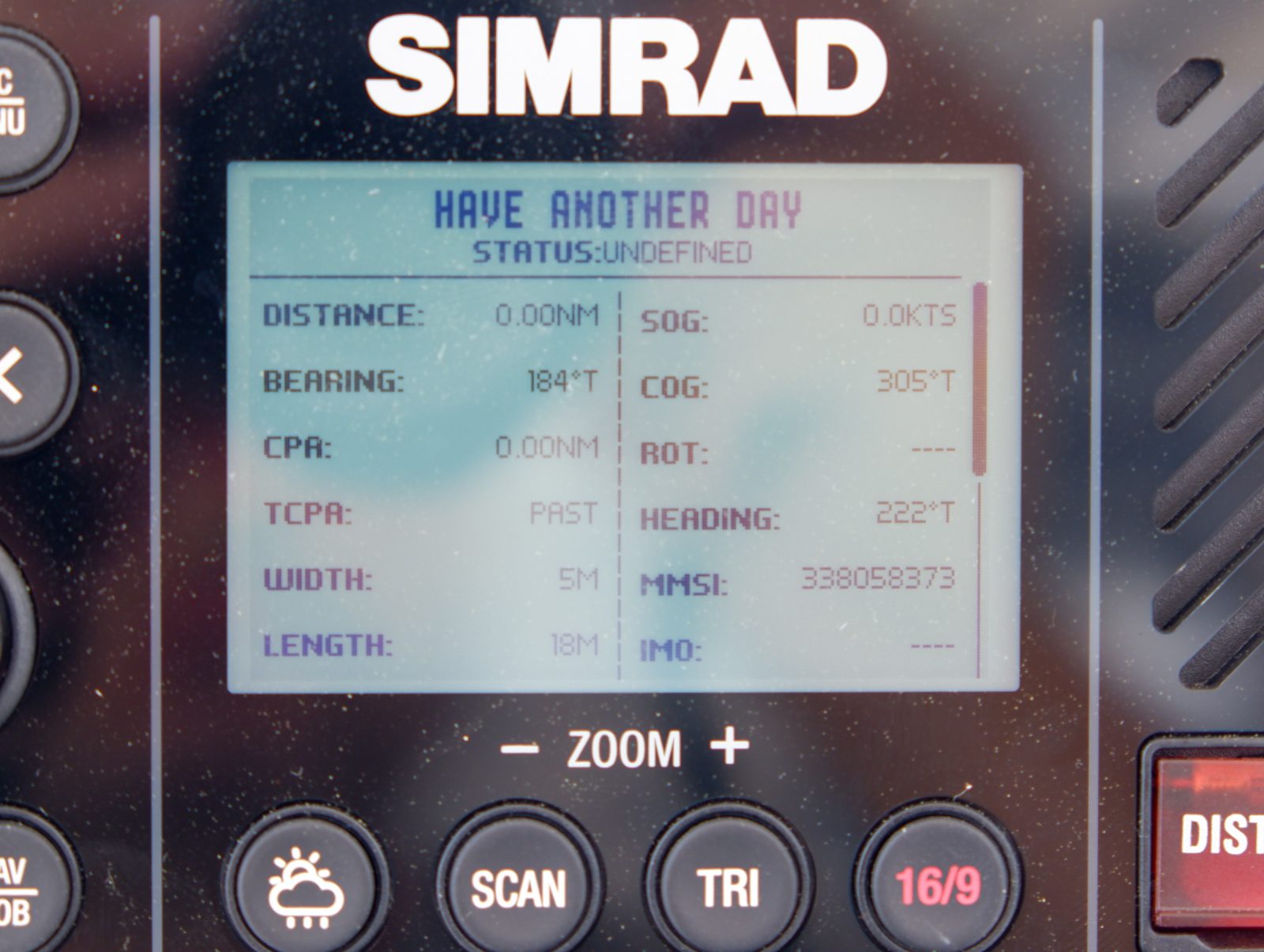 With AIS enabled, targets begin to display quickly and I've seen no issues with displaying those targets either on the radio's display or on a NMEA 2000 connected MFD. The radio's interface allows you to select any of the targets and display detailed information on it. I haven't been able to find a way to change the vessel details from metric to US units.
The only AIS alarming built into the unit is closest point of approach (CPA) alarms. Based on a user settable threshold the radio will alarm if an AIS target will come within the CPA threshold you've defined. Any further alarming would need to come from an MFD or other device connected to the RS40-B via NMEA 2000. Most AIS units on recreational boats are small boxes mounted below the dash somewhere without a visible user interface. The RS40-B is going to be mounted in a prominent location where the display is easily visible so I think the lack of additional alarming and display filtering is a missed opportunity.
Final thoughts
The RS40-B is a nice package with VHF and AIS communications built into a single compact box. As a VHF radio it works very well and I've found the user interface to be well thought out and easy to use. It's a solid AIS transceiver without a ton of bells and whistles. At $1,100 list price it's a little cheaper than an RS-40 (the model without an AIS transceiver) which lists for $620 and Simrad's NAIS-500 AIS transceiver which lists for $720. So the pair would run about $1,340. On the other hand, a Standard Horizon GX6000 can be bought for $400 (or an Icom M506) and an AMEC B600W (with SOTDMA AIS and WiFi built in) for $690 which brings the total to $1,090 and adds several additional features. But, on a small boat with limited helm and electronics space, like Panbo(at), I'm happy to have everything contained in one small package.